TAV's CEO Sani Şener has said he expects the deal to close by 15-Jan-2020 with the company planning to operate the airport and invest USD150 million into a new international terminal. Almaty's city deputy mayor Saparbek Tuyakbaev said construction of a new terminal is expected to commence by mid-2020 and will require two years to complete. The airport is interested in the establishment of a large aviation hub.
In Nov-2019 TAV Airports announced that a consortium between the company and VPE Capital had formed and commenced negotiations with the owner of Almaty International regarding the potential acquisition of the asset. This decision fits into Groupe ADP and TAV Airports' development strategy in Central Asia (Groupe ADP is a shareholder in TAV).
Almaty International, serving the largest city in Kazakhstan with a population of around two million, would appear to be some way from being classed a hub. According to CAPA – Centre for Aviation Airport Profiles, it is the world's 320th largest by seat capacity, 247th by ASKs and 174th by cargo payload.
This indicates that freight has a disproportionate degree of importance - in 2018 its freight capacity was 384 million kilos. On the passenger side, 5.7 million passengers used the airport in 2018 (+1% year-on-year). Since 2010 the trend has been positive each year, with gains of +22% in 2011 and +15.6% in 2017, except for 2016 alone (-0.5%). The airport is the main base for national carrier Air Astana, which holds more than half the weekly seat capacity.
CHART - Air Astana is the dominant carrier at Almaty International airport, while Ural Airlines is the largest foreign carrier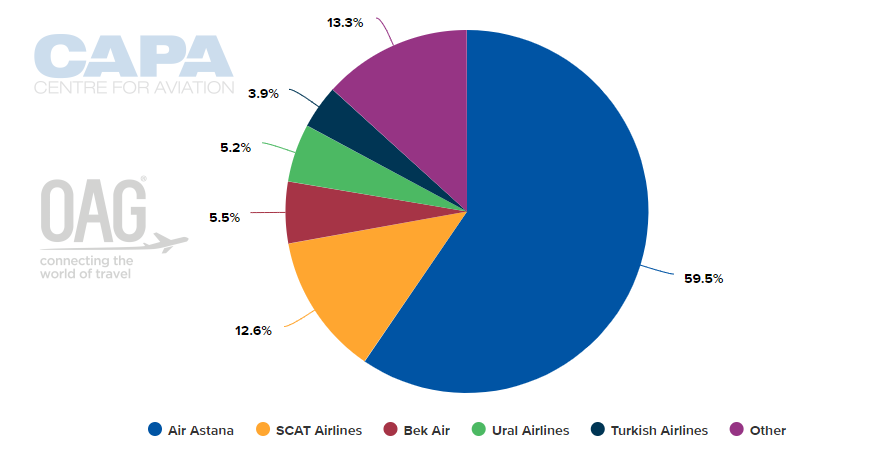 Source: CAPA - Centre for Aviation and OAG (data: w/c 23-Dec-2019)
But, what Almaty lacks is western carriers – there is only one of significance, Lufthansa – and Southeast Asia airlines. There are a handful of North Asia carriers including China Southern and Hainan Airlines and also Turkish Airlines, which of course has its own hub – the new Istanbul Airport.
There is potential though, Almaty is well positioned between Europe and North Asia without necessarily overflying Russia as the map below reveals.
However, the existing route network is rather restricted and currently heavily reliant on Air Astana. While it certainly has potential, it is difficult to imagine what sort of 'large aviation hub' is envisaged for it. Expansion of its role within the CIS states would be achievable but not necessarily as a long-haul hub, not when the MEB3 airports and Istanbul are so well established and when there are other airports in the CIS states which have similar 'hub' ambitions.
CHART - As its current network highlights, Almaty International airport has the potential to develop a connecting network from west to east and vice versa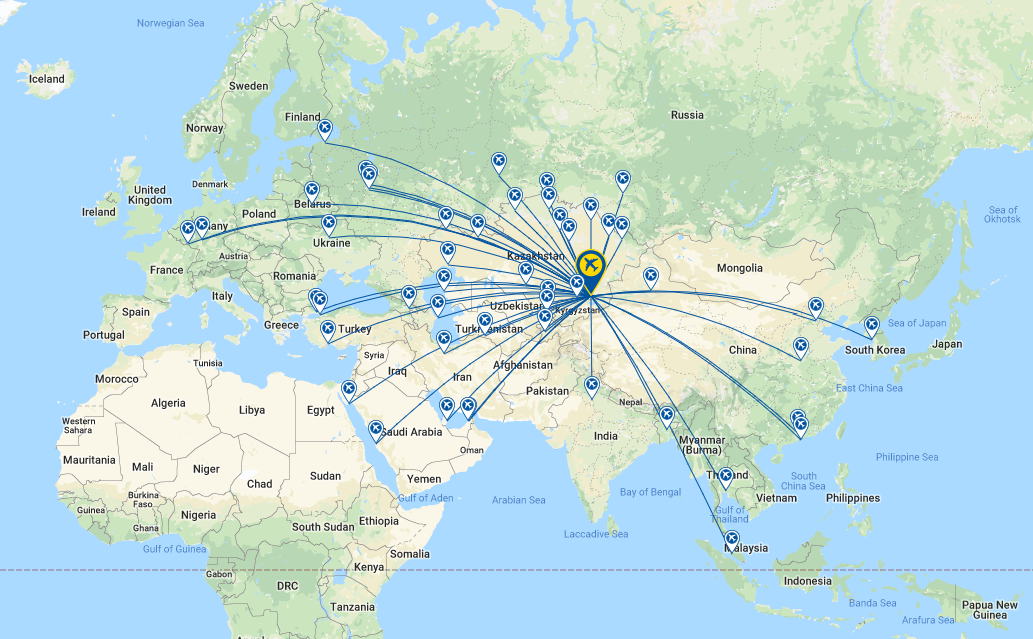 Source: CAPA - Centre for Aviation and OAG
It is also hardly a 360 degree hub. While heavily populated India lies some way to the south, there is little to the north, in central and western Russia. One evident possibility though is that Almaty could become a hub for traffic to and from western China, where air transport facilities are not as well developed as they are in the east and south of the country.
Complicating these deliberations is the fact that a new, supplementary airport is planned for Almaty, and has been approved by the Kazakh Government. An area of 2000ha has been allocated for its construction, which is to be situated 48km northeast of the city. The airport is planned to have a capacity of 10 million passengers annually with projections of up to 40 million. The sovereign wealth fund of Kazakhstan, Samruk Kazyna, has been designated as the principal Kazakh investor.