Among its many technology declarations at the CES show in Jan-2020, US major Delta Air Lines revealed its ambitions to transform its app into a true concierge, and its partner Lyft could help the airline achieve those aspirations. Lyft co-founder and president John Zimmer joined Delta CEO Ed Bastian on the stage at CES and stated the company was aiming to work with Delta to remove as many of the stresses from travel as possible.
Noting a "few things he was specifically excited about", Mr Zimmer explained that when customers head to the airport and request a ride, "we want to automatically take into consideration things like flight delays, bad weather and traffic based on real time data from Lyft and Delta".
Upon departure from the airport, Lyft offers Fast Match, Mr Zimmer said. "Instead of going to a hectic pickup area, you can use a unique security code to match with the next available driver that pulls up…" , he explained.
As Delta and Lyft contemplate new options for customers, recent research by Phocuswright shows that transportation network companies (TNCs) like Lyft are launching services that make them look more like traditional car rental companies, highlighting a pilot by Lyft launched in July 2019 of daily rental service in two California locations, West Oakland and San Francisco. The rentals are available through the Lyft app and include pickup and drop off at the rental lot.
In another study from Phoscuswright it has emerged that Online travel agencies (OTAs) boosted gross bookings by 7% in 2019, with lodging driving a good portion of the growth. Phocuswright's US Online Travel Agencies 2019: Marketing Size and Landscape concludes that OTA's posted USD78 billion in gross bookings in 2019 compared with USD72 billion on 2018. "One fifth of US travel is now booked through OTAs, and most of that is lodging," the report stated.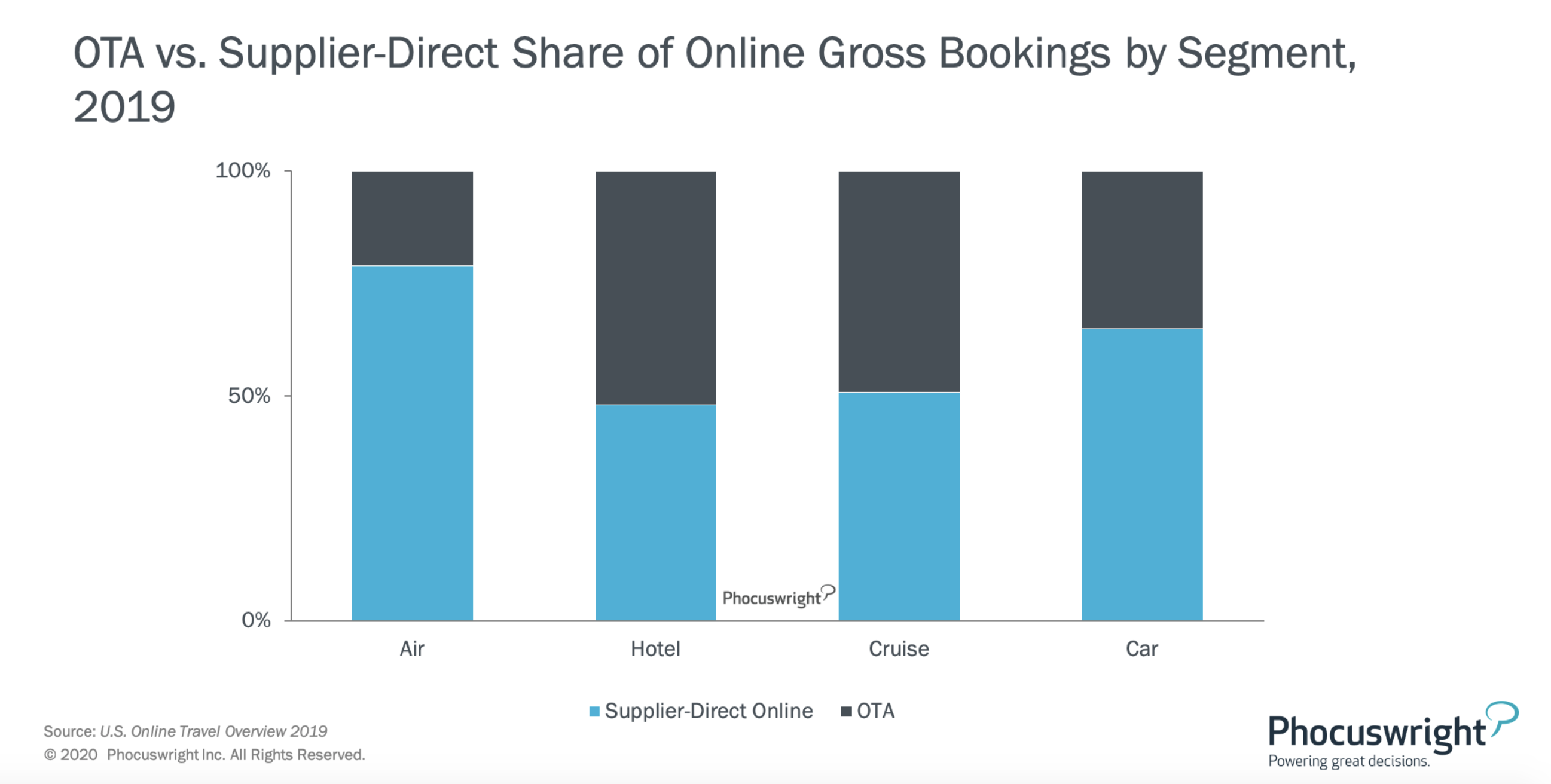 Some of the reasoning for lodging comprising a fair amount of OTA bookings is "despite the presence of branded hotels, the hotel segment is still more fragmented than other segments like air or car rental", said Phocuswright. "The convenience of viewing several lodging options in one location is still attractive to many travelers, especially those who are younger, tech savvy, price sensitive and brand agnostic".
Online hotel chains such as Marriott, IHG and Hilton Worldwide have attempted to leverage loyalty member perks to incentivise direct bookings, Phocuswright concluded.
Other insights from the report include that supplier direct channels account for nearly four fifths of the air online gross bookings in the US as the majority of the country's air market is controlled by three major carriers. "Furthermore, available carrier routes out of a traveller's home base already restrict airline choice for travellers," Phocuswright stated.
The report also concluded that the adoption of branded fares by airlines has also "made ticket purchases more complicated. However, OTAs are adapting to the changing air business". Phocuswright said that branded fares have largely been incorporated by most OTAs, including CheapOair and Expedia, which support basic add-ons like seat selection on some flights.