Many airports develop a need at times for extra terminal capacity. It could be on account of an 'event' for example being held in the vicinity of the airport – a major soccer competition, athletics event or music festival. In the case of airports catering mainly to low-cost carriers it could be caused by a sudden ramping up of capacity as an LCC upgrades an airport to a 'base' and locates additional aircraft there.
It is clear there has been an increasing interest in this airport capacity solution, whether temporary refers to a pop-up facility that can be taken back down again, or for 'semi-permanent' structures that act as a capacity buffer until more permanent solutions can be developed.
The adaptability that such facilities can offer are significant. Imagine if the current coronavirus outbreak further intensifies. Such a structure could be erected to handle flights from specific markets where threats of infection and spread are higher.
Whatever the need, additional terminal space often needs to be provided quickly, and always to be cost-effective, highly functional (i.e. brought on line rapidly) and be of high quality. It wasn't so long ago that one low-cost airport was checking in passengers at a converted construction site 'Portacabin'. Another used converted World War 2 military huts.
Image is everything these days and passengers, while they will accept that terminal facilities might have to match the price of the ticket they paid for, will not tolerate old, shabby and/or dirty terminals. Increasingly we have seen a number of companies have come into existence to meet this 'temporary' demand, or existing companies have adapted an existing product range to encompass aviation.
One of them is a Dutch company, Neptunus, which recently supplied a demountable terminal building to Budapest Ferenc Liszt International Airport to enable Hungary's largest and busiest airport to cope with a dramatic increase in passenger numbers. As CAPA – Centre for Aviation analysis of OAG schedule data highlights, the airport has seen a rapid growth in passengers over the past ten years.
CHART - Passenger levels at Budapest Ferenc Liszt International Airport doubled between 2010 and 2019, and growth in 2020 is currently exceeding the last decade's levels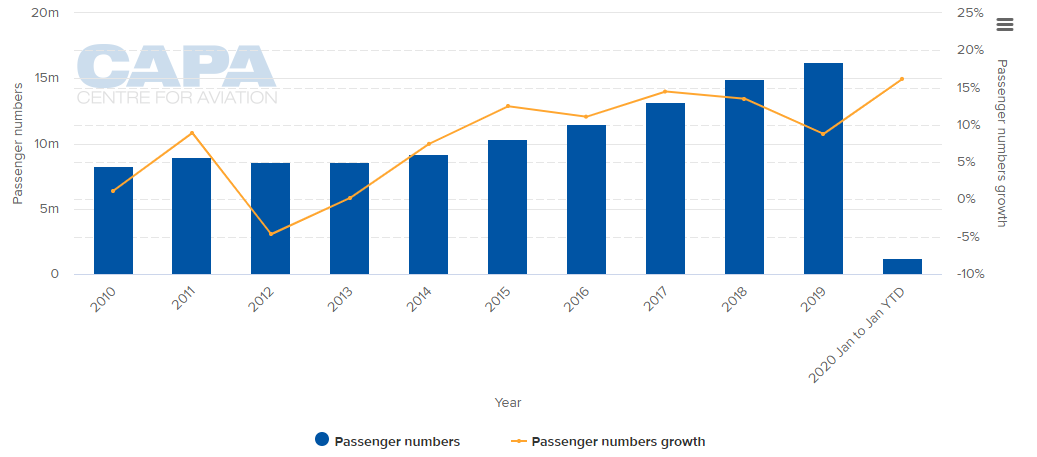 Source: CAPA - Centre for Aviation and Budapest Ferenc Liszt International Airport reports
The Pier 1 facility which opened on 15-Jan-2020 is the first of a two-phase programme which will see demountable terminals providing over 11,000 square metres of additional space. Pier 1 with heated and air-conditioned floor-space incorporates a passenger hall with eight boarding gates that are directly connected to the aircraft stands plus six bus gates.
The second phase of Pier 1 will be linked to a Central Hall - also supplied by Neptunus - that will cover 6,700 square metres and is due to be open in time for the summer 2020 season. The Central Hall will feature resting and waiting areas, a food and beverage outlet, two additional large toilet blocks and a smokers' terrace. Passengers will move from check-in to boarding via air-conditioned corridors, escalators, and elevators linking the demountable buildings with the main terminal building.
It may appear at face value to be like any other airport structure, but the sustainable buildings can be rapidly dismantled to be reused elsewhere.
The same company has also provided temporary or semi-permanent terminal buildings to Berlin Schoenefeld Airport (mainly an LCC facility); Magdeburg Cochstedt Airport (all LCC) and a temporary departure hall to the primary hub airport Amsterdam Schiphol, to handle two million 'Schengen' passengers annually.
With air passenger demand set to continue to grow the introduction of additional such structures is likely. One wonders if the new Berlin Brandenburg Airport, which will have a capacity issue before it much delayed opening in Oct-2020 may benefit from the addition of temporary facilities. What is clear is that this option, may not necessary be the preferred path, it does offer a solution to short-term capacity crunches and can provide the time to secure approval and complete construction of permanent structures.