These numbers are heavily influenced by the avgeek brigade, but it is interesting to learn that US airports are considering implementing programmes which will allow people who are not passengers to travel beyond security checkpoints and engage in 'terminal tourism'. Terminal tourists will be granted a non-traveller pass (NTP) to go through security checkpoints pursuant to having had "background checks" and will be able to greet arriving friends and family as well as enjoy the airport experience.
Instances have already arisen where individuals are being allowed to do this, such as at Pittsburgh International, where Bloomberg reports the case of a 72-year old grandfather who visits the airport each week with his grandson to ride the trams between terminals, glide along the moving walkways, watch the baggage handlers loading and unloading the aircraft and buy some ice creams and a bottle of milk from Dunkin' Donuts. The only thing they don't do is catch a flight. Doting Granddad selected the weekly activity for three year old Cleo because it is "convenient, safe and secure".
Pittsburgh was the first airport to do it, in 2017, followed by Tampa International this year, while Seattle-Tacoma is evaluating a pilot it tested earlier this year and Atlanta Hartsfield-Jackson International, the world's busiest, may seek approval for a trial run. The idea is under consideration in Detroit and Austin, too.
It actually all dates back in fact to 2006, when the Transportation Security Administration (TSA) allowed access to restaurants and shops for overnight guests at hotels connected to terminals in Pittsburgh, Detroit and Dallas-Fort Worth. That was just five years after '9/11', before which non-travelling passengers were pretty much free to roam.
It seems the idea more recently was merely to allow people to meet relatives and friends directly at the gate rather than wait for them to emerge much later from immigration and baggage retrieval. There may be some merit in that but it has quickly progressed to a quite different notion of allowing people to just 'hang out' in the terminals, mixing freely with those that are there for a far more specific purpose, often in a hurry, and thereby getting in their way.
Actually if you think about it there is plenty to do in airports, many already more popularly referred to as shopping centres with the addition of runways, and where managers long ago realised they had a captive audience to satisfy with entertainments in their 'dwell time' (or out of which to extort even more revenues, depending on how you look at it!).
So what could Granddad and Cleo do to while away an afternoon at an airport? Again, management hasn't been slow to work up ideas. Apart, that is, from the ubiquitous shopping, eating and drinking.
At numerous airports now they could watch a film, either a current blockbuster or something more specialised or historical. They could play 10-pin bowling. Cleo could frolic in a themed children's play area while Granddad has a quick massage in the health spa or a sneaky craft beer at the microbrewery. Alternatively, they could take in a musical performance by an artist or band, which are regular features at some airports.
IMAGE - Austin's Bergstrom International airport has a comprehensive musical performance schedule for Jul-2019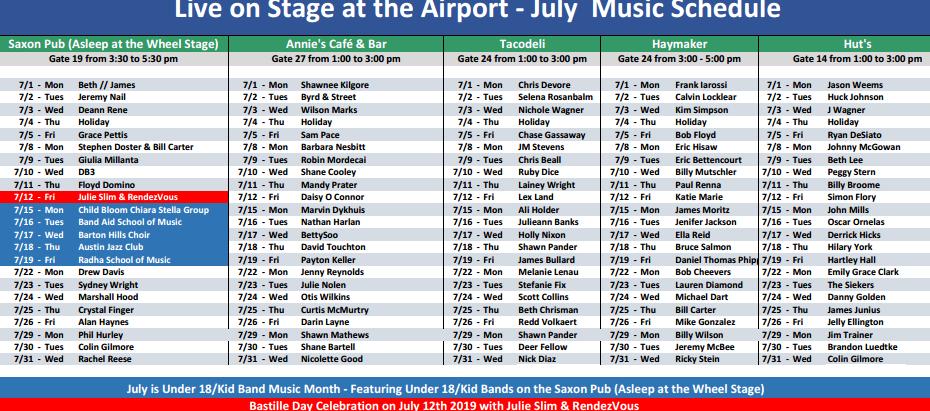 If Granddad felt that he and Cleo should engage in some culture, there might be an art gallery or at least art on the terminal and corridor walls. If they're lucky there will be a library, too, and lots of computers on which to browse and surf. When they get tired they can just sit and people watch. The airport really is their oyster.
But hang on a minute, aren't we returning to the pre-'9/11' days here, when airport security was far more relaxed and you didn't need a ticket for a flight to get inside? Atlanta's assistant general manager of commercial development has noted, even before the trial begins there, that the non-traveller programme is an "appealing prospect", but that additional foot traffic may further strain security checkpoints.
There's also the question of revenue - the Seattle-Tacoma airport trial survey showed they spent on average USD10.29 each; hardly enough to justify ramping up concession fees with the additional footfall. Pittsburgh doesn't limit the number of passes, and between 50 and 150 people use them daily. But there have been almost draconian caps at other trial airports which renders the experiment almost worthless.