According to the CAPA Airport Construction Database, USD6.5 billion is being, has been recently, or will be spent on infrastructure at the newer of the Bangkok airports through to 2021, which also includes an additional (third) runway. Construction of the runway was conditionally approved by the government in Apr-2019 but while the second terminal was 'conditionally' approved earlier than that (Feb-2019) it hasn't been plain sailing.
In Jun-2019 Thailand's Permanent Secretary for Transport Chaiwat Thongkamkoon said the Ministry of Transport and National Economic and Social Development Board (NESDB) had determined that the Airports of Thailand (AoT) plan for a second terminal was not comprehensive enough to be approved. It appears that a revised plan by AoT has now been approved.
Suvarnabhumi is famous as the airport that opened at maximum capacity, in 2006, to replace Don Mueang airport but that capacity shortcoming necessitated the reopening of Don Mueang, mainly for low-cost carriers, and for a while it actually grew faster than did Suvarnabhumi.
CHART - Suvarnabhumi International (top) was built to replace Don Mueang (bottom) airport, but they are both now growing to keep pace with Bangkok's traffic demand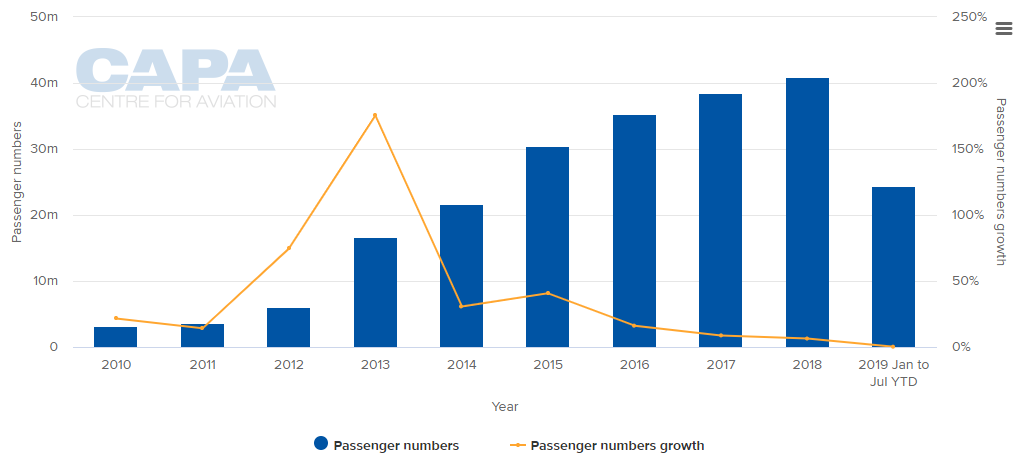 Source: CAPA - Centre for Aviation and Airports of Thailand
Airports of Thailand, which was partially privatised by IPO in 2004, the bulk of control remaining with the Ministry of Finance, is currently embroiled in a disagreement with the government over its expansion. It originally operated six airports, including the two Bangkok ones, but not the U-Tapao airport near Pattaya, which has become part of the Bangkok airports system and which will be connected to them, and the capital, by a high-speed rail line. That is still owned by the Navy.
This year AoT announced it would be taking control of four others, all state-owned – Udon Thani; Sakon Nakhon; Tak and Chumphon airports, with the intention to make upgrades and improvements across all four airports. The Ministry of Transport established a panel to ensure a smooth transition, including staff transfers and the continuation of existing retail tenders.
AoT is also believed to have expressed interest in Khon Kaen Airport and Mae Sot airports. But in Aug-2019, Thailand's Department of Airports (DoA) said it was opposed to AoT's intention to take over the management of another one, Krabi Airport, another beach resort-serving airport and the sixth busiest in the country, with 4.2 million passengers in 2018. Last year, Krabi saw millions of visitors from countries including China, Singapore, Malaysia, the UK, Russia, and South Korea.
In a situation reminiscent of the concession procedure in Brazil, where the inclusion of one airport in a package was blocked by state operator Infraero on the basis that it was the only profitable one left on its books, the Krabi airport currently contributes 55% of the Thai airport department's total annual revenue!
What appears to be so strange about AoT's interest in Krabi is that it intends to develop a new international airport in Phang Nga to address capacity constraints at Krabi and Phuket International whilst also boosting tourism in the 'Andaman Triangle' of Krabi, Phang Nga and Phuket.
If it did take over Krabi it would then be in danger of cannibalising its own existing resource. If it doesn't it could be accused of attacking the 'state's' airport assets again. And any competition to the state would be peculiar in the light of the DoA's encouragement to (any) private investors to approach the government if interested in developing any of the 29 state-owned airports.
CHART - Connecting Thailand to the rest of the world? Krabi Airport's seat capacity chart is dominated by Southeast Asian – mainly Thai carriers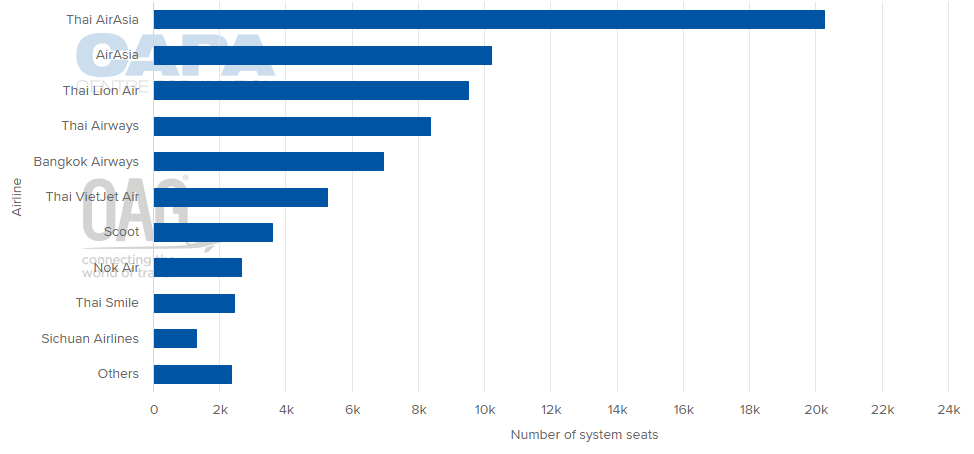 Source: CAPA - Centre for Aviation and OAG (data: w/c 09-Sep-2019)
While the powers-that-be decide whether Krabi airport remains with the DoA or transfers to AoT it isn't just sitting around. On 10-Sep-2019 and as part of Krabi airport's development to become a regional aviation centre under the DoA's four-year strategic plan, the airport announced it will be introducing passenger technology, from global IT provider SITA. The systems include AirportConnect Open, SITA's common-use passenger processing (CUPPS) platform, along with self-service check-in kiosks at both domestic and international terminals.
Further development plans for Krabi airport include the construction of Terminal 3 and the renovation of Terminals 1 and 2 to increase the capacity from 1,500 passengers per hour to 3,000 passengers per hour. The intention is that Krabi airport should become a regional aviation centre connecting Thailand to the rest of the world. It has a 3,000m runway.