For those with historical knowledge of the city's background would not have been surprised after all it is the fourth change of name in less than 60 years. Its transition though was fast-paced and revealed as Kassym-Jomart Tokayev was sworn in as the nation's new president just a day after the unexpected resignation of its former leader Nursultan Nazarbayev, who served nearly 30 years as leader of the oil-rich nation.
It was not a new idea and Mr Nazarbayev's name had originally been proposed for the city, located on the banks of the Ishim River in the Akmola Region region in the northern part of the country, in 2016 to mark the 25th anniversary of Kazakhstan's independence from the former Soviet Union. It now shares the name of city's airport gateway that was renamed from Astana International to Nursultan Nazarbayev International in Jun-2017 in honour of the then president – marketers will be delighted it is all on brand.
A city name change is nothing new though and this is the latest in a long run of places that have been renamed over the years to either wipe off a colonial past, preserve indigenous heritage or pay tribute to public figures – or in the case of Hot Springs, New Mexico becoming named after the 1950s game show 'Truth or Consequences'.
Kazakhstan may have learnt from its neighbour Kyrgyzstan which was renamed from Frunze (after a local Bolshevik commander Mikhail Frunze) to Bishkek in 1991. which means a staff used in a butter churn, in 1991. But, there are numerous recent examples.
Myanmar's former capital of Rangoon became Yangon in 1989 to reflect the local pronunciation; while not a name change Peking became known internationally as Beijing, when the Pinyin method of conveying Mandarin in the Roman alphabet was adopted as an international standard. It is a similar story with the Chinese city of Guangzhou, which was known outside the country as Canton due, many believe, to mispronunciation.
Saigon, the former capital of US-backed South Vietnam was renamed Ho Chi Minh City in 1976 in honour of North Vietnam's independence hero after the country was reunited, while after Mozambique's independence in 1975 its capital Lourenco Marques became Maputo.
One city that has had many name changes is Istanbul, previously known at times as Byzantium, Augusta Antonina, New Rome, Constantinople, Kostantiniyye. Ästanbul, Stamboul, and Islambol, among others, and you can also include Tokyo, renamed from Edo when Emperor Meiji acceded to the throne in 1867 and moved from Kyoto (Tokyo means eastern capital).
Perhaps the best known though are the many Indian cities that have been renamed over the past two decades, most notably Mumbai, the country's financial capital which dropped its previous anglicised name of Bombay for its old local name, and Chennai, the capital of the southern Indian state of Tamil Nadu formerly known as Madras.
Then, of course there is Russia's second city of St Petersburg, renamed Petrograd during World War One and called Leningrad in Soviet times before returning to its original name in the early 1990s. It is not the only Russian example – there are hundreds of them.
A little rarer is a change to the name of a country, and yes Kazakhstan has considered that too. A member of parliament proposed that the country's name be changed to Kazakh Republic last year to "restore historic justice" and as a suitable way to mark the 100th anniversary of the creation in 1920 of a Kazakh republic within the Soviet Union.
Many countries change their names at independence, most often from ones imposed by their colonisers, while others were rebaptised on emerging from disintegrating federations. At their independence, for example, Bangladesh (formerly East Pakistan), Botswana (Bechuanaland), Ghana (Gold Coast), Indonesia (Dutch East Indies), Malawi (Nyasaland) and Zimbabwe (Rhodesia) were created.
The break-up of the likes of the Soviet Union, the Czech Republic and Yugoslavia has seen the emergence of new individual countries, while examples of other name changes include Swaziland changing to eSwatini, Burma to Myanmar, Upper Volta to Burkina Faso, Kampuchea back to Cambodia and Dahomey to Benin.
CHART - Air Astana is the largest carrier in Kazakhstan based on weekly seat capacity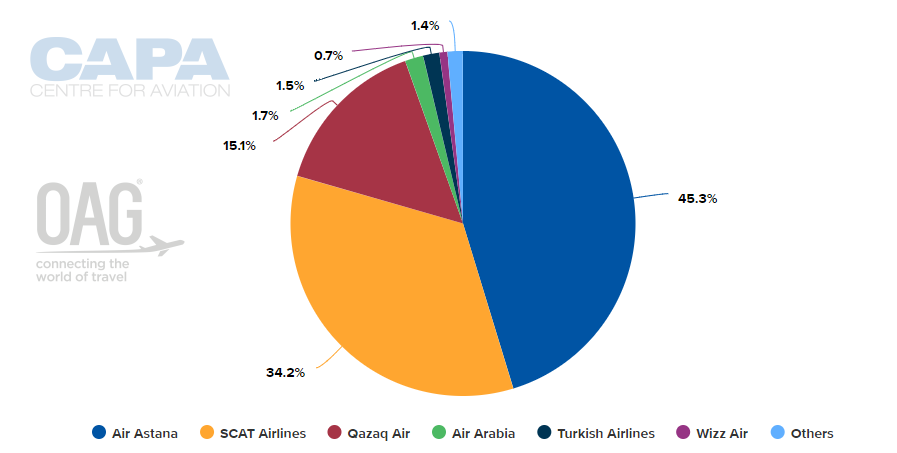 Source: CAPA - Centre for Aviation and OAG (data: w/c 08-Jun-2020)
Back to Kazakhstan and its aviation set up. Its largest airport is actually Almaty International serving the former capital, Almaty, which remains the major commercial and cultural centre of the country and is its biggest population centre. But while Almaty highlights old Kazakhstan, the planned city of Nur-Sultan illustrates the new and became the capital in Dec-1997. Another change!
We have proven now that a city or airport name change, while not necessarily common, is not that rare an occurrence. We have already noted that Nur-Sultan's Nursultan Nazarbayev International was formerly known as Astana International, but that is actually at least its fourth different name.
It was opened in 1931 under the title Akmolinsk Airport serving the town of the same name, the original site for the now Nur-Sultan. It later became known as Tselinograd Airport in the 1960s as Akmolinsk was renamed Tselinograd to mark the city's evolution as a cultural and administrative centre of the Virgin Lands campaign, premier Nikita Khrushchev's plan to dramatically boost the Soviet Union's agricultural production in order to alleviate the food shortages plaguing the Soviet populace.
In the early 1990s, the city was (again!) renamed Akmola, a modified version of its original name – are you keeping up? However, through much of this time one thing has remained constant, the airport's IATA code 'TSE', linked to the Tselinograd era.
Such codes are an integral part of the travel industry and essential for the identification. They are also fundamental to the smooth running of hundreds of electronic applications which have been built around these coding systems for passenger and cargo traffic purposes.
An airport may change its name, but it is not often that it actually changes its identifier code. Beijing Capital International remains 'PEK', Mumbai Chhatrapati Shivaji Maharaj International remains 'BOM' and Ho Chi Minh City Tan Son Nhat International remains 'SGN'.
Most changes are because of a new airport opening, such as in Bangkok when new gateway Suvarnabhumi Airport opened and took 'BKK' from Don Mueang, which is now uses 'DMK'. Likewise, in Berlin later this year when the long-delayed new airport opens the 'BER' code will be adopted.
There are a few historic examples though, including New York JFK International ('IDL' to 'KIA' to 'JFK') and Washington Dulles International ('DIA' to 'IAD') and more recently Baku's Heydar Aliyev International, switched from 'BAK' to 'GYD' when it was renamed after Azerbaijan's former president.
Why are we now talking about airport codes? Well, three years after it took up the name Nursultan Nazarbayev International this week the airport formally changed its IATA code from 'TSE' to 'NQZ'!