However, without a doubt, the main reason the Qantas 787 has been the subject of much fanfare and marketing buzz here in Australia and globally is due to the fact that the aircraft will be debuting non-stop services from Perth to London for the Flying Kangaroo. A first for Qantas or indeed any airline servicing Europe from Australia.
London non-stop from Perth offers a real alternative
The new service is an important symbolic shift from Qantas' current strategy of using Dubai as its hub for Europe. For the new Dreamliner services Perth will offer an important alternative to the Middle East as a hub for passengers travelling with Qantas to London.
Australia-London O&D traffic by Australian city: 2015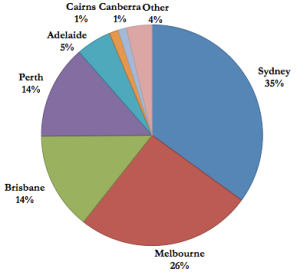 Source: CAPA - Centre for Aviation and OAG Traffic Analyser.
For Qantas however, Perth-London nonstop is less about the actual market between Perth and London (which accounts for only 14% of total Australia – London O&D traffic) and more about the airline connecting the rest of Australia with a one-stop option via an Australian port with an experience it can control, without needing to rely on partner Emirates.
For Qantas' - and Emirates' - customers there are new possibilities
What the new service means for those passengers wishing to travel Qantas exclusively from any Australian city to London is they will now be able to do so with only one stop in Perth. Importantly, for passengers starting their travel outside Sydney and Melbourne (the only cities from which Qantas flies with its own metal to Dubai), the backtrack to those cities in order to connect with Qantas' A380 services to London (via Dubai) will no longer be necessary.
The only negatives to this routing – and Qantas will inevitably do its utmost to mitigate them – are that the on-carriage will often be on a narrowbody aircraft, rather than the all-widebody operations that international passengers are used to; and limited short connection times to cities other than the main capitals.
Passengers outside Sydney and Melbourne, including those from several large regional cities, will now also have the option to fly to London one stop without needing to use a Qantas code-share flight operated by Emirates. This will provide a unique opportunity for Qantas to claw back some of the brand loyalty which had been slipping to other carriers, particularly Cathay Pacific, Star Alliance's Singapore Airlines as well as towards their own partner Emirates.
It's not all bad for Emirates though. For the Qantas-Emirates joint venture the new service adds value by increasing their proposition for a European journey that can be nonstop or via Dubai. In the future there may also be an Asian one-stop journey again on Qantas. These (potentially) three options suit different passengers and varying needs. Importantly, an increase in available options will help the pair secure a greater share of those lucrative corporate contracts where flexibility is paramount.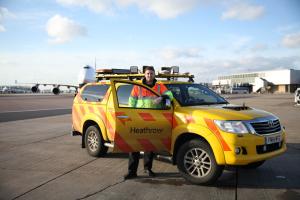 London probably doesn't need a triple daily service
While Qantas hasn't announced any changes to its existing Sydney/Melbourne - London services as a result of the new Perth – London service, it's likely that three flights a day to London from Qantas is simply too many, at least in the current environment.
There have been suggestions that the 787 service from Perth – London will in fact originate in Melbourne, operating the service to Perth as a domestic flight. In fact, Qantas has already announced that the service to London will operate from its existing domestic terminals in Perth, allowing for a quick transit for those connecting from Qantas domestic services. This begs the question as to whether the existing Melbourne – Dubai – London service will be replaced by a Melbourne – Perth – London on the 787? While Qantas has the slots to operate three times daily into London, it's unlikely Qantas will retrieve one of these lucrative additional slots - which are currently leased out at very lucrative rates - to operate a third daily service to London.
The new Los Angeles 787 service is more surprising
Whilst Qantas' Perth-London announcement should have been no surprise, Melbourne-Los Angeles is more of a surprise.
The route appears to be a last minute change from what had been assumed would be a Melbourne-Dallas 787 service. Most likely prompting the change was the US Department of Transport's Nov-2016 rejection of Qantas' proposed joint venture with American Airlines, who were expected to enter the Melbourne – Los Angeles market once the JV was approved,s to supplement the existing Qantas A380 service.
The addition of the 787 by Qantas on the route - which will have the airline's latest onboard product including the new generation Business product with direct aisle access and 32 inch seat pitch in Economy - will allow Qantas to replace their existing 747 service and go head to head with United's Dreamliner and more significantly, Virgin Australia's return to the Melbourne – Los Angeles service with their new 'The Business' product onboard.
So 2017 will be year of planning and anticipation for Qantas as it prepares to commence 787 services in just under 12 months time. Whether the product matches the hype, only time will tell. It's certainly been priceless marketing for the flag carrier.