There has been and continues to be a significant investment in technology that should ease the process, reduce the need to remove electronics and in the short-term even once again permit us to carry larger bottles of liquid in hand baggage. But, security has to retain a random element if it is to maintain its integrity and stop those few individuals that wish the industry harm.
It is increasingly now an issue of customer experience and finding ways to minimise the impact of the security process on the customer journey. In the perfect world we would all love to be able to walk straight through with the minimum of disruption. Those of us that frequent smaller regional airports quite often have this privilege, but that is not the case for the majority of passengers.
At hub airports that is certainly the case and where space and resource limitations can mean longer waits, especially during key connecting waves and a time that passengers are perhaps most distraught to be faced with a wait, however long.
In the past frequent travellers would eye each of the lines looking for like-minded travellers and avoid queues containing infrequent travellers unaware of liquid entitlements or parents travelling with children. Now, more airports are employing queue managers to direct passengers – apparently we react more positively to walking in a queue for a mile than if we were to be stood stationary.
The Blue Swan Daily recently reported on a new initiative at Pittsburgh International airport that uses camera infrastructure and artificial intelligence (AI) to educate passengers to potential security check delays, helping adjust expectations. It won't make security queues shorter, but will certainly set passenger expectations and could actually boost airport spend, a key ingredient for any investment project.
https://corporatetravelcommunity.com/pittsburghs-deployment-of-ai-wont-make-security-queues-shorter-but-it-will-certainly-set-passenger-expectations-and-could-boost-airport-spend/
All countries have their own individual rules on security, but based on international recommendations. At airports across the globe the one thing they all generally have in common is queues. These may only be a few minutes, but can feel like an eternity as you pull things from your bags, hold your trousers or skirts up after removing belts and then spend ages trying to repack the bag while be jostled by fellow passengers.
That is what makes a recent report from content provider Upgraded Points on Transportation Security Authority (TSA) waits at the busiest airports in the United States an interesting read. It shows that average waits at the country's largest 25 airports vary from nine to 23 minutes, but these vary significantly at different times through the day. It is all based on 2018 data that is publicly available from the TSA and based on average wait times for each hour of the day and day of the week.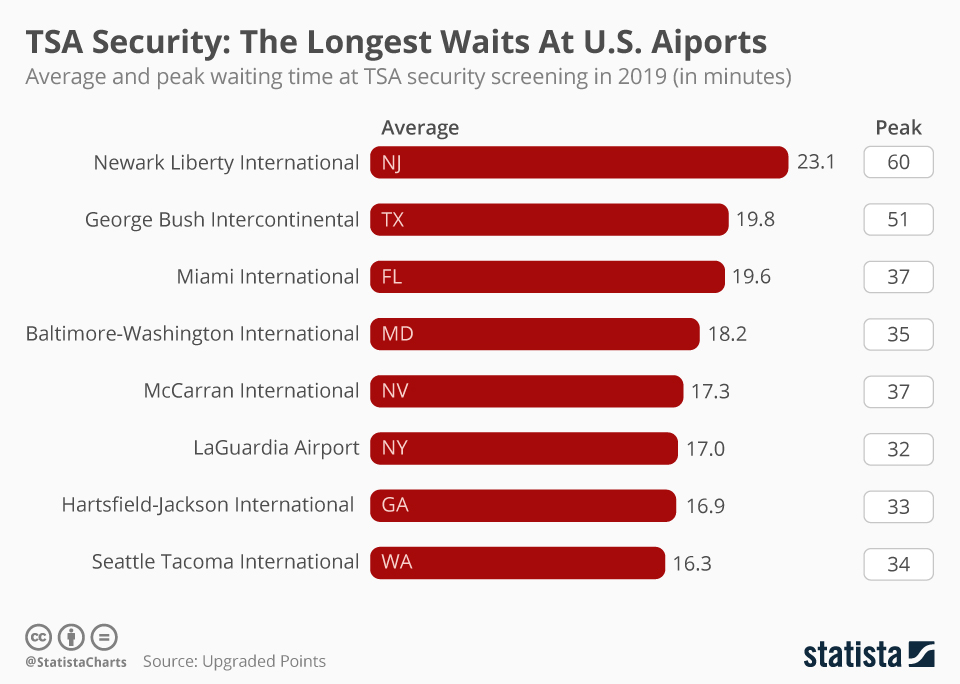 As you would expect, the findings show that in general the smaller airports had shorter queue times than the nation's larger hubs. Salt Lake City International airport had the shortest average security wait time among the 25 airports of 9.1 minutes, a figure that drops to just two minutes if you pass through security on a Wednesday between 18:00 and 19:00, but which grows to 26 minutes on Sundays between 23:00 and 00:00.
Washington Dulles International, Boston Logan International, Minneapolis-St. Paul International, Charlotte Douglas International and Detroit Metropolitan airports had the next shortest security wait times. On the flip side Las Vegas McCarran International, Baltimore Washington International, Miami International and George Bush Houston Intercontinental were ranked from five to two for the longest waits.
Newark Liberty International, serving the New York area and a major United Airlines hub was found to have the longest security wait times of 23.1 minutes, increasing to an hour if travelling on a Monday between 12:00 and 13:00.
The huge variations between the shortest and longest security wait times at the individual airports highlights how hard it is to predict how long you will have to queue at security. It is clear that they are a big component of the pre-flight time, but arriving early and being prepared for a notable wait at security is probably the best scenario. That way, if the queue is short and the wait time is below what had been expected, you can walk away with a smile and more time to relax in the departure lounge.