Whatever the threat, over time technology has found a solution. New full-body scanners have started supplementing metal detectors at airports and train stations, while new technology starting to deployed over the past year has meant passengers have no longer been required to remove electronics and liquids from their hand baggage.
Now, Abu Dhabi-based Etihad Airways has partnered with Australian company Elenium Automation to trial new technology which allows self-service devices at airports to be used to help identify travellers with medical conditions, potentially including the early stages of COVID-19. The United Arab Emirates (UAE) airline is the first carrier to trial the technology, which can monitor the temperature, heart rate and respiratory rate of any person using an airport touchpoint such as a check-in or information kiosk, a bag drop facility, a security point or immigration gate.
The Elenium system will automatically suspend the self-service check-in or bag drop process if a passenger's vital signs indicate potential symptoms of illness. It will then divert to a teleconference or alert qualified staff on site, who can make further assessments and manage travellers as appropriate.
At the current time when social distancing has become essential in the fight against the spread of the coronavirus and people are cautious about the surfaces they are touching for fear of infection, in partnership with Amazon Web Services, Elenium has also developed 'hands free' technologies that enable touchless use of self-service devices through voice recognition, further minimising the potential of any viral or bacterial transmission.
The Australian company believes this approach is a world first and it has lodged patents for both the automatic detection of illness symptoms at an aviation self-service touchpoint, and touchless self-service technology at an airport. Combined, this would ensure health screenings can become standard across airports, without putting staff in harm with manual processes.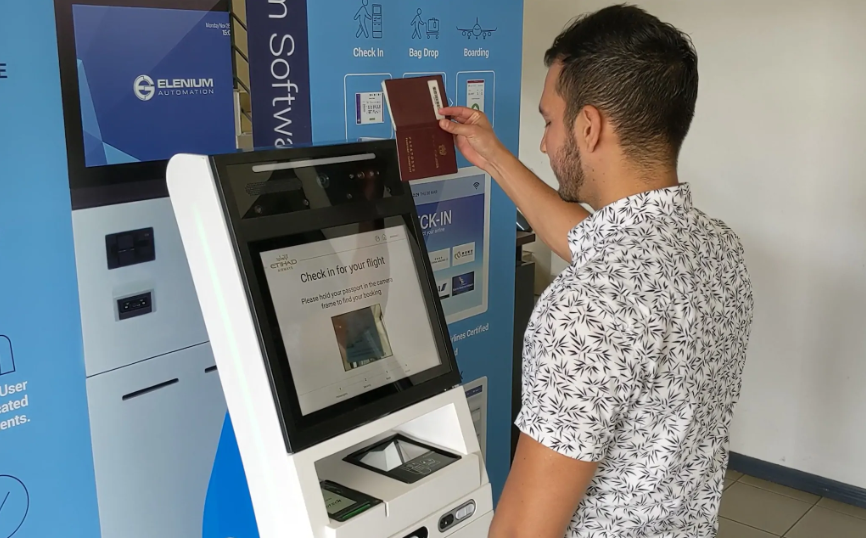 Elenium says the system can screen every individual, including multiple people on the same booking. The technology can also be retrofitted into any airport kiosk or bag drop or installed as a desktop system at a passenger processing point such as an immigration desk. "We believe the introduction of touchless self-service and automated health screening will encourage passengers to return to travel sooner," says the company's CEO and co-founder Aaron Hornlimann.
The partners are quick to note that the technology is not designed or intended to diagnose medical conditions, but it will act as an early warning indicator which will help to identify people with general symptoms. They can then be further assessed by medical experts, potentially preventing any further spread of any contagious conditions.
This is particular important in a hub airport where passengers in airside areas could be connecting between a significant range of destinations. Etihad will initially trial the monitoring technology at its Abu Dhabi International Airport home, one of these such hubs, from the end of April and throughout May-2020, initially with a range of volunteers, and, as flights resume, outbound passengers.
"It has long been the case that aircraft, with their highly sophisticated air-recycling systems and standards of hygiene are not the transmission vehicle for illnesses," says Jorg Oppermann, vice president hub and midfield operations, Etihad Airways.
"We are testing this technology because we believe it will not only help in the current COVID-19 outbreak, but also into the future, with assessing a passenger's suitability to travel and thus minimising disruptions," he adds.
Etihad Aviation Group has been working on a five-year transformation plan and key reforms to date have included exiting unprofitable routes; simplifying its fleet and reducing aircraft orders; more closely matching capacity to demand, including seasonal aircraft changes; cutting costs and exploring new revenue opportunities focusing on quality revenue; and restructuring its workforce.
CHART - The Etihad Airways schedules planned for 2020 even ahead of the coronavirus crisis were significantly down on its peak operation during 2017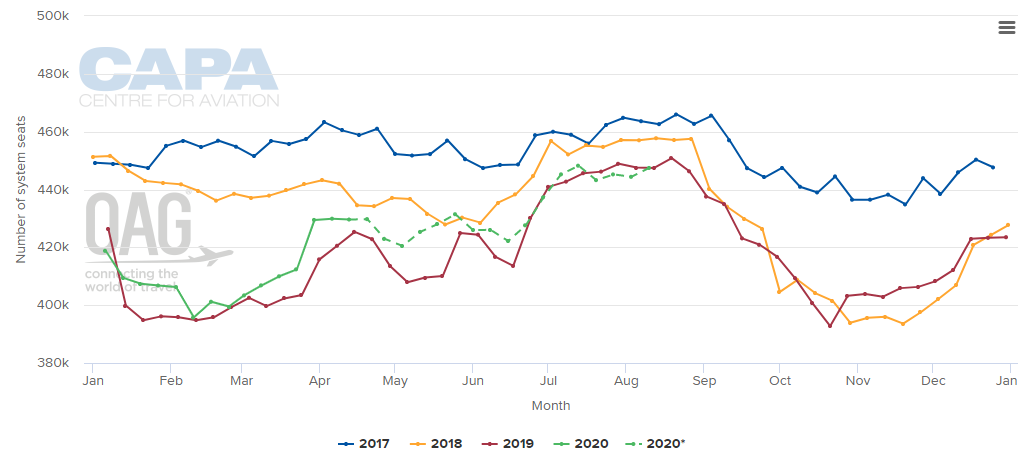 Source: CAPA - Centre for Aviation and OAG (NOTE: * These values are at least partly predictive up to six months from 06-Apr-2020 and may be subject to change)
Its CEO, Tony Douglas, says this move from a large- to a medium-sized operator has granted it the "agility" to respond "quite quickly" to the outbreak of coronavirus. He noted that if the airline were "still heavy and unfit", it would "find it difficult to move quickly" during this crisis.
According to the executive, the carrier responded to reduced travel demand during the early stages of the outbreak by operating less than half its routes, reducing frequencies and switching from A380 to Boeing 787 equipment.
Mr Douglas has stated "not everyone will make it out the other side" of the coronavirus crisis, and he "wouldn't be surprised" if there is "some degree of consolidation" and "economic consequences" that "take some time to reset" once the virus outbreak is resolved.
Last month (Mar-2020), the UAE General Civil Aviation Authority's ruled to suspend all inbound, outbound and transit services as a precautionary measure against the spread of coronavirus. Etihad has recently revealed its schedule plans for the remainder of Apr-2020, which includes the operation of a range of routes serving destinations across Asia, Europe, North America and the Pacific from late Apr-2020.