"Taming cases and deaths was once paramount, along with ensuring a robust health-care system. Now, the ability to essentially turn back the clock and return to pre-pandemic times is taking on an even greater significance," it explains in a recent report highlighting the latest update of its Covid Resilience Ranking.
Central to that is an economy's openness to the world, and as such sees a new element introduced to the ranking – reopening progress. Two new metrics capture the ease of moving in and out of a place and how much air travel has recovered, alongside the ten other measures tracking mortality rates to infection counts, freedom of movement to economic growth.
Heading the list in the update from late Jun-2021 is the United States of America, a ranking that reflects "a best-case scenario of high vaccinations, a waning outbreak, flight capacity nearing full recovery, and few travel curbs on vaccinated people," says Bloomberg.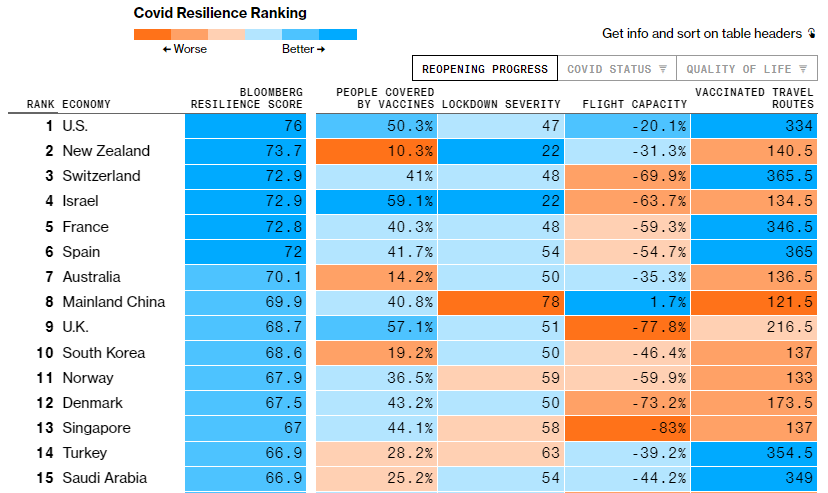 New Zealand ranks second, but with the lowest vaccination rate among the top 30 of the major economises in the ranking, Switzerland third and Israel fourth, both let down by the limited air capacity still on offer in and out of the countries.
Elsewhere, other European countries like France and Spain are also in the top ten as they open their borders to vaccinated tourists while hospitalisations fall thanks to inoculation. India, the Philippines and some Latin America countries rank lowest amid a perfect storm of variant-driven outbreaks, slow vaccination, and global isolation.
Parts of the Asia-Pacific region that had performed well in the ranking until now – like Singapore, Hong Kong and Australia – have dropped as strict border curbs remain in place and a zero-tolerance approach to small virus flareups limit their ability to reopen.
But the Covid Resilience Ranking captures just a short snapshot in time. "There's no guarantee that the turnarounds pulled off by the US and Europe will hold as outbreaks in the developing world continue to throw up fearsome mutations," it warns. However, it does provide a glimpse of how the pandemic is playing out in 53 major economies right now.
By pivoting more toward opening up and the revival of global travel, it also now provides a window into how these economies' fortunes may shift in the future as places exit the pandemic at different speeds.
"It's not a final verdict – it never could be, given the imperfections in virus and vaccine data and the fast pace of this crisis. Circumstance and pure luck also play a role, but are hard to quantify," it quite rightly acknowledges.
The Delta variant and its rapid spread remains a major concern, as do the emergence of new variants which could reduce the efficacy of the vaccines that are driving the world back to form of near normality.
"Still, having endured a year and half of fighting COVID-19, governments and populations now have a better understanding of the pathogen, how to mitigate the damage it inflicts, and how to develop inoculations against its various strains," says the Bloomberg report.
Knowledge is power and the scales are certainly tipping in our favour. Let's hope that continues to be the case!