---
Summary:
The financial reality of the new Istanbul Airport becomes apparent as it is revealed the concessionaire must pay EUR882 million each year;
The existing Atatürk airport will close in Apr-2019, but it will remain 'aviation-ready';
With one concessionaire partner selling out and rumours of Turkish Airlines taking a stake there may be more financial twists to come.
---
The airport – already one of the world's largest with a claimed 90 million ppa capacity on two runways – opened partially on 29-Oct-2018, involving what was claimed to be the world's biggest airport transfer of services and appropriate infrastructure from the existing Atatürk Airport. Turkish Airlines recently said it intends to end scheduled Atatürk Airport operations at 02:00 on 06-Apr-2019 (put back from an original date of 31-Dec-2018) and to operate all its services from the new Istanbul airport instead. At this point it can claim to be properly 'open'.
Atatürk currently remains open and in w/c 01-Apr-2019 Turkish Airlines still accounts for over 80% of its capacity. Eventually its role will become that of a cargo, MRO and general aviation facility. At least it is retaining an aviation role, just in case something should go wrong at the new airport, as was the case with Bangkok's Don Mueang airport, which was brought back into service but unlike for example other capital city airports such as Berlin Templehof (now a public park and a refugee centre) and Athens Ellinikon (a metropolitan park with potential industrial/commercial use).
It is intended that the new airport, situated in the northwest of the conurbation, could handle around 200 million passengers per annum on six runways once fully operational in 2028. The hiatus surrounding the development of the Dubai World Central airport and the cancellation of the New Mexico City International Airport should send out a warning about projections of that astronomical order. In any case it would be venturing into unchartered territory. The world's busiest airport right now handles only half that number of passengers.
CHART - Slowly building - passenger traffic at the new Istanbul airport is taking off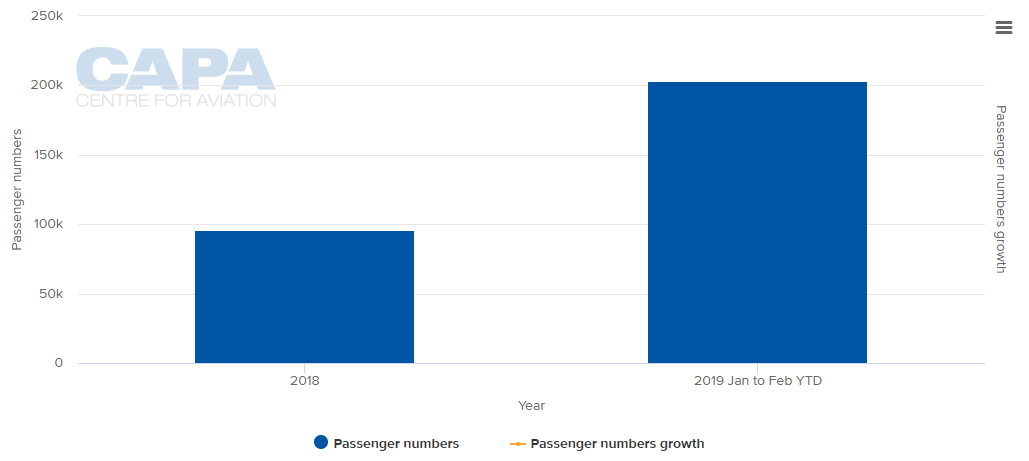 Source: CAPA - Centre for Aviation and Istanbul Airport reports
The opening of the airport and its completion, in double-quick time, opens the door to much greater competition throughout the West Asia, Eastern Europe and Middle East regions, where the so-called 'Middle East Big Three' (MEB3) airlines and the airports that support them have held the upper hand, with less of a capacity issue to contend with than in Istanbul, where Atatürk has been capacity-constrained.
Ahead of the opening of the new airport this has necessitated the sharing of international traffic with Sabiha Gökçen Airport in the eastern part of the city, a facility that is also being developed and will add a second, 3000m runway in 2020. Its owners aren't exactly throwing in the towel.
But this annual rental fee must be daunting to the consortium of (all Turkish) companies (Cengiz, Kolin, Limak, Mapa, and Kalyon) which make up IGA Halavimani Isletmesi AS, which in 2013 won the 25-year BOT contract for the new airport. Kolin Construction has already stated that it plans to transfer its 20% stake to JV partner Kalyon.
That high rental cost comes on top of the USD12 billion construction cost but was built into the original proposal, which came in at USD36 billion for the turnkey project, including concession fees. Suddenly those 25 years aren't looking to be too attractive a concession length and it shouldn't be forgotten that only four of the original 17 bidders showed up for the ultimate session.
Latterly, (Jun-2018) IGA Havalimani Isletmesi AS increased capital from TRY4.5 billion (EUR833.9 million) to TRY6.2 billion (EUR1.1 billion) with the undertaking of the airport's construction, which is coincidentally what it must now pay in fees each year. Earlier, Turkish Airlines had denied local newspaper reports that the company planned to acquire shares from Istanbul Airport, leading to an expected increase in debt obligation. Turkish Airlines said there was no evaluation or board decision regarding a stake acquisition from Istanbul Airport.
There is rarely smoke without fire and there is much to gain and lose from the future development of this airport or the lack of it, for the concessionaire and for the government. Along with the physical development of the airport, observers will be watching the financial machinations closely.