It has been a couple of years now that the flames have been ignited and subsequently flamed by rival airline CEOs. It is true to say it has been a tough period for the airline and you can't have escaped the stories about the dangers of Covid-19 for those with underlying conditions.
Norwegian has dismissed the recurrent stories about its impending demise, but has acknowledged its challenges of perhaps growing faster than its means. With market conditions transitioning in the wrong direction and it yet to prove its business model is sustainable (outside of Scandinavia and in the long-haul market, at least!).
Tore Østby, its EVP strategic development told the audience at last year's CAPA Airline Leader Summit that after years' of "crazy growth" that had "put pressure on the airline", it was "changing its focus from growth to profitability". He said there was a "focus on profitability and cash flow" and a "continuous effort to reduce costs".
The airline started working with an "optimisation of the base structure and route network based on 12-month profitability criteria" and a policy to "divest aircraft not required for the company's commercial needs". Almost six months later, returning to the stage at the CAPA Low Cost Long Haul Summit later in the year, he highlighted evidence of this changing focus and plans to continue to "tune" its cost base, reducing cost growth by NOK3 billion (EUR298.6 million).
Those changes have meant it has approached the current coronavirus in a slightly healthier position. But its underlying prognosis remains far from positive. The recent bankruptcy filings from Norwegian Pilot Services Sweden AB, Norwegian Pilot Services Denmark ApS, Norwegian Cabin Services Denmark ApS and Norwegian Air Resources Denmark LH ApS affecting over 1,500 pilots and 3,000 cabin crew perhaps highlights how the airline will look after the current pandemic.
The coronavirus crisis is leaving scars in even the most healthy. Norwegian's management describes it as differing "in abruptness and severity to any other crisis faced in modern times". Right now the airline is in hibernation, has furloughed 80% of its employees and has initiated significant liquidity preservation measures.
The Norwegian Government has proposed a state aid package of NOK 3 billion upon certain conditions that will provide a vital lifeline. In order to fulfil these requirements and receive the funds, Norwegian is dependent upon a restructuring of its current debt and a new cash injection. The carrier says this restructuring will "create a path to a sustainable platform going forward" but that it is "critical to get access" to the state aid package by mid May "before the company runs out of cash".
In a presentation to investors this week the airline highlighted its tentative journey from hibernation into the recovery phase and it has a pessimistic outlook. It expects its hibernation phase to last into the low season with a focus on cash preservation, then a planned recovery during the high season in 2021 with operations back to normal 2022. This is its base case so we could see movement in either direction should the environment change, i.e. a vaccine is mass produced or perhaps additional virus waves attack.
What it will deliver is a new airline, a new Norwegian that will build on its existing platform and customer footprint, but "based on a clean-sheet approach with focus on core profitability and aggressive cost focus". This will see a "significant resizing of fleet," according to the carrier, with "economic rightsizing to a more profitable network".
CHART - It is a familiar picture across most airlines only with slightly different timing, Norwegian Group system capacity fell from the end of Mar-2020, but don't let the files schedules from early Jun-2020 fool you, it has a much more pessimistic outlook for the recovery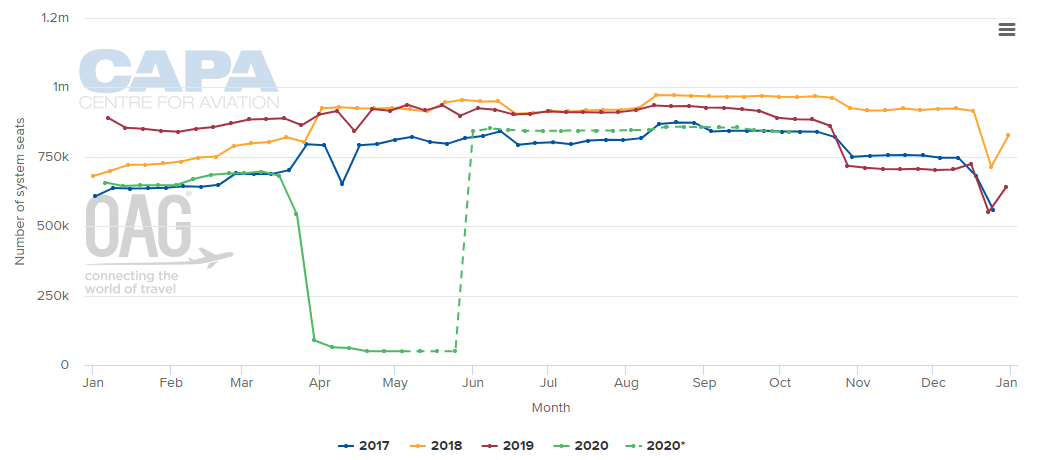 Source: CAPA - Centre for Aviation and OAG (data: 27-Apr-2020)
As at the end of Apr-2020, Norwegian had just seven active aircraft flying on domestic routes in Norway under a state-subsidised programme. This could remain the case until Apr-2021 on its base case "built on a slow recovery scenario where operations are kept at a minimum level until demand is picking up and the company is in position to ramp-up the most profitable routes stepwise".
Then, there will be a "gradual normalisation of core routes" across its Norwegian short-haul operations and European short-haul and the opening of its "most profitable" long-haul routes "upon sufficient demand". Normal operations for New Norwegian will begin in Jan-2022. Again, Norwegian notes this is a base case and the plan "allows flexibility to restore operations earlier upon sufficient demand".
The big question is how different New Norwegian will look from its existing form. The current Norwegian fleet at peak included up to 127 narrowbody and 41 widebody aircraft – 168 in total. The expectation is that the new version of the airline will comprise around 110 to 120 aircraft, albeit the narrowbody and widebody split is not defined. The airline says the final fleet plan "will be dependent on the market after Covid-19, with route profitability being the key" but does suggest long-haul production could be 40% lower in the future.
What is certain is that the home Nordic market will provide a key platform for the new operator, just like it did for the original Norwegian Air Shuttle regional carrier that latter morphed into the global LCC. Norwegian has a strong market position in the Nordics which presently proves to be more resilient to the Covid-19 impact compared to other regions of the world and fortifying the Nordics will be a cornerstone of the New Norwegian network strategy.
'The king is dead, long live the king!' Ironically, the coronavirus pandemic may have killed off Norwegian in its previous form, but at the same time it may have actually saved the airline!