In the United Kingdom – one of the countries worst hit by the coronavirus pandemic – the biggest airlines are already actioning resizing plans that is seeing numerous job cuts. In Virgin Atlantic Airways' case it involves it abandoning its birthplace of London Gatwick Airport at least in the short- to medium-term; British Airways is understood to be considering something similar.
While airlines can remove numerous costs from the business, one major factor remains uncertain in any recovery, but is an essential ingredient in its operations: the price of fuel! Fuel costs are a significant and highly variable expense for airlines and generally account for between 20% and 25% of outgoings, but in the early years of the last decade peaked at more than 30%.
According to International Air Transport Association (IATA) the global airline industry's fuel bill is estimated to have totalled USD188 billion in 2019 (accounting for around 23.7% of operating expenses at an average price of USD65 per barrel Brent). This was an increase of 4.7% over 2018 and was almost 50% more than the USD127 billion fuel bill for 2006, which accounted for 28.4% of operating expenses at a similar rate of USD65.1 per barrel Brent.
CHART – There is a pretty direct correlation between industry fuel costs and net profits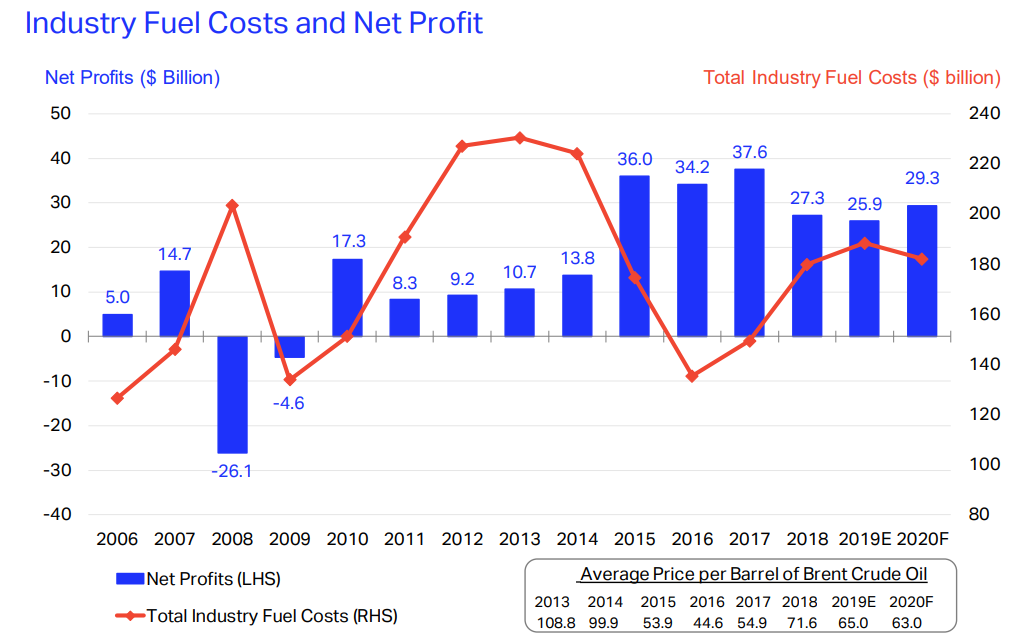 Source: IATA
IATA had predicted that the airline fuel bill in 2020 would be around USD182 billion, less than last year due to a declining cost per barrel (down to USD63 per barrel Brent) and accounting for 22.1% of operating expenses. To manage against the fluctuating cost many major carriers, as per normal practice, had hedging measures in place. Then the world changed and everyone stopped flying.
This has led to a slump in the crude oil market as the global spread of coronavirus and related government lockdowns in several countries has seen demand for fuel collapse. In fact, we have recently seen a situation of negative fuel where the price of US crude went negative for the first time in history as excess stocks of unwanted oil in the market meant producers were paying buyers to take oil off their hands.
The conservative hedging that was supposed to safeguard airlines has left some with hefty bills. Ryanair has forecast an exceptional charge of EUR300 million in FY2020 due to expected FY2021 fuel hedge losses, Brazil's Gol expects an USD53 million hedging loss in 1H2020, while Air France-KLM has said it could reportedly face a fuel hedging loss of EUR1 billion in 2020. Qantas CFO Vanessa Hudson has also stated the carrier's substantial reductions in capacity means it has an "overhedged position and that will come at a cost".
As more airlines across the world now start to consider resuming flights, how will the price of fuel impact their plans, and how will their operations impact the price of fuel? Paul Hickin, associate director at energy and commodities benchmarking specialist S&P Global Platts, tells The Blue Swan Daily that you have to put it into the context of what else is going on with oil demand and supply, the key fundamentals. "Remember, that lower oil demand helps bring down oil prices and lower oil prices helps stimulate demand," he says.
Brent prices are likely to trade between USD15 per barrel and USD40 per barrel in the short-to-medium term but the market expects prices to soar by year's end, according to the latest from Platts Analytics. "The market may be a bit premature in its optimism," warns Mr Hickin, as, while lockdowns may be easing, "there is still a massive glut to clear and demand is only likely to limp back to life". He adds: "OPEC+ compliance and production shut-ins may help the supply issue but all eyes should be on the evidence of demand recovery especially around gasoline as a key indicator."
The current low price of fuel would be great for airlines, only most are not currently flying with global air capacity down more than -70% year-on-year, according to the latest The Blue Swan Daily research. "Oil demand has been obliterated," acknowledges Mr Hickin. S&P Global Platts Analytics predicts oil demand falling 8.7 million barrels per day this year following 20 million barrels per day declines in April and May, what Mr Hickin describes as being "the bleakest months". But, "the day is darkest just before the dawn," he explains, signifying that things may often seem to be at their worst just before they get better.
Under usual circumstances the collapse in oil prices would help stimulate demand but these are far from usual circumstances. "While all oil products have been impacted, the worst affected have been jet fuel and gasoline given the restrictions around air travel and driving," explains Mr Hickin. "The question now as we approach a crossroads of sorts is how quick any recovery will be as restrictions ease".
[perfectpullquote align="left" bordertop="false" cite="" link="" color="" class="" size=""]
"Will coronavirus have done irreparable damage to the industry? That could well be the case but that is not to say oil demand will continue its upward trajectory in the years ahead, albeit at a slower pace."
Paul Hickin, Associate Director, S&P Global Platts [/perfectpullquote]
The route to recovery for air transport remains uncertain, but we can now say it will not be 'V-shaped' as first hoped, especially with the huge risks of a potential second wave of infections that medical professionals are increasingly discussing. From Mr Hickin's viewpoint lingering doubts over a potential 'W-shaped' recovery remain, but he believes like many that a 'U-shaped' recovery is probably the most likely scenario at this stage.
"But whatever the recovery looks like, we will see a quicker improvement in gasoline demand than jet fuel as getting back in your car is simply a lot easier to do under any new normal," he acknowledges. "It should also be noted that it may take several years for oil demand to recover to pre-coronavirus levels given how societies may have to live under the new environment and the fact that the lockdowns may change the way businesses operate longer term".
But what are the short-, medium- and long-term trends that could influence the price of oil in the future. "I think the big question here is whether the fallout from low oil prices, including big oil companies slashing capital spending and investing in oil projects, will lead to supply shortfall at some point," says Mr Hickin.
This may seem far-fetched at the moment given the 10 million barrels per day in production cuts from OPEC+, US and Canadian producers that has led to a glut of oil that has seen storage both on land and sea fill up fast. It is all about consumption, says Mr Hickin.
"Now US shale is likely to rebound – since oil companies may go bust but their assets don't – and OPEC could return to a pump-at-will strategy if the demand is there and so it all rests on that: consumption," he says. "With the energy transition having stepped up a gear before the pandemic hit, it will be keenly watched as to what demand for oil will look like."
While many talk of a 'new normal', Mr Hickin believes it will be "just a phase as the energy transition story rewrites the rules for oil demand and supply". He says that this is likely to impact investment in oil projects, but that oil prices "will remain a function of a complex interplay in market forces and government strategies to meet climate change targets".
Jet fuel may only account for around 8% of total oil demand but together with petrochemicals was seen as a huge growth area over the next decade or so since air travel is seen as the most difficult mode of transport to convert to greener energy, despite the nascent rise of biojet fuels.
Will coronavirus have done irreparable damage to the industry? "That could well be the case," acknowledges Mr Hickin, "but that is not to say oil demand will continue its upward trajectory in the years ahead, albeit at a slower pace."
"No matter what happens with energy transition, oil will still likely play an important role in the energy mix especially outside of Europe in the same way coal is still embedded in many economies including China," explains Mr Hickin.
INFOGRAPHIC - S&P Global Platts highlights that while WTI dipped into the negative Brent has recovered from a 21-year low and remains the price that matters as a barometer of the oil market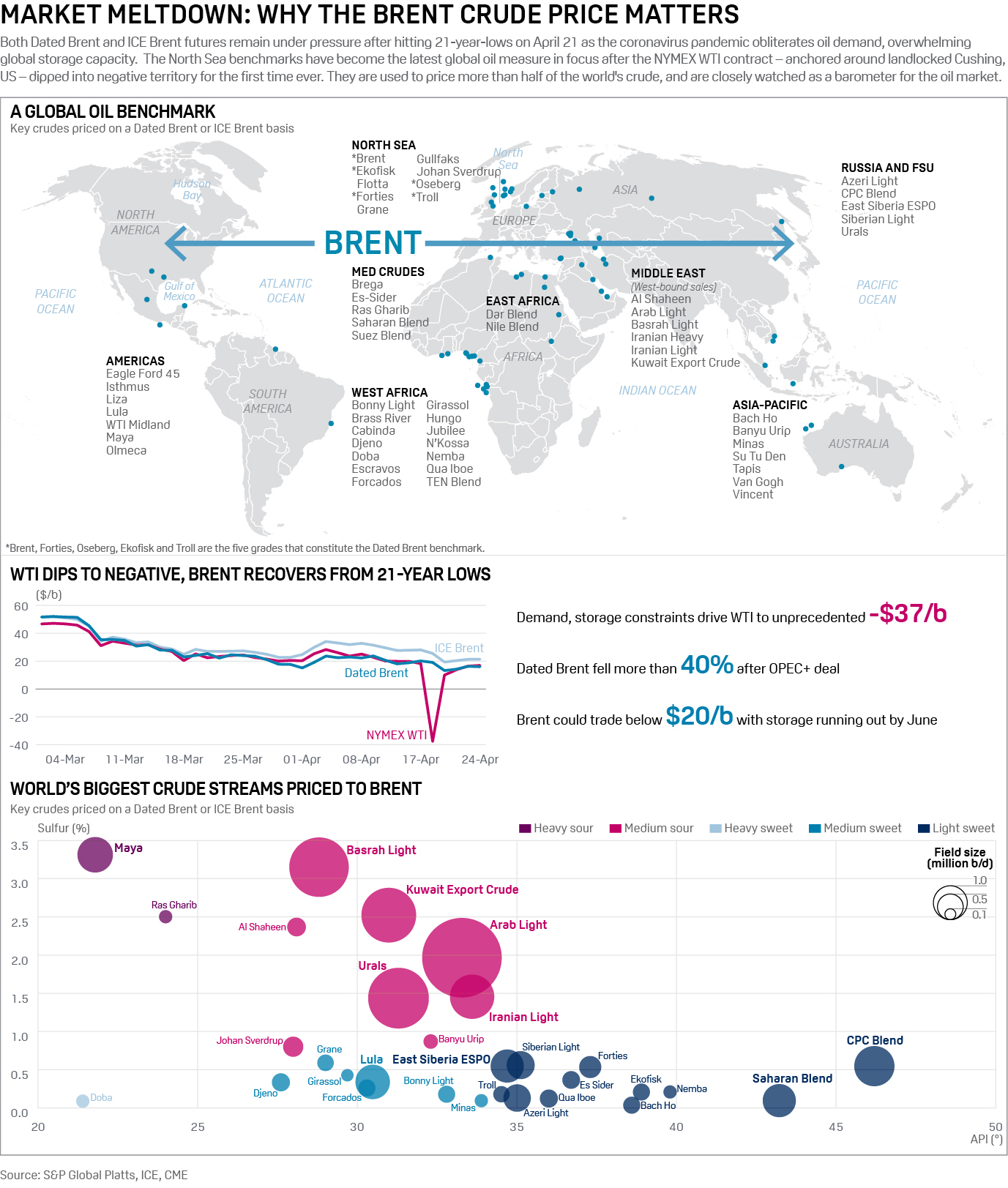 Source: S&P Global Platts, ©2020 by S&P Global Inc