The aim of the new joint venture is to give passengers more flight connections between the two carriers and access to a wider network. This is something their relationship as sisters within the Star Alliance should already delivering, but it is the complex nature of the alliance framework that has actually long-delayed its arrival as members still compete for lucrative traffic flows.
The new JV is subject to the normal regulatory approvals, but could ultimately allow the two carriers to further strengthen their cooperation on services between Singapore and Japan, as well as in key markets including Australia, India, Indonesia, and Malaysia. They say, if approved, they will be able to jointly offer customers "more seamless access" to flights in their respective route networks, as well as "a broad range of joint fare products, and tie-ups between frequent flyer programmes".
Asia is a highly competitive market and with Japan Airlines and Malaysia Airlines recently teaming-up, more partnerships can be expected, especially as legacy airlines continue to evolve to compete with growing LCC activity across the region. Interestingly, this deal marks only the third JV partnership for ANA and its first in Asia. Its others are also with fellow Star Alliance partners United Airlines on flights to/from the US, introduced in 2011, and Lufthansa Group on flights to/from Germany, introduced in 2012.
It may be another year before we actually see this JV get the green light from regulators, but adding to the existing codeshare deal between the two airlines, it should deliver more flight options and deliver a consistent experience across the brands for passengers. A co-ordinated schedule would deliver reduced transit times, improving connectivity between Singapore and regions of Japan, as well supporting connections via hubs in Singapore and Tokyo.
Traditionally, a strengthening of one business (joint business in this case) can weaken another, ultimately leading to higher air fares, and could be something to watch, albeit this will be a clear criteria within investigations by the regulatory authorities and competition watchdogs will only give the green light if they are satisfied that consumers will not be disadvantaged.
CAPA- Centre for Aviation analysis of OAG flight schedules highlights that together Singapore Airlines and ANA hold a current 75% share of seat capacity between the two countries. Last year, approximately 1.3 million passengers flew between Singapore and Japan, up +13% on 2018, with demand slewed to Japan originating traffic in a rough 60%:40% share.
DATA – Singapore Airlines is the dominant airline on the Japan-Singapore route, while All Nippon Airways and Japan Airlines have a similar level of seats on offer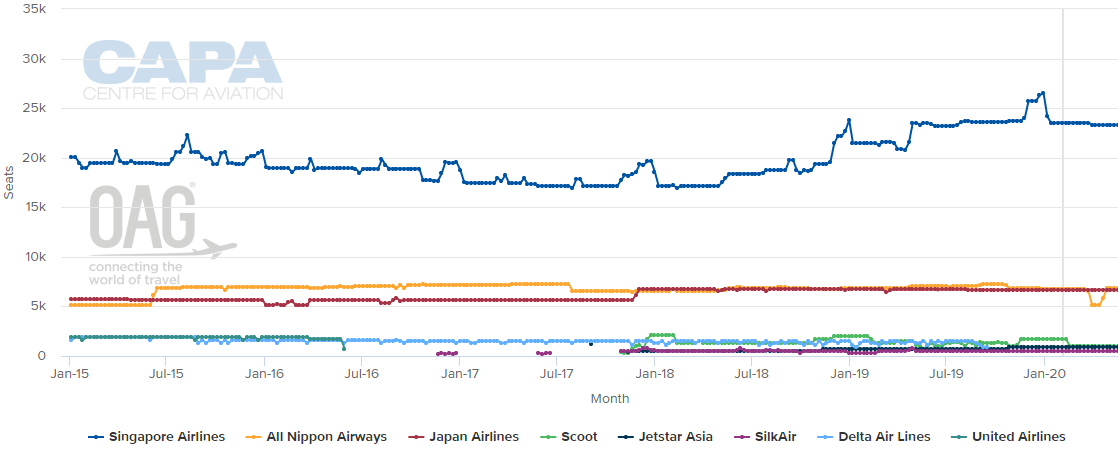 Source: CAPA – Centre for Aviation and OAG (data: as at 03-Feb-2020)
Goh Choon Phong, CEO of Singapore Airlines, says that through the partnership, customers would be able to enjoy "increased flight frequencies and travel convenience, and access the strong connectivity at both the Singapore and Tokyo air hubs, while enjoying industry-leading products and services."
Singapore Airlines already has JVs with Star Alliance partners Air New Zealand, Lufthansa and SAS. Within Asia it has signed an agreement with Malaysia Airlines that could see the two airlines expand codeshare routes, share revenue on flights between Singapore and Malaysia and develop "joint marketing activities". Singapore's competition watchdog ended its public consultation on the proposed cooperation in Dec-2019.