This week daily confirmed cases exceeded 6,000 for the first time since the start of the outbreak last year. Ahead of any more stringent control measures the Japanese government has already begun considering suspending new entries of foreign nationals under business travel agreements with 11 countries and regions, including China and South Korea, in an effort to curb COVID spread.
Japanese domestic air capacity had bounced back quickly in mid-2020, although domestic travel was not shut down to the same degree as in other countries, it was still cut back dramatically by government movement restrictions. International services have remained in the doldrums despite the business travel corridors and airlines will continue to have very little international feed to their domestic networks for some time.
They will have to rely on Japanese local travel for the immediate future, something of a reversal in the importance of the domestic and international markets in Japan. A relatively flat population growth and the spread of the high-speed rail network has meant that Japanese airlines have kept growth low in their domestic networks in recent years, instead focusing on international markets for traffic and network expansion opportunities. Now, however, the airlines are heavily reliant on their domestic divisions.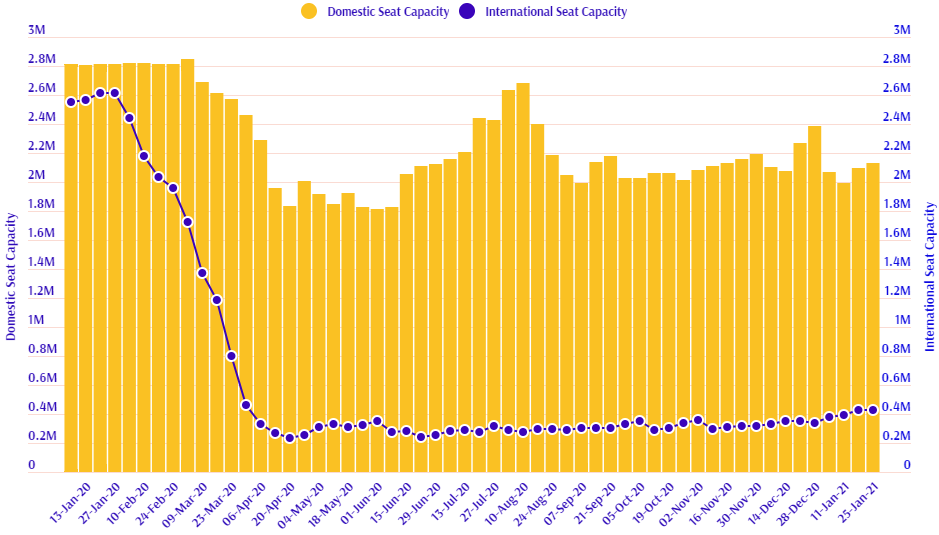 COVID-19 has prompted major strategic reviews by Japan's two largest airlines, and one of the most significant results is an increase in focus on LCCs. This includes the establishment or expansion of widebody low cost operations to serve international markets. Both All Nippon Airways and Japan Airlines are trimming back their mainline fleets by advancing the retirement of widebody aircraft. In contrast, their LCC units are being boosted.
This reflects changes in demand outlook that the airlines foresee. Premium business travel is expected to remain weaker for longer, with leisure traffic and travel for friends and family visits predicted to bounce back faster when border restrictions are eased. ANA believes – as do many other airlines – that virtual meeting technology will be a long term drag on business travel.
"Japan's airline market has always been different," says CAPA – Centre for Aviation in an analysis report on the country. Until recent years it has relied primarily on outbound travel, but as the country's directional tourism flows change, with a surge in inbound travel, "strategies may need to adapt in ways that conform more closely to the other international models," the CAPA report explains.
The report 'All Nippon and JAL: widebody LCCs to broaden international offering' illustrates that JAL and ANA have obviously decided this multifaceted model "will give them the best weapons to compete in the eventual international demand recovery".
But the timing obviously depends on the control of infections and the roll out of an efficient vaccination strategy. The greater Tokyo region has been – and is now – among the worst hit and the expected state of emergency would cover the capital and the three neighbouring prefectures of Chiba, Saitama and Kanagawa. It is expected to last just a month, but medical experts have warned it will take longer for the third wave of infections to come under control, stressing the need of taking stricter steps.
How effectively the virus spread is managed is especially important with the delayed Summer Olympics due to take place in Jul-2021 having been postponed from last year. Japanese officials are certainly fearful of how a lockdown or other emergency measures will harm the economy.
The International Olympic Committee (IOC) has already indicated there will be an "overall simplification of the Games" with pared-back opening and closing ceremonies. Whether and how many foreign spectators will be able to attend the Olympics is not a decision that will be influenced now, but with the event just 200 days away these decisions will need to be taken in the coming months.
While uncertainty surrounds the scale of the Olympic Games, YouGov SportsIndex data shows that Japanese people continue to consider the event the world's most prestigious sports property. In fact, the Olympics' Reputation score has grown stronger in the country in the last 12 months.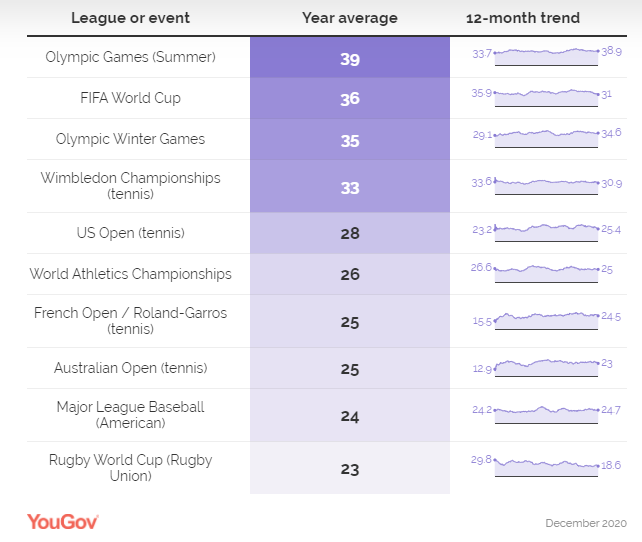 The costs of hosting the Olympics have skyrocketed, while the economic benefits are far from clear. Tokyo reportedly lost approximately USD150 million on its failed bid for the 2016 Olympics and approximately USD75 million on its subsequent winning bid.
Hosting the games is even more costly than the bidding process. Sochi is said to have invested more than USD40 billion in constructing non-sports infrastructure for the 2014 Olympics. Beijing spent over USD20 billion constructing roads, airports and rails, as well as half that amount on environmental clean-up.
While the cost to Tokyo is unlikely to be as high, its is mindful to remember that London paid close to an estimated USD$15 billion to host the 2012 London Olympics and Paralympics. Many cities will actually end up going into debt because they hosted the games and Japan will feel the effects of the "simplification" of the Games like no previous host.
How this will impact Airbnb is also unclear. The online rental platform has committed to a nine-year, five-Games partnership with the IOC – its first sports sponsorship – designed to create a new standard for hosting designed to support host cities, spectators and athletes alike.
The goal has been to further elevate the Airbnb brand profile among the general public as well as sports fans, and additional research from YouGov appears to suggest it has been working, although future hosts and seeing stronger influences than there has been in Japan.
The research indicates that Olympics fans in future host-countries – France, the United States, Italy, China, and Japan – are more likely to consider booking on Airbnb compared to the general populations of their respective nations. "Large-scale events like the Olympics fit well with Airbnb's business model, which offers flexible accommodations where demand in a specific location suddenly surges for a limited time, outpacing supply," according to the research.