The latest OAG data shows that there are just over 6,000 scheduled flights in October to and from the Islands; that's around 200 a day so certainly no shortage of options. Seven carriers operate schedules with United leading the market with around 26% frequency share in what looks like an extremely crowded space. As you would expect, all carriers serve their respective west coast hub facilities so Los Angeles, San Francisco and Seattle therefore account for some 61% of all frequencies to the mainland.
For Southwest, the obvious locations from which they will launch services are Long Beach, Orange County, Oakland, Phoenix with Las Vegas slightly more of a gamble; sorry couldn't resist that opportunity!
CHART - Domestic seat capacity into Honolulu's Daniel K Inouye International Airport, the largest gateway into Hawaii, will rise in 2017, the first year-on-year growth in more than five years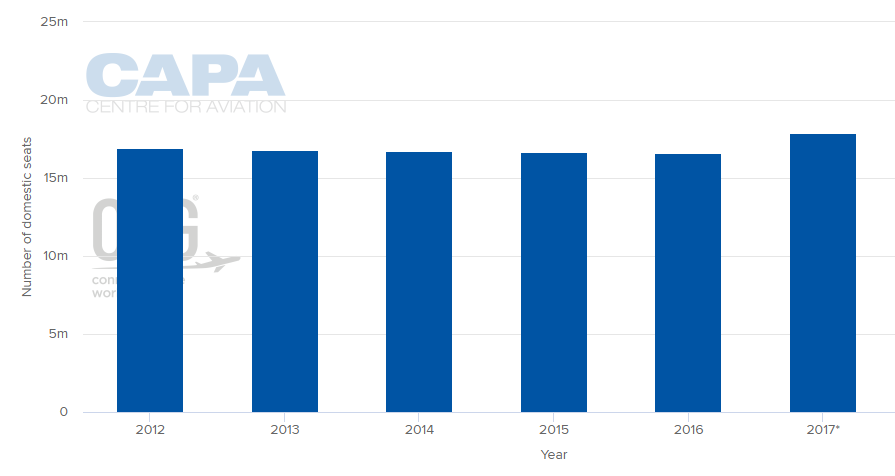 Source: CAPA - Centre for Aviation and OAG
With connecting traffic a crucial element of the market one airline may be more vulnerable than others to the arrival of the network machine that is Southwest and that is Hawaiian Airlines which is currently serving some 10 mainland destinations, some of which are currently not served directly but are Southwest bases.
Our assessment is that Southwest will very quickly be operating daily services to those destinations we've identified above and will be dropping in around an additional 8% capacity into the market through a mix of services. Put another way, that's around 3,500 seats a day.
In the last five years' capacity has been rising steadily between the Islands and the mainland with some 6% growth in 2017 whilst yields have been holding steady as the chart below shows. That recent nice balance may just change in the next few months as Southwest enter the market.
CHART - Airline yield performance in the Hawaii - US market has been fairly stagnant; Virgin America the only obvious discrepancy, albeit reverting to trend since 2015

For Hawaiian Airlines, one of the most punctual airlines in the world, perhaps some strong marketing messages highlighting the poor punctuality of the new market entrant may be only the beginning of a battle it would have preferred to avoid.
Ultimately, wherever Southwest go they make a big wave and Hawaii will be no exception. And one thing is for sure, the surf is going to be going higher than the yields!