AirPlus' annual survey includes more than 3000 travel managers and business travellers in 24 countries. The results of this 13th study provide a comprehensive overview of current events, trends and expectations in the business travel industry.
Travel managers weigh in
Globally, travel managers anticipate an increase in travel bookings by 35%, with the majority coming from emerging economies. "The world may seem an increasingly volatile place, but so far business travel is flying through the political turbulence unharmed," hypothesizes AirPlus.
The number of business trips worldwide will…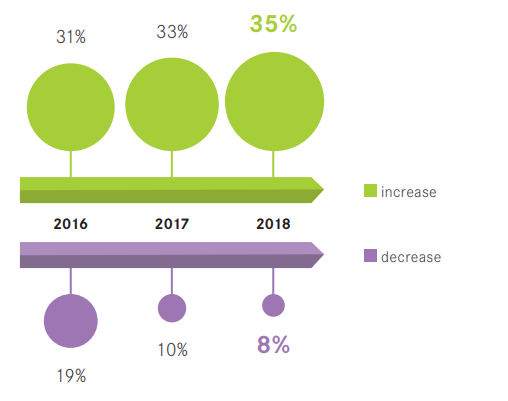 Source: AirPlus ITMS 2018
Change of sentiment among travel managers in the USA and UK
American and British travel managers rate the situation differently to their colleagues in these prosperous emerging economies. The number of respondents that expect growth in travel has decreased significantly in both countries. At the same time the proportion of those in the USA and UK that expect fewer business trips has more than doubled. But travel managers in the USA and the UK also basically expect an overall business trip increase.
Expect to spend more
With the ITSM revealing businesses expect to travel more, the same can then be expected for costs. Travel managers have identified that the cost of increasing airfares will negatively impact their programmes. The other major concern is hotel spend, which 36% of travel managers think will rise. Interestingly, fewer travel managers are worried about the cost of meetings & conventions.
Business travel spend in the company will…

* Where percentages do not total 100%, this is the result of respondents not answering this question.
Business Traveller have their say
Business travellers share similar sentiments to those of the travel managers, with a global increase of 36% expected. Once again fast-emerging economies take the lead in travel growth with India expected to increase by 70%, Brazil by 55% and China by 54%. European figures are much lower, especially in Belgium, which is the only country worldwide where a greater number of travellers expect trips to decrease rather than increase.
The numbers of business trips in the company will ...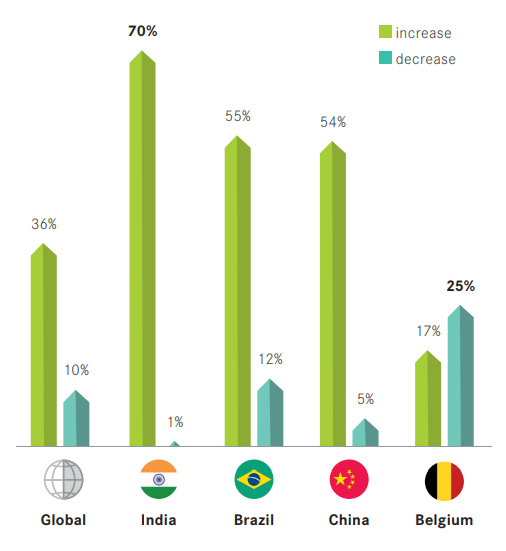 Overall outlook for business travel in 2018
Travel managers increasingly expect their companies to book more trips. Those anticipating more travel are up for a second year running, to 35%.
There are fewer travel managers who think their company will travel less, now down to 8% - the lowest figure in the International Travel Management Study since 2009.
Out of all 24 countries in the study, India has the most travel managers (77%) and business travellers (70%) forecasting increased travel.
Travel managers are worried about rising costs, with 41% expecting air travel spend and 36% expecting hotel spend to go up.
Travel manager opinion is split on whether the economy is affecting business trips positively (27%), negatively (20%) or not at all (50%).
Higher spenders are more worried than medium and low spenders about rising trip costs. Higher spenders also make less use of low-cost carriers.
To find out more or see the full report from AirPlus, click here.