There is clear evidence that when a brand offers experiences tailored to each consumer's specific needs, they are more likely to continue their journey with that brand. A positive factor in a world where loyalty is regularly meaning less and less to consumers and diluting business value.
Put simply, personalisation allows a company to segment its consumers and target them accordingly. It is becoming especially important as consumers have access to an every increasing array of content from a plethora of channels. However, not everyone is taking advantage of the benefits of personalisation.
One area of the travel arena that can benefit significantly from personalisation is the hospitality industry, in particular accommodation providers. Hotels offer a huge range of services which appeal to different degrees to their targeted customers. Whether that is access to a heated swimming pool, complimentary high-speed in-room Internet or an in-house Michelin-starred restaurant, presenting the right offer to the right prospective guest could make a big difference.
The key to satisfying a guest and being part of their individual universe is to offer a customised and personalised experience, but that has gone beyond simply offering a personal message on the television in their room. If a property can go beyond just delighting and surprising the guest and truly put in efforts to elevate their experience to the next level, it will have a huge impact on the hotel's brand identity, customer satisfaction and loyalty.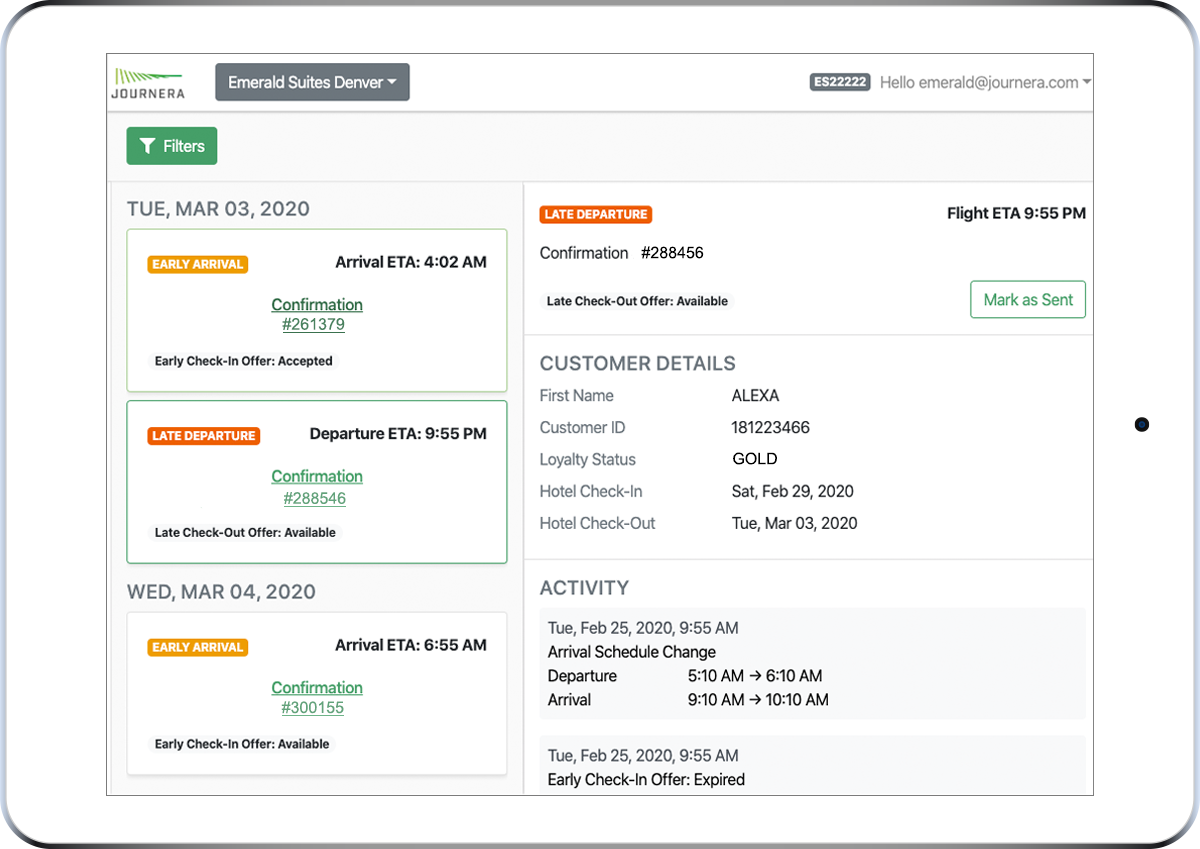 Travel software company Journera believes its newly launched JourneyVision software as a service (SaaS) solution will provide hotels with a real-time view of all aspects of a traveller's journey that will allow them to better personalise their offer. The new product harnesses the power of the existing Journera platform to personalise guest experiences, giving hotels a real-time view of the guest's full travel journey, beyond just the details of the hotel stay.
The platform algorithmically matches hotel reservations to any air, ground or other related reservations that are published into Journera, no matter where they were booked. The additional visibility into the traveller's journey for frontline staff - early arrivals, late departures, flight disruptions like delays and cancellations, and other elements of the travel journey - should allow for an elevated experience and a level of customer service.
"From early check in, room readiness, and upgrade possibilities, to late check out or proactive responses to disrupted travel plans, the opportunities for improving the guest experience are endless," claims Journera, and allows properties "to extend personalised offers which drive ancillary revenue, improve operational efficiency based on guest traffic patterns."
Personalisation is key to driving traveller satisfaction and such platforms as this could become key in the future to delivering the offer that more and more travellers are now expecting as standard. But, getting personalisation right is far from being standard!