---
Summary:
After a very slow start the privatisation of Japanese airports is proceeding at a gallop;
There are many drivers including airport charges flexibility, non-aeronautical revenue growth and foreign tourism stimulation;
With several transactions concluded over the last three years, including ones that embraces the three Osaka-area airports the next ones include the first 'package deal' on the Hokkaido islands' airports;
While the complete programme may take many years, and there will probably be a hiatus, many airports are joining the privatisation queue.
---
There are many drivers, including the need for more flexible landing fees to attract more airlines; more efficient management; revitalisation of the airports; capturing the growing foreign and particularly Asian demand; and for non-aeronautical revenues to grow to offset the reduction in landing charges.
The big change came about in 2011 when the Ministry of Land, Infrastructure, Transport and Tourism (MLITT) announced it would privatise all national airports by 2020. Japan's airports are divided into: National (e.g. Tokyo Haneda, Fukuoka and Shin-Chitose), owned by MLITT and the main privatisation target of the government; Local (e.g. Kobe , Shizuoka, Memanbetsu); Corporate (e.g. Tokyo Narita, and Nagoya Chubu); and Defence/civil. The latter two categories are not currently targeted for privatisation.
MAP - Japan's airport system consists of 19 national facilities, nine defence/civil airports, four corporate airports and 65 local airports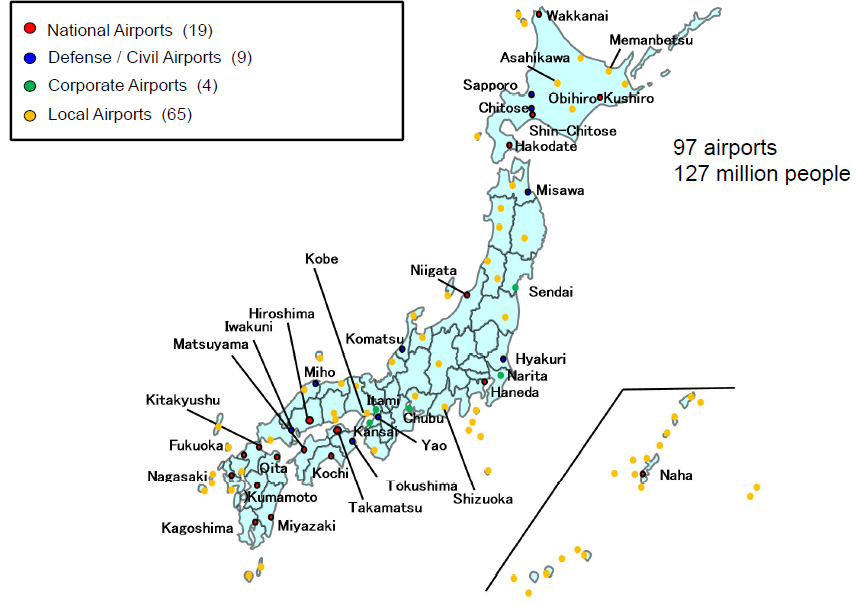 Source: MLITT
Following on from the Kansai transactions of Osaka Kansai and Osaka Itami airports (to a Japanese/French consortium of Orix and Vinci) and the one on Sendai Airport which took place six months later (Tokyu Group consortium), the same Orix/Vinci consortium took control of Osaka Kobe Airport on a 42-year concession contract on 01-Apr-2018.
In the same month and in a surprise development the Shizuoka Prefecture concluded an agreement with a consortium led by Mitsubishi Estate and Tokyu Corporation for the private operation of Mount Fuji Shizuoka Airport under the terms of a 20-year concession contract with privatised operations to commence on 01-Apr-2019.
Since then, attention has focused on forthcoming deals involved the national level airports of Fukuoka and the Hokkaido island airports, which have been grouped together. Most of the potential investors, as in the case of the Kansai and Sendai airports, are Japanese and MLITT is very keen to attract experienced foreign operators into the mix.
The formal package privatisation tender for 'One Hokkaido' (seven airports on a 30-year concession) was issued on 25-Apr-2018 with a minimum bid price at JPY72 billion (USD658.1 million). A deadline date of 16-Aug-2018 has been set for the submission of tender documents. Shin-Chitose is the largest and each of the airports will be marketed on the basis of their ability to attract individual tourist-based route operators.
In May-2018 MLITT selected the Fukuoka Airport HD Corporation-led consortium as the priority negotiation rights holder on its tender to operate privately Fukuoka Airport also under a 30-year concession contract. Members of the consortium include Nishi Nippon Railway Corporation, Mitsubishi Corporation, Kyushu Electric Power Corporation (all Japan) and Singapore's Changi Airports International. Private operation of Fukuoka's passenger terminal facilities is anticipated for Nov-2018 and commencement of full scale private operation in Apr-2019. MLITT set the minimum bid price on the contract at JPY161 billion (USD1.5 billion).
CHART - Steady but inconsistent has been the story at Fukuoka Airport this decade with annual traffic growth fluctuating between 4% and 11%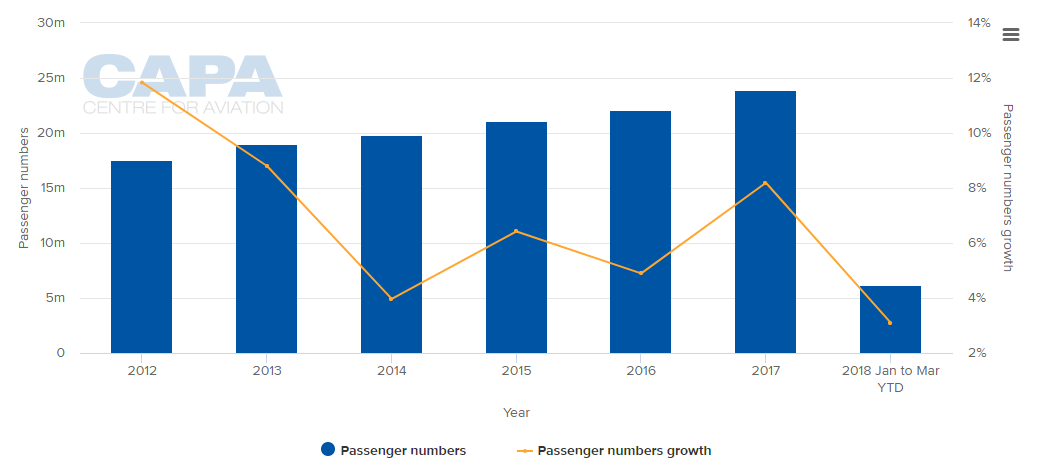 Source: CAPA - Centre for Aviation and Japan MLITT
Other, smaller transactions have already taken place or are under way on the Takamatsu and Shirahama airports. The Takamatsu Airport Corporation, led by Mitsubishi Estate, commenced private operation of that regional airport on 01-Apr-2018 on a 35-year concession contract.
Meanwhile, the Wakayama Prefecture selected a consortium led by Michinori Holdings, a public and tourist transportation service, as the priority negotiation rights holder to operate privately Shirahama Airport from Apr-2019. The 10-year concession contract here was expected to be a hard sell as at the time the tender was issued there were only three daily flights.
That isn't the end of it by any means. Forthcoming transactions will affect airports that fall within the MLITTs main focus and some that don't. The two largest ones are Kumamoto Airport, which is to be privatised by Apr-2020, and Hiroshima Airport (Apr-2021). That may be the end of it for a while, as the MLITT will wish to assess the benefits of the exercise before proceeding further, but it is known that other airports do covet the opportunity to jump on to what is now a bandwagon having previously been a lame horse-drawn cart, amongst them Nagasaki Airport.
READ MORE: Japan's airport privatisation process is a special feature in the soon-to-be-published Airport Privatisation and Finance review 2018.