The Asian flag carrier is conducting a two-week trial of the app over the last two weeks of Mar-2021 on its Singapore – London route. Passengers booked to fly on the long-haul route which own phones with Apple's IOS operating system are able to download the app and create a digital ID comprising their profile photo and passport information.
Ahead of leaving Singapore they can book a pre-departure COVID-19 test at one of seven participating clinics in Singapore, registering using their digital ID and flight information. They will subsequently receive their test result and, if negative, confirmation of their 'OK to Travel' status which is displayed to airline staff at Changi International Airport prior to leaving the country.
This is the first full deployment of the IATA Travel Pass, a product that many in the industry see as an effective toll to help get the world flying again. "In the immediate term, it is the solution for travellers to safely and securely manage their travel health credentials," says Nick Careen, IATA's senior vice president airport, passenger, cargo, and security.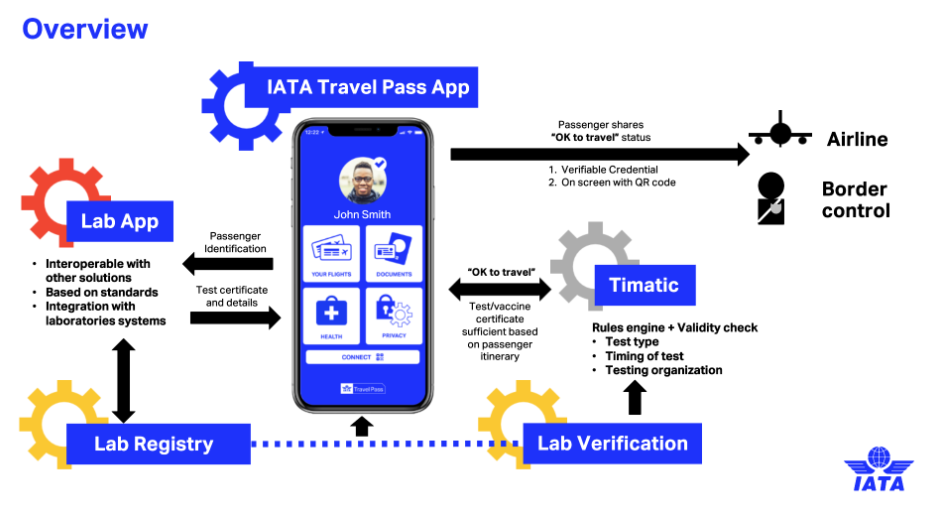 For the travel and tourism industry the main priority is to safely get people travelling again. In the immediate term that means establishing confidence in governments that systematic pre-departure COVID-19 testing can work as a replacement for quarantine requirements. This will be an initial foundation for travel that will later transfer from a testing based protocol to a vaccination based record.
Alexandre de Juniac, IATA's director general and CEO says the successful implementation of the Singapore Airlines trial demonstrates that technology "can securely, conveniently and efficiently help travellers and governments to manage travel health credentials" and "shows that governments can efficiently manage these travel requirements with complete confidence in the identity of the passenger and the veracity of the travel credentials".
To gain maximum benefit from the IATA Travel Pass and avoid confusion and inconvenience for passengers, the standardisation of test or vaccination certifications, and their acceptance by authorities is key. A recent IATA poll of travellers found that 89% agree with the need for global standards and 80% are keen to use a mobile app to manage their travel credentials.
The IATA Travel Pass offers a more secure and efficient than current paper processes used to manage health requirements (the International Certificate of Vaccination or Prophylaxis, for example). This is important given the enormous scale of testing or vaccine verifications that will need to be securely managed to enable air travel to grow while COVID-19 infection remains a threat.
It is not alone as a solution and there are other providers in the market, but it proving popular with airlines because it is being built with deep knowledge of their operational requirements and the needs of their customers in mind. Alongside Singapore Airlines, other carriers planning to trial IATA Travel Pass include airBaltic, Air New Zealand, Copa Airlines, Emirates Airline, Etihad Airways, Gulf Air, IAG, Korean Air, Malaysia Airlines, Qantas and Qatar Airways.
IATA confirms that following the Singapore Airlines trial, a plot will be completed with IAG among its European airlines and as yet undetermined trials are being formalised with Qatar Airways, Emirates Airline, Etihad Airways and Copa Airlines along with as many as 15 additional airlines.
Alexandre de Juniac has described what has happened in aviation over the past 12 months as "nothing less than catastrophic". We know that the scale of the decline completely dwarfed what happened with 911, SARS or the global financial crisis, but IATA has revealed just how COVID-19 has caused a de-connecting of the world.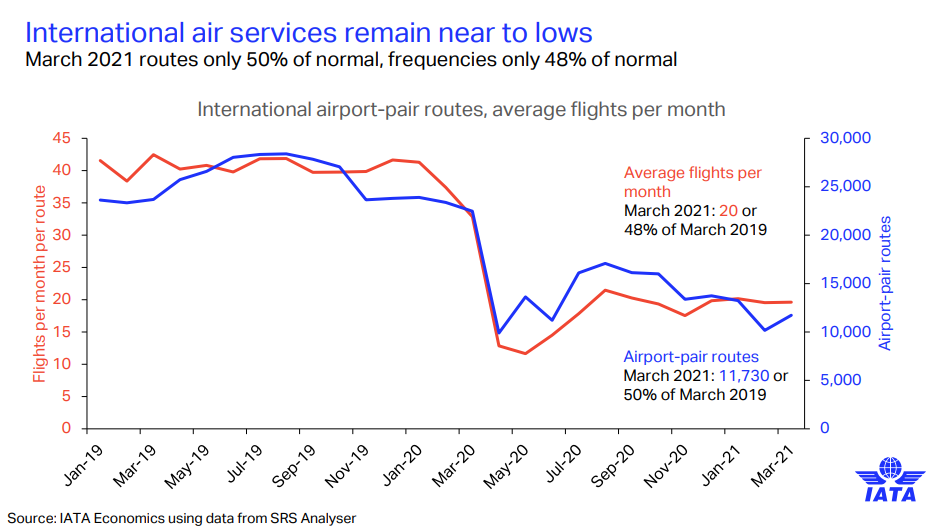 Before the crisis IATA says we had almost 30,000 unique international routes between airports. Now that has fallen to 12,000 and the density on each of those connections has become much thinner. "Before the crisis the average route was served by about 43 flights per month. Now it's around 20 flights per month—not even daily," noted Mr de Juniac, in his latest media briefing.
This massive loss of connectivity has depressed economies worldwide. "Overall, in terms of passenger demand, we are back to 1998 levels—a -66% fall from pre-crisis levels. And in terms of passenger revenue, we ended 2020 at 1993 levels," Mr de Juniac explained.
These observations from Mr de Juniac will be among his last public statements before he steps down and hands over the IATA reigns to former IAG boss Willie Walsh. He acknowledges that he "did not expect" to still be making COVID-19 based briefings in Mar-2021, one year on from first speaking about the crisis.
It is clear these briefings will continue for some time with a different leader, different accent, but same ambition to lick-start a viable air transport sector that will be critical to energise the recovery of not just air travel, but travel and tourism and the wider economy. There is light at the end of what has been a very long tunnel.