The hidden charge often levied by financial intermediaries means travellers can ultimately face high charges for the privilege of paying in a currency they understand. Around one in seven (14%) global travellers say they have paid more than 10% of a flight's total cost in FX fees, often resulting from opaque fees levied by financial intermediaries.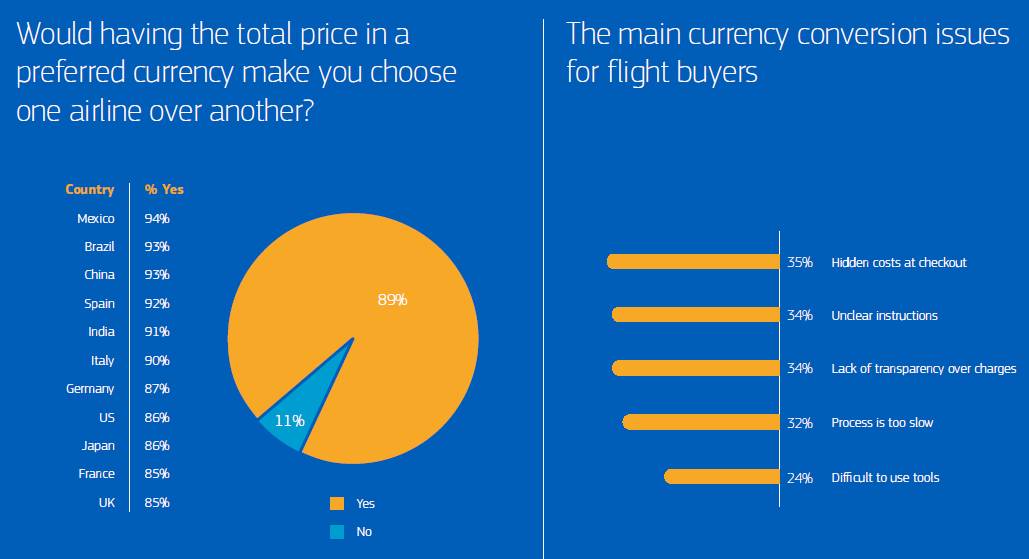 Using a dummy airline website, Amadeus worked with psychological research firm Innovation Bubbles to study travellers' conscious and subconscious reactions to different levels of FX fees. Psychologists from Innovation Bubbles interviewed 29 survey respondents based in Brazil, Germany, the UK and US, while interactive booking demos were used to determine what influences consumers' perception of FX rates when booking an international flight ticket and their emotional journey at the online checkout.
Further detail was provided by the International Flight Buyer Survey of over 5,500 regular flyers from the US, UK, France, Italy, Germany, Spain, India, China, Japan, Brazil, and Mexico to find the number of consumers experiencing unexpected FX charges when booking a flight, the impact on their experience, and how it affects their choices.
FX fees begin to get noticed at 3% of the total ticket price
The report, 'The hidden opportunity in multi-currency pricing', discovered more than a third of respondents have paid between 3-10% of the total cost of a flight to make the payment in their own currency, with 14% having been charged more than 10% of the total flight cost.
According to the research on the dummy airline website, travellers began to notice FX fees when they reach 3% of the total ticket price, with 'alarm bells' beginning to ring as the fee approaches the psychologically important threshold of 5%. However, the overall cost of the flight still remained the most important factor for securing a booking.
More than three in four have been hit by unexpected FX charges
The vast majority of travellers (76%) reported unexpected FX charges when purchasing a flight. Looking more granularly at the research by individual nation, India (91%) experienced greater unexpected foreign exchange than all other regions, with China (78%) also higher than the global average.
Over three quarters (86%) of Indian travellers' have decided against purchasing a flight from a particular airline due to foreign exchange fees making the overall cost too high. (Japan: 74%; China: 69%). It was also found that more than one in four Indian travellers paid higher foreign exchange fees than all other regions. (Global: 14%; Japan: 22%; China, 20%).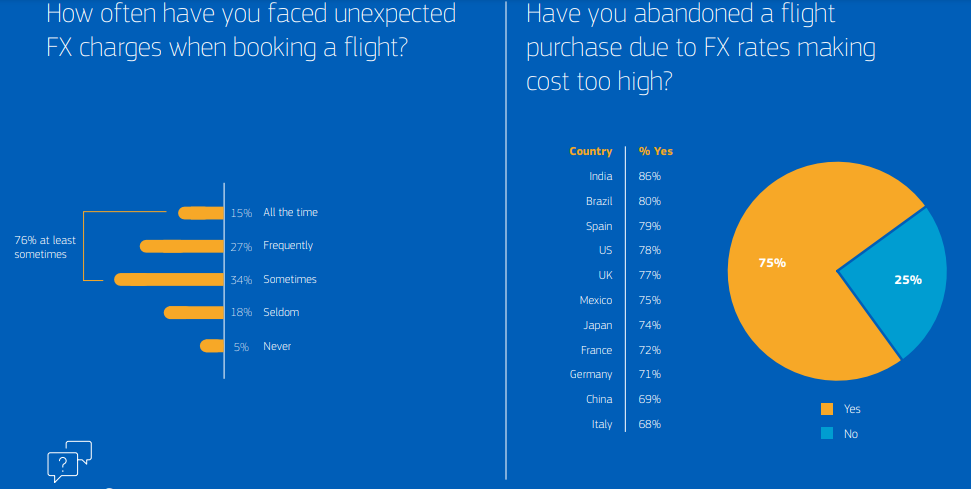 The report identified that travellers face a number of issues around foreign exchange fees when purchasing flights, but their concerns differ according to the markets. Globally, one third (34%) were concerned about unclear instructions (India: 35%; Japan: 29%; China: 38%), slightly less (31%) by the process being too slow (India: 42%; Japan: 26%; China: 45%), and almost one in four (24%) at the difficulty in using the tools: (India: 34%; Japan: 31%; China: 27%)
Travellers 'trust airlines considerably more than banks'
Amadeus says the research indicates the complexity in payment routes for flight bookings are making flight buyers reconsider their preferred method when it comes to currency conversion. "It is increasingly clear that flight buyers want airlines to offer an end-to-end online booking experience. Travelers in India, Japan and China trust airlines considerably more than banks," it says.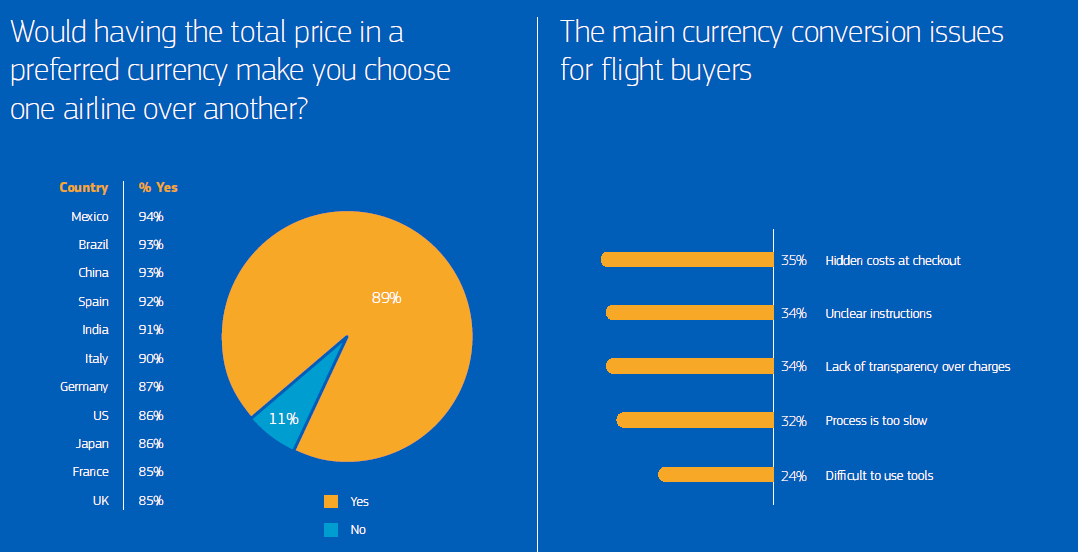 This observation is backed up by the report findings that shows globally that more than half (59%) flight buyers would prefer for the airline to convert the exchange rate and provide a local and final price rather than the banks.
The research also demonstrates that flight buyers globally have a poor perception over services offered by the banks, citing high bank fees (43%), obscure charges imposed by banks (33%) and concerns over banks' transparency on currency charges (23%).
Airlines now have an opportunity to become fintechs
Bart Tompkins, managing director, payments at Amadeus says airlines now have an opportunity to become fintechs, bringing FX services in- house so they can set reasonable fees and deliver an improved digital shopping experience, with the choice and transparency travellers demand.
"Travelers want a transparent shopping experience with flight prices displayed in their currency of choice. Today the industry largely outsources currency conversion to financial intermediaries and our research shows this can lead to high fees that often exceed the threshold travellers consider reasonable," he explains.