Based on a range of observations, including a survey of 1,000 travellers across the United States, Australia, India, Canada, Mexico, Japan and the United Kingdom, the findings demonstrate that consumers are looking forward to travelling again and that they are planning for future trips. It reveals key trends indicating pent-up demand for travel, a readiness to plan for future trips, and the rise of the digital nomad.
Most noticeably, almost nine in ten (87%) of those surveyed in the Amex Trendex online poll by Morning Consult across the seven countries in Jan-2021 said that having a trip planned in the future gives them something to look forward to.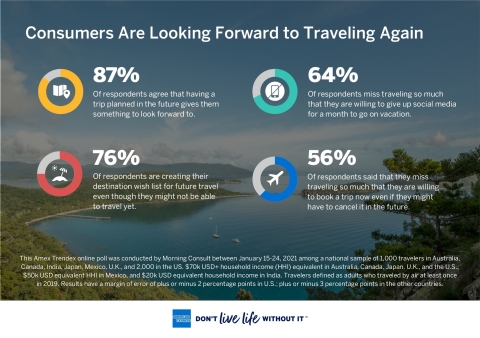 Around three quarters (76%) of respondents are creating their destination wish list for future travel even though they might not be able to travel yet. Over half (56%) were found to be willing to book a trip now even if they might have to cancel it in the future, while almost four in fiver (78%) indicated wanting to travel in 2021 to relieve the stresses from 2020.
Approaching two-thirds (61%) plan to spend more than they normally would on a trip in 2021 since they could not travel in 2020, while (63%) said that they were saving their credit card points so they can go on a break once they feel comfortable travelling.
American Express says the insights indicate that the 2021 traveller "has a new energy and a new mentality". This will range from the types of destinations that people will choose to visit in the future to the way they look at work/life balance to how they define luxury.
There will be a rise in The Digital Nomad, it identifies, with more than half of respondents (54%) saying that the freedom and flexibility of being able to live and work while travelling the globe is more appealing now than it was prior to the pandemic.
According to American Express international card member hotel and air booking data for Jan-2021 (versus Jan-2020), this extended stay trend varies by region with card members in Mexico, Canada and the UK twice as likely to book a stay of eight or more days at a hotel than those in the US, India, Australia and Japan.
The pandemic has changed perception of luxury travel with personalised experiences (82%), high cleanliness standards (81%) and privacy (79%) being the most desirable luxury amenities among respondents. Privacy is in fact described as the new ultimate luxury with three-quarters of respondents (75%) agreeing that experiences that offer ultimate privacy are becoming a key sought-after feature of luxury travel.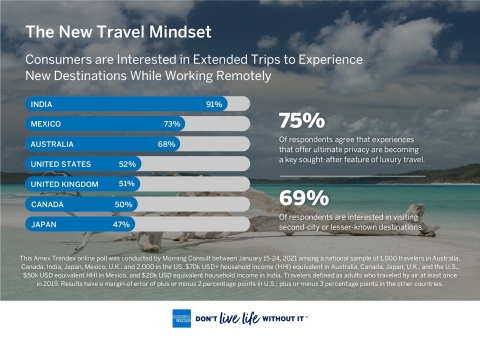 There is an increase in sustainable travel requirements with just over two-thirds of respondents (68%) agreeing they are trying to be more aware of sustainability-friendly travel brands to support. In fact, 80% indicate they are willing to travel to destinations during the offseason so that it's less crowded. Safety is also a priority with approaching two-thirds of respondents (65%) saying they plan to travel after they and their family members have received a vaccine for COVID-19.
As many travellers look to avoid the crowds 69% of respondents said they were interested in visiting lesser-known destinations. American Express Travel's own booking data reinforces this trend, showing a rise in reservations for second-city destinations. International card member hotel and air bookings in Jan-2021 shows a higher share of bookings for markets such as Dallas and Charlotte in the US, Porto (instead of Lisbon) in Portugal, and Wellington (instead of Auckland) in New Zealand, compared to the same month in 2019 and 2020. Some customers are even open to going "anywhere" they can safely travel right now, according to American Express.
The research also suggests consumers are becoming more conscious travellers with an increased desire to book their travel through companies that are aligned with their values and will journey to destinations where they can have a positive impact on communities. More than half (59%) agree that they are interested in 'philantourism', the act of choosing vacation or experience in order to support a destination through tourism.
Travellers also want to support small businesses and communities that make a destination unique, according to the findings. Almost three-quarters of respondents (72%) agree that they are passionate about traveling to destinations to help boost tourism revenue and the local economy, and an even higher number (77%) agree that they want to be more conscious about supporting small, local businesses while traveling.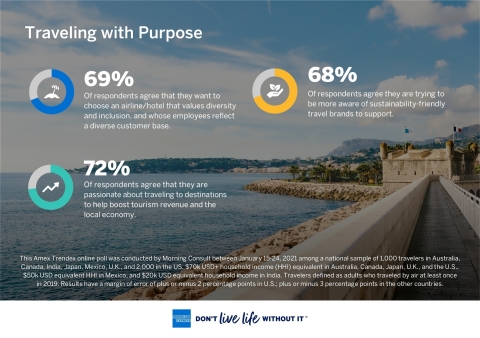 They also expect the brands they support to align with their values and are more mindful of booking with those who believe in fostering diversity and inclusion within the travel industry, says American Express – 69% agree that they want to choose an airline/hotel that values diversity and inclusion, and whose employees reflect a diverse customer base.
With the travel landscape particularly complex right now, consumers are also seeking out trusted travel advisors to help them navigate and plan their future travels. More than half of respondents (59%) indicated that they want to use a travel agent to help plan and customise their next trip.