The current low base for air transportation means that the percentage rate of growth is a lot more exciting than it actually sounds. But, it does represent an addition of more than 11,500 flights during the current week, almost 1,675 more per day and that should be viewed as a positive step in the industry's recovery.
As The Blue Swan Daily has previously highlighted, we maybe simply bouncing along a bumpy path at the bottom of a likely U-shaped recovery, but there are increasing reasons to be more positive. Again we have seen an increasing number of airlines filling more extensive schedules for the coming weeks and while it is unclear how many of these will be operated due to government restrictions, a clear intent is being shown.
May-2020 is showing a positive swing and Jun-2020 or Jul-2020 could continue that uptick. The hope is that the base of our probable 'U' recovery has now been drawn and air transport activity will continue its rise, but that will obviously not come easily and will be an uphill struggle.
Comparing this week's schedules with the comparable week last year (week commencing 20-May-2019), global flight frequencies are down -66.9% and global seat capacity is down -69.4%. Last week almost half of the top 20 aviation economies (eight) showed a reduction in flight frequencies of more than -90%, but that number has slipped to just four – Germany, Brazil, France and Turkey – albeit a further nine are below the global average.
CHART – The reduction in the number of weekly flight departures from each of the 20 largest aviation markets in the world remains significant when compared to the same week last year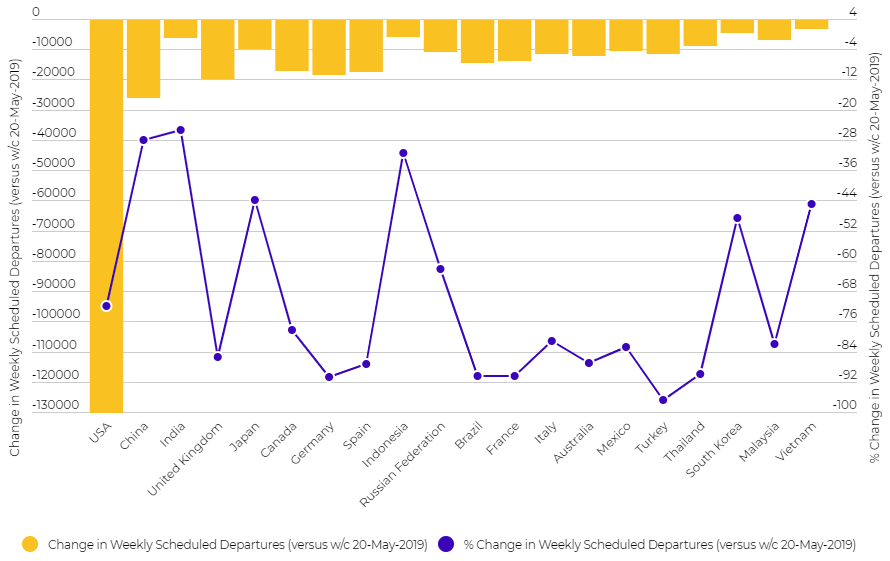 Source: The Blue Swan Daily and OAG (data: 19-May-2020)
A sign of how far the market has declined is that just 36 countries across the world will see an average of more than 100 flights per day this week (a total of 700 weekly departures). That is actually down from 37 last week. New arrivals into this list for the week commencing 18-May-2020 and markets perceived to be on the path to recovery comprise New Zealand, Poland and Romania, but it must be noted that this remains a relatively low benchmark.
New arrival New Zealand leads the rates of growth with planned frequencies more than treble those recorded last week, while India should see a doubling in flight departures. Elsewhere, activity from the United Kingdom is planed to be up by two thirds, by just under a half from Spain, more than a third from Poland, more than a quarter from Greece, Romania and Vietnam, more than a fifth from Bangladesh, while a double-digit rise is in the pipeline for France.
Encouragingly, flight frequencies scheduled for the week commencing 18-May-2020 are up in four of the world's five largest current aviation markets, including the former global number one, the United States of America (USA), up a modest +2.2%. It is its successor China that is ironically the market to show a decline, a -1.9% fall, as airlines in the country continue to tweak their schedule offering to meet demand. The large rise in planned frequencies in India sees it return ahead of Japan to become the world's third largest aviation market by capacity.
CHART - There have been a few changes in the ranking of the largest aviation markets across the world over the first four months of 2020

Source: The Blue Swan Daily and OAG
Until now we have been closely following China's recovery each week, but we are now also studying some other markets. This week we look at South Korea and Hong Kong.
This month, China and South Korea opened a tightly controlled travel corridor between Seoul and ten Chinese regions, including Shanghai, an example of these new international 'bubbles' that will represent the initial step towards rebuilding international air connectivity.
But, like China, most of South Korea's recovery has been from its domestic market where capacity is now actually pretty much back to where they were at the start of the year before Covid-19 hit the country. In fact, the levels of domestic capacity recorded for the week commencing 27-Apr-2020 were the sixth highest weekly level for the year to date, but international capacity levels remain down -80% on those seen at the start of the year.
CHART - South Korea has seen domestic capacity levels revert back to close to levels recorded at the start of the year, but as seen in China it subsequently stalled as capacity has been adjusted to meet demand. Total capacity remains less than half levels seen in Jan-2020 with international capacity down over -80%.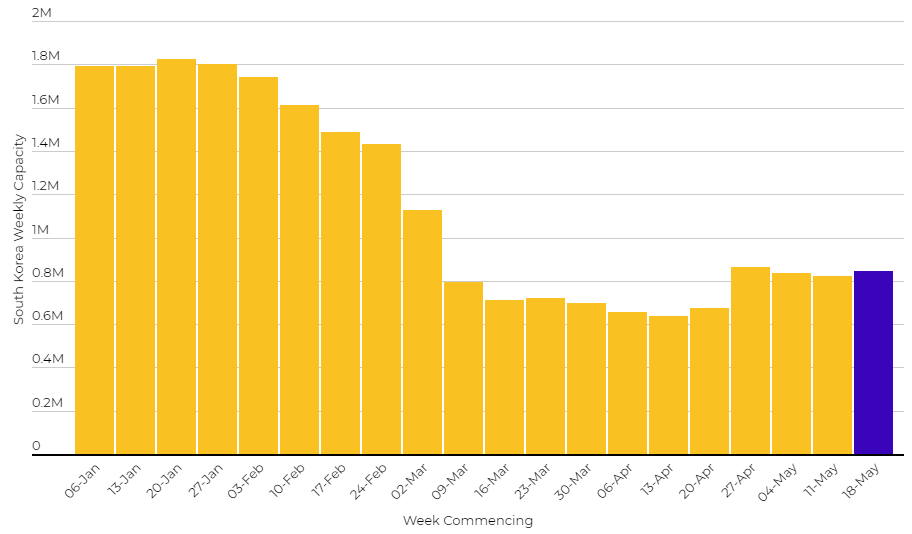 Source: The Blue Swan Daily and OAG
Hong Kong, which doesn't have a domestic market to push its recovery forward, is slowly seeing a growth in seat capacity. It has been a long decline for the Chinese Special Administrative Region which began in the first week of Feb-2020. However, the current week represents the second successive week with capacity gains, albeit the rate has slowed from +73.4% to +5.5%.
CHART - Hong Kong is lagging a little behind South Korea in its recovery having hit the bottom of the curve at the start of May-2020 and without a domestic market to support its recovery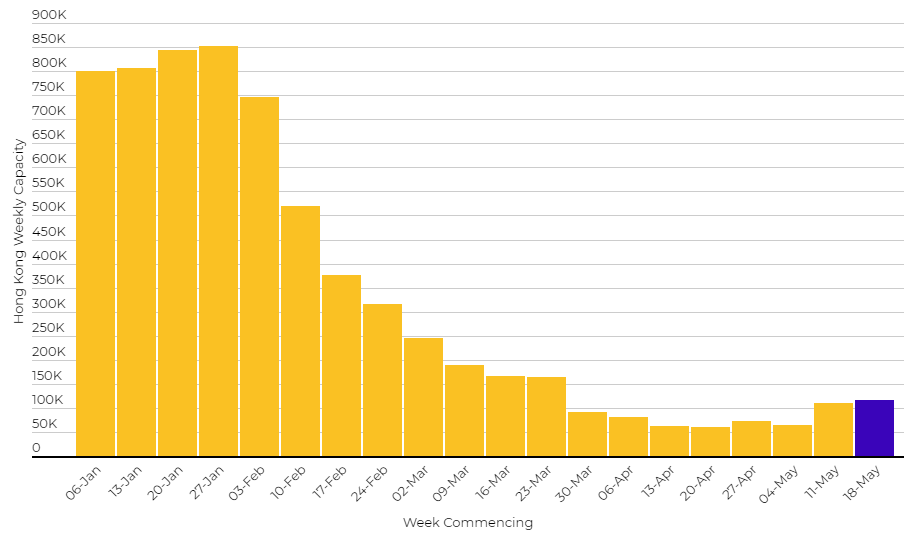 Source: The Blue Swan Daily and OAG
We have often spoken about the key role that domestic travel will play in the return of air travel and how demand will bounce back considerably more quickly than for international travel, which will continue to be blunted by widespread travel restrictions for some time. Right back at the start of the year domestic capacity accounted for just under two thirds of total scheduled air capacity with a 60.3% share.
That level was fairly constant through Jan-2020 with the monthly domestic share at 60.8%. However, as Covid-19's spread in China started to impact its huge domestic market that level declined a little in Feb-2020 falling below the 60% level and ending the month with a 59.4% share. Then, in Mar-2020, as the virus started to impact an ever-growing number of countries and increased international travel restrictions were introduced, that share started to shoot up, surpassing 80% figure in the last week of the month and averaging a 67.7% share for the full month.
In Apr-2020 the domestic market hit further heights buoyed by the return of internal air travel within China and the 80% level has been passed in every subsequent week, peaking at 86.9% in the week commencing 20-Apr-2020. For the full month the average was 85.0%.
Reductions in US domestic flying and the return of skeletal international networks at some airlines mean that the domestic share has slipped a little to date in May-2020, but has remained at a fairly constant level of 81% across the first three weeks of the month.
CHART - Domestic markets are playing an important role in the return of air travel and now account for more than 80% of weekly global seats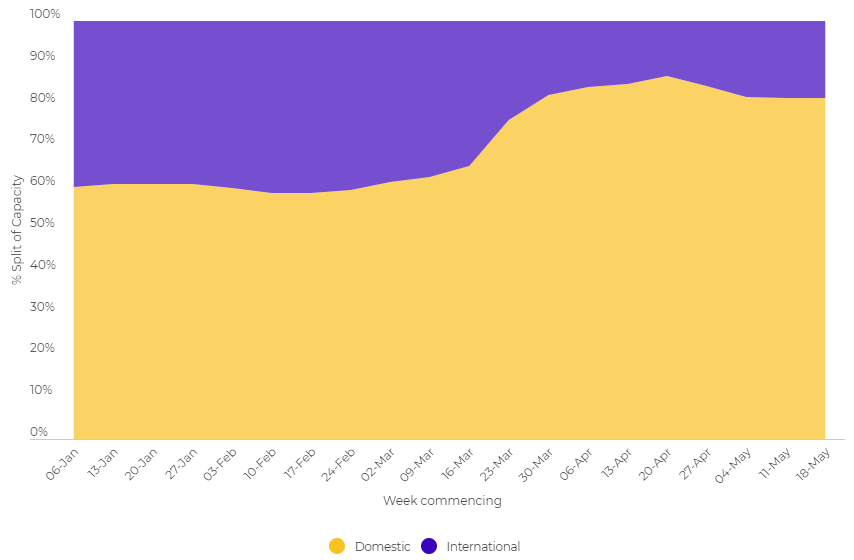 Source: The Blue Swan Daily and OAG
2020 had started positively for global air transport. Across the first three weeks capacity levels were up year-on-year, albeit a declining trend was already evident. For the week commencing 06-Jan-2020 capacity was up +3.5%, followed in week commencing 13-Jan-2020 by +3.4%, then +2.5% for week commencing 20-Jan-2020 and then +2.0% for week commencing 27-Jan-2020.
Having seen year-on-year capacity declines exceed -70% each week since 20-Apr-2020, It is now encouraging to see it return to the other side of that figure with capacity down -69.4% in the week commencing 18-May-2020 (compared with the week commencing 20-May-2019).
CHART – Global air capacity has collapsed as the Covid-19 pandemic has spread across the world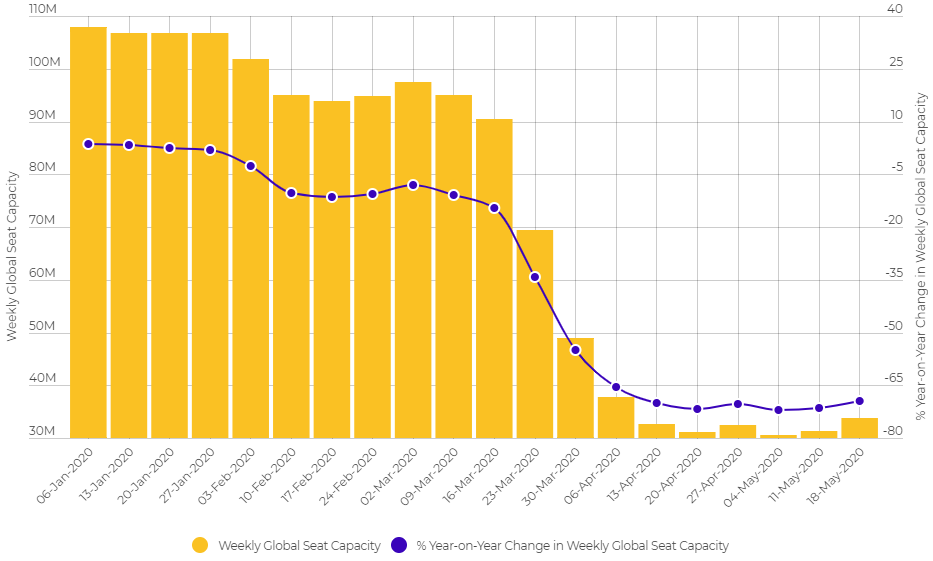 Source: The Blue Swan Daily and OAG (data: 19-May-2020)
When it comes to the outlook there are optimists and pessimists over the path it will take. The evidence suggests that the aviation sector may now be over the worst of the first wave of Covid-19 infections with Latin America the last region of the world to hit the peak. What comes next? Well, that's a matter of your own prediction!