We've all seen the benefits of this cessation of travel, from being able to see the bottom of Venice canals to viewing the Himalayas clearly rather than through a smog. "Covid-19 has given us a great opportunity to restart the travel industry and rebuild it in a way that it can operate more ethically, morally and sustainably," says Ged Brown, CEO of Low Season Traveller, a website that seeks to promote the benefits and glories of travelling out of season.
Overtourism is a real concern to many destinations with the likes of Venice, Barcelona and Dubrovnik highlighting that tourism has polluted their cities and sent the price of homes rocketing, driving out the locals.
The sight of crowded beaches in July and August may be something that delights a hotelier in Spain but equally disgusts a traveller who would rather experience a destination's culture and environment rather than just it's sunshine. Many destinations have been banking on just three or four months of visitors and not bothering to promote the destination for the rest of the year.
"They are really missing a trick," Mr Brown told The Blue Swan Daily this week. "Many destinations have so much more to offer than just the sun but they have not been promoting their destination in the low season."
In fact many hotels don't even bother to try to fill their rooms in the low season, just shutting their doors and relying on the short summer season to get them through the year. "All that has changed as a result of Covid-19" according to Mr Brown.
"It took a while as hotels and destinations went into denial at the start of the pandemic, but now they are starting to see that they have to look at attracting tourists all year round in order to make up that shortfall," he explained.
CHART – International tourism arrivals hit the floor over the first four months of 2020, but this graph also illustrates the seasonality issues that impact the industry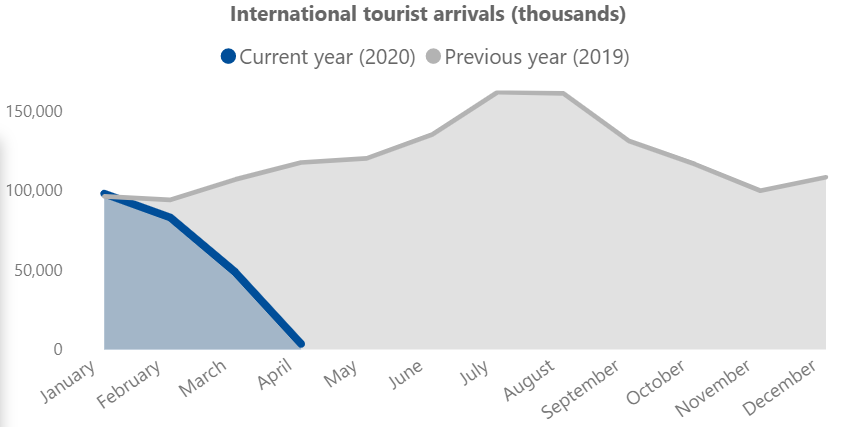 Source: UNWTO
For those that just want a two week holiday on a beach with the kids, the chances are they won't change their habits. But there are plenty of us that care about the environment and don't want to have to rub shoulders with crowds of people to see the highlights and delights a destination has to offer.
"More and more people are wanting to experience a destination rather than just visit it, said Mr Brown. "They want to immerse themselves in the heritage and culture and meet the people and that is so much easier to do in the low season," he added. Another bonus is that travelling in the low season is cheaper!
Seasonality has mainly come about as a result of the weather. For many it's about getting guaranteed sunshine while on holiday, but as the planet heats up maybe it's time for us to rejoice in the differences in the countries and destinations rather than just the amount of sun hours we receive.
The ability to walk around and truly see a destination is something that can really only be experienced in the low season without the crowds, and after all most tropical downpours are short lived and form part of the travel experience. How many of us have visited that picture postcard location only to discover hundreds, even thousands of others with the same intention.
CHART – UNWTO recovery scenarios point to declines of between 58% and 78% in international arrivals for the full year depending on the speed of the containment and the duration of travel restrictions and shutdown of borders
Source: UNWTO
Those images that a destination uses to attract our attention were almost certainly taken during the low season when you could see the beach or tourist attraction without the crowds. It is these images that attract us to go somewhere in the first place but during the busy months that reality never lives up to the dream.
The advent of cheap flights certainly played its part in getting more and more people to take overseas holidays. "You can fly to Italy from the UK for the average price of a pizza," commented Mr Brown, adding, "good luck in explaining that to your children" when they ask how we managed to ruin the planet.
The good news is that there is always a low season somewhere so no matter when you want to travel there will be somewhere good to explore and Mr Brown has his doubts that we will go back to the travel patterns of overcrowded peak seasons.
"It's likely a strain of coronavirus will be around for a while and now we all know what it can be like, keeping away from the crowds is to be more attractive," he said. Add to that the burgeoning desire, particularly of the young, to stop the damage we have been doing to our planet, and a travel rebirth is likely.
Airlines and destinations are desperate for us to get back to our 'normal' travel patterns but does it mean we will have fully recovered from the effects of Covid-19 once the bottom of the Venice canals and the Himalayas can no longer be seen? Is that good enough? Should we not strive for better and ensure these things can always be seen so our children's children get to experience them too? Now is certainly the perfect time to think again and stop overtourism and flattening out demand across the whole year seems a sensible solution.