---
Summary:
Local sources suggest Dallas Fort Worth International airport could be leased to pay for essential road and other works;
One of the cities' Mayors seems to be open to the suggestion; the other not so much;
While regulation has changed to make this procedure simpler it could still be killed off by the airport's dominant operator, American Airlines.
---
It is not an unfamiliar story. In just about every case where an airport privatisation has been even merely mooted in the US in the last 20 years (with the possible exception of San Juan, Puerto Rico), structural issues ranging from the streets (Dallas, St Louis) to the garbage disposal system (Chicago) to the lack of pension provision (Los Angeles, Dallas) have come into the equation, the prevalent theory being "if we can sell these assets we can invest in more pressing needs", or asset-recycling as it is known.
However, DFW can't be sold, like every other US airport, but it could be leased long-term for a sizeable amount of money. And this partial privatisation process received a boost in 2018 when President Trump announced his intention to make it easier for these transactions to take place.
DFW had come onto the privatisation radar on several occasions previously but there is no evidence that the management or the owners, the two cities, had ever actually seriously considered it (The ownership is 64% Dallas; 36% Forth Worth).
Indeed, several of the time-served DFW executives have said over the years that the airport is "too big" to be privatised (physically it is as large as Manhattan, has seven runways and handled almost 70 million passengers in 2018) and that the only way of doing it would be to lease off the individual terminals, which would be impractical.
CHART - Passenger traffic at Dallas Fort Worth International airport has shown varied rates of growth this decade, but is currently trending faster than average in 2019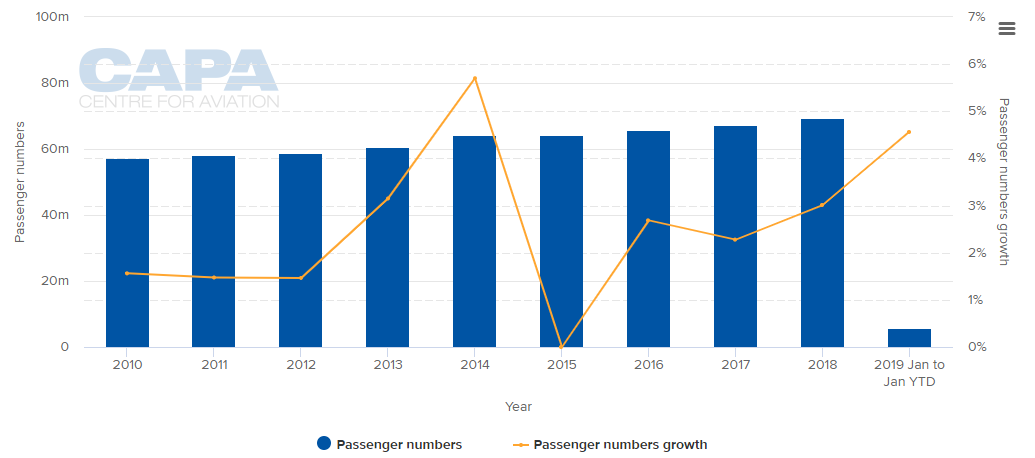 Source: CAPA - Centre for Aviation and Dallas/Fort Worth International Airport reports
That overlooks, of course, the fact that equally big or bigger, airports in Europe for example have been partially or fully privatised in their entirety (London Heathrow, Frankfurt, Paris CDG etc) and that a terminal is privately operated at New York JFK, in the midst of others which are not.
DFW has started to use some of its huge tracts of land. For example, it aims to build a 200-acre business park (there is already a large aerotropolis built around it) and the management argues there are tax benefits to both cities arising out of retaining the status quo. But this sort of construction is equally attractive to investors.
The lease proposal this time emanates from D Magazine, a Dallas politics, business and lifestyle magazine which suggested that a lease could net the cities USD8.3 billion between them in an upfront payment and with ongoing royalty payments. It has support from one-time Dallas City Attorney Larry Casto, who had declared his intention to stand for Mayor this year though he has since dropped out.
Without access to a recent EBITDA for DFW it is not easy to say if that estimate is correct but when airports of the size of London City (four million ppa) can change hands for over USD2.5 billion, the value of one of the busiest airports in the US and the world (4th/15th respectively) and a primary hub facility must be considerable and more than enough to repair the city's potholed streets.
The current Mayors of both cities sit on the DFW board and Fort Worth's Mayor, Betsy Price, is known to prefer retaining the status quo while Dallas', Mike Rawlings, appears to be more inclined towards a privatisation, stating he is always looking how to get back some tax benefits for the city, the implication being it gets little in return for its investment right now.
But at the end of the day it may be the airlines which have the final say, should a serious tender ever be forthcoming. One thing that has not changed, despite pressure being applied consistently, is one provision of the original pilot programme that is considered a uniquely US obstacle to getting privatisation approval, namely the requirement for airline approval of the deal via a double super-majority.
Specifically, 65% of all the airlines serving the airport must approve the deal terms and also airlines representing at least 65% of the annual landed weight at the airport. In other words, a majority of airlines could approve a lease but it might be blocked by the largest of them in terms of movements (which would almost certainly mean it had the highest landed weight by far).
As the chart below shows, American Airlines dominates DFW in terms of capacity, while it has exactly the same ratio of movements. So if American was against the prospect of leasing DFW it simply wouldn't happen.
CHART - Dallas is an important hub market for American Airlines and it holds more than 85% of the departure capacity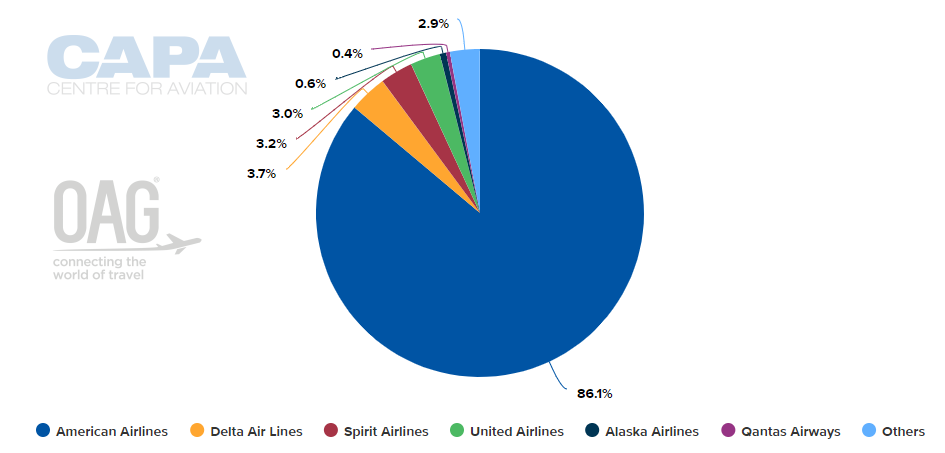 Source: CAPA - Centre for Aviation and OAG (data: w/c 11-Mar-2019)