---
Summary:
It is 25 years since modern regional jets transformed the commercial aviation industry.
Despite upgaugiung their remains a market for smaller regional jets across the world.
bmi regional sees "an ongoing role for small regional jets".
bmi regional in market for "north of six to eight" larger regional jets to complement existing fleet.
---
Despite some initial market hesitation toward regional aircraft, the 50-seater Canadair CRJ100 Regional Jet entered operation with Lufthansa CityLine in 1992 feeding its mainline operations out of Frankfurt, Munich, Dusseldorf and Hamburg and marking an exciting new chapter in the history of commercial aviation. You could argue that the regional jet revolution actually started much earlier with the earlier generation Dutch-built Fokker 28 Friendship in the late 1960s or the German-built VFW-Fokker 614 in the early 1970s, but technological advances across subsequent decades and made these newer generation aircraft much more efficient.
The concept of a twin-engine regional aircraft, which combined the flexibility of smaller, usually propeller-driven engines with the comfort and travel speed of jet engines, was certainly revolutionary at the time. But in time the market changed and upgauging has seen the 50-seaters replaced by larger 70-, 90- and then 100+ seaters as new variants answered the call from airlines for more seats and lower seat mile costs.
However, across most global markets their remains a niche for smaller regional jets and many operators across the world are using these aircraft on both independent city pairs and to provide important feed into hub airports in collaboration with major airlines.
"We absolutely see an ongoing role for small regional jets," Jochen Schnadt, chief commercial officer of UK carrier bmi regional told The Blue Swan Daily on the sidelines of last month's CAPA-ACTE Global Summit in London.
The airline outlived its parent, which was sold to International Airlines Group (IAG) and amalgamated into British Airways in 2012, and now provides key connectivity across Europe both independently and supporting hub connectivity for the Lufthansa Group, in particular serving high yield markets with thin demand and which cannot be sustainably served with larger jet equipment.
CHART – bmi regional currently operates a mixed fleet of 37-seat Embraer ERJ-135s and 49-seat ERJ-145s

Source: CAPA – Centre for Aviation Fleet Database (data: as at 20-Nov-2017)
"I think there is a bit of a renaissance of the regional [aircraft] model emerging," explains Mr Schnadt. "What we are seeing in the market at the moment is a bit of consolidation, massive amount of upgauging, a convergence of low cost and so called legacy carrier models. Within that there are gaps [for regional aircraft] opening up and these gaps are becoming bigger by the day."
bmi regional currently utilises its aircraft to serve nine markets in the UK and a further 22 points across ten European countries, comprising Austria, Belgium, Czech Republic, Denmark, France, Germany, Italy, Norway, Poland and Sweden. It has grown its system capacity significantly since independence, most notably over the past three years with 25.2% growth in 2015, 21.4% growth in 2016 and a 15.6% rise in 2017, based on published schedules for the full year.
CHART – bmi regional's main focus is on the UK and German markets with Munich and Bristol being the two largest points on its network by capacity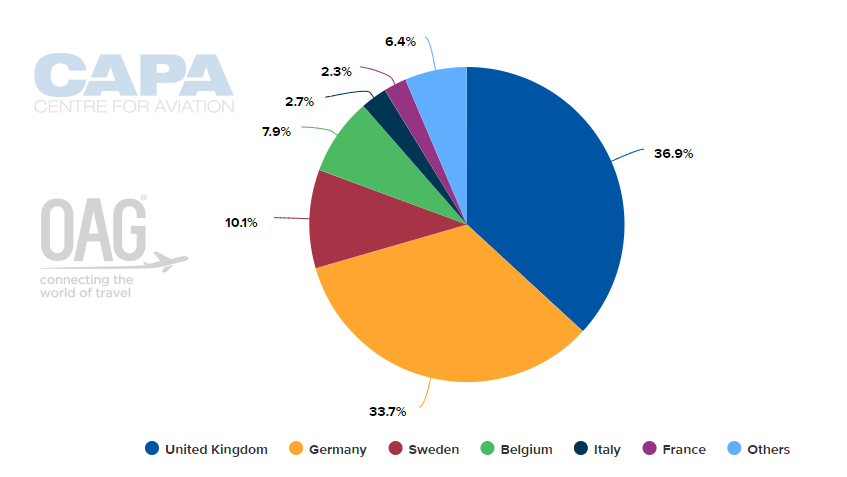 Source: CAPA – Centre for Aviation and OAG (data: w/c 20-Nov-2017)
While, the ERJ-135s and ERJ-145 play an important role for bmi regional, Mr Schnadt also sees the potential for larger regional jets to grow capacity in some of its existing markets and opportunities for larger equipment for new route development. While there remains "growth opportunities" with its current fleet he says the airline continues to consider sourcing larger equipment to expand its activities. "We don't see this as a replacement of our current fleet but as an addition that complements our existing offering rather than as a substitution," he explains.
The airline has already leased Sukhoi SSJ-100 Superjets from Irish carrier CityJet to "test the market out of Bristol" with the larger gauge, but is unlikely to commit to the Russian airliner and is instead understood to be looking at other options in the 90- to 100-seater market. It is looking at securing availability of "north of six to eight aircraft" before making any moves.
"As we are a relatively small scale carrier we need to be very concentrated and clear when we take that decision that we are capable of doing it and that we are doing it at the right time. That means we probably want to see some critical mass around a second platform that allows us to make that leap forward," adds Mr Schnadt.
WATCH our EXCLUSIVE video interview with Mr Schnadt, where he outlines the role of the regional and the airline's ambitions to move into larger regional jet equipment.