---
Summary:
Shenzhen may until recently have been relatively unknown outside of China, but it is home to a rapidly expanding population and been dubbed "the next Silicon Valley";
The city's journey from fishing hamlet of 30,000 residents in the 1970s to today's vast urban sprawl, symbolises China's modernisation;
This year alone new nonstop long-haul connections have been introduced from Shenzhen to Darwin, Dubai, Brussels, London, Madrid, Paris, Vienna and Zurich.
---
But back at the start of the decade Bao'an International Airport, the main gateway to Shenzhen, had very little connectivity outside of its home market. It may have been China's fifth largest airport at the time, but like many regional cities, air access at the time was limited and most international connectivity was routed via the larger hubs in China's biggest cities.
In 2010 the city was actually already relatively well connected within North East Asia with a network of over 70 destinations (mainly domestic, but also including South Korea and Taiwan), but just five outside of the region and all to destinations in South East Asia (Bangkok, Ho Chi Minh City, Kota Kinabalu, Kuala Lumpur and Singapore).
In the space of just seven years departure capacity has risen from 16.7 million annual seats in 2010 to 27.4 million last year and is expected to almost hit 30 million this year, based on published schedules. That is a CAGR of +7.5% across the period, with an annual growth of around +8.9% expected for 2018, following a +9.2% rise in 2017. But it is the airport's destination list that highlights Shenzhen's rise onto the international stage.
CHART - An expanded network growth has translated into passenger growth at Bao'an International Airport in Shenzhen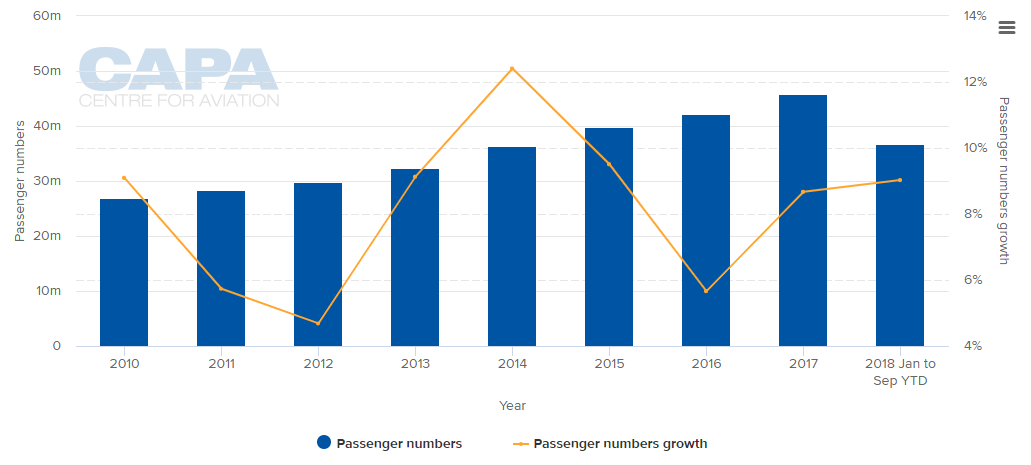 Source: CAPA - Centre for Aviation and OAG
Located in Guangdong Province, China, and part of the Pearl River Delta megalopolis that links Hong Kong to China's mainland, it is developing into a regional economic powerhouse and nonstop passenger flights are now offered to almost 150 destinations. That South East Asia network that encompassed just five destinations in 2010 now includes almost 30, including the additions of regular flights to Cebu, Hai Phong, Mandalay, Sihanoukville and Yangon in 2018.
That growth has been replicated across the world with new direct connectivity into Europe, the Middle East, the Pacific and North America. This year alone has seen Darwin, Dubai, Brussels, London, Madrid, Paris, Vienna and Zurich all added to the long-haul map. This all began in 2014 when initially flights were offered between Shenzhen and Cairns and Gold Coast in Australia, but effectively commenced in 2016 as the first regular long-haul flights were added.
CHART - The number of destinations served by nonstop services from Shenzhen has almost doubled this decade

Source: CAPA - Centre for Aviation and OAG (data: w/c 05-Nov-2018)
In the Pacific that was to Auckland and Sydney, but links are now also provided to Brisbane, Cairns, Darwin and Melbourne. In North America, Seattle was its debut market and Los Angeles is now also connected with nonstop flights, while in Europe it was Frankfurt that became Shenzhen's first nonstop market. Moscow followed in 2017 and from this year eight cities in eight countries are now served, including a notable link launched in late Oct-2018 into London Heathrow, the first intercontinental route from its home carrier Shenzhen Airlines.
Highlighting the growth of air transportation in China, Bao'an International remains China's fifth largest airport despite growing from 26.7 million passengers in 2010 to 45.6 million in 2017. Shenzhen Municipal Transportation Committee now plans to accelerate the construction of a third runway and fourth terminal as well as integrated railway and air transport services and plans for second Shenzhen airport to meet growing demand.
Shenzhen's population continues to grow at an astounding rate from just 30,000 in the 1970s to almost 13 million in 2017, but actually estimated to be potentially double that level due to the large unregistered floating migrant population living in the city. It is clear Shenzhen is no longer a secret and its journey from fishing hamlet to vast urban sprawl, symbolises China's modernisation.