Working with design partner Acumen Design Associates, it has redesigned the Thompson Aero Solo product to deliver a business class cabin offering 24 private suites and during the process also invented larger front row seats, which will become Mint Studio, two-seats which will offer the most space in a premium experience from any US airline.
Inspired by the popularity of the four private suites offered in its current Mint configuration, JetBlue's transatlantic Mint will offer more privacy with 24 individual suites. With a herringbone design each will offer direct aisle access and incorporate features including a tilting 17-inch Thales AVANT seatback screen, wireless charging capabilities, an integrated phone ledge for multitasking, and easy-to-reach in-seat power, as well as laptop, shoe and handbag stowage.
JetBlue says "there's no place like Mint" with its "residential touches and the comforts of home" offering "the height of seamless living" in any premium travel experience. With each Mint Suite offering direct aisle access and a sliding door for privacy, passengers can enjoy their own "aisle-land" it quips.
The airline tapped Tuft & Needle, the innovative mattress company that pioneered the bed-in-a-box trend, to shape the entire Mint sleep experience onboard. Every Mint seat is layered with Tuft & Needle's proprietary T&N Adaptive foam and a breathable cover to create a cool and comfortable sleep experience unlike anything in the sky.
The seat complements additional sleep amenities developed in partnership with the brand, including a convertible blanket with a built-in foot pocket, a memory foam lined pillow with a pillowcase, and a snooze kit with a matching eye mask and earplugs.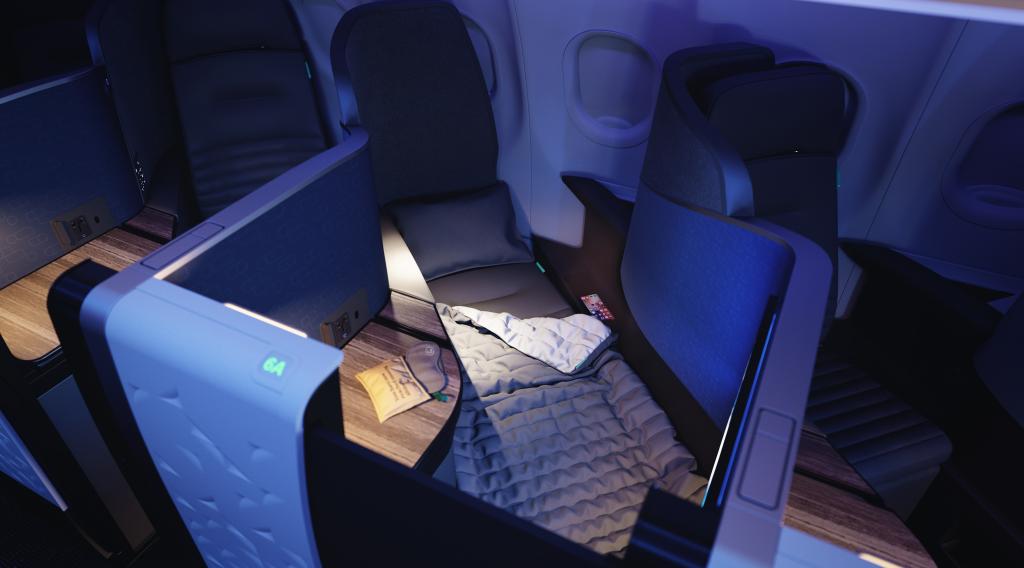 Every available inch of space within the suite has been used to provide dedicated stowage options including a laptop drawer, compartment for personal items, shoe and under-ottoman storage, and nightstand with a bottle holder. Acumen and JetBlue also developed customisable mood lighting which can be brightened or dimmed, as well as adjusted between "awake" and "relax" colour schemes.
Taking the offer to a new level, Acumen conceptualised and developed in partnership with AIM Altitude a new Mint Studio offer. Reclaiming the unused space at the front row area, which is often used solely for additional cabin storage, two Mint Studios will be situated in the first row, providing room for working or relaxing, and featuring a 22-inch tilting Thales AVANT seatback screen, an extra side table for added productivity, and a guest seat that can accommodate an additional Mint customer during flight. When reclined the seat transforms into the largest lie-flat bed currently on offer by any US carrier.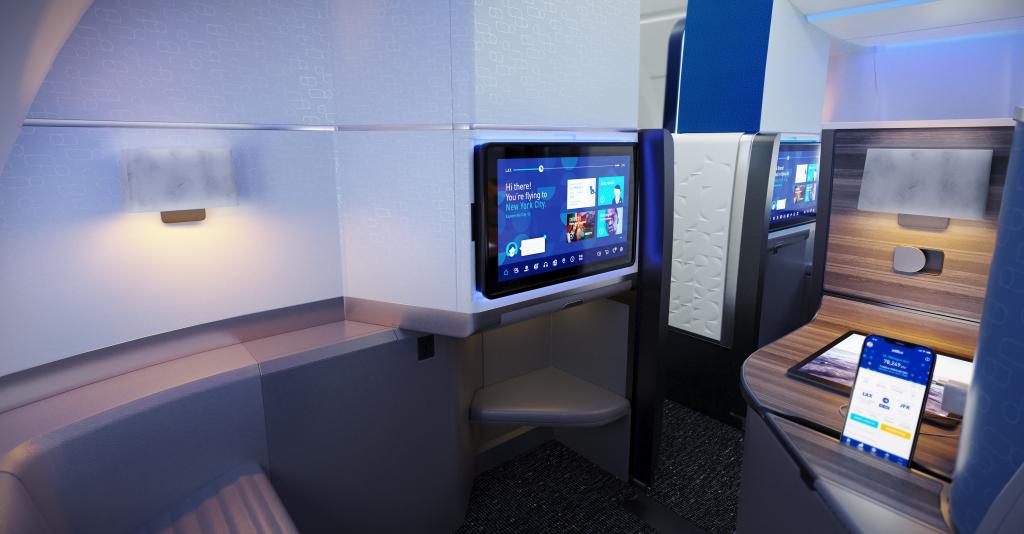 As part of their long-standing partnership, Acumen has also worked closely with JetBlue to customise the entire onboard customer journey; from boarding the aircraft into the signature "welcome space" which features LED strip lights and striking graphics, to the new Mint Suites.
"Mint was an idea to make premium travel across the US less stuffy and more affordable, and its performance has exceeded even our most optimistic expectations of going beyond New York, Los Angeles and San Francisco," says Joanna Geraghty, president and chief operating officer, JetBlue.
The success and appeal to business passengers has seen JetBlue's Mint concept extended to more than 30 routes. Alongside the US markets of Las Vegas, Los Angeles, Palm Springs, San Diego, San Francisco and Seattle, it is also available on flights to Aruba; Bridgetown, Barbados; Grenada; Liberia, Costa Rica; St Lucia; St Maarten; and St Thomas.
The first major design overhaul of Mint will launch on the Airbus A321neos being deployed on JetBlue's London flights this summer, and a 16-seat layout will debut on a limited number of flights between New York and Los Angeles in 2021.