The positive step is just a small one though in the larger scheme of things. It means that less than 2% of the world's population is now fully vaccinated. There is a long, long way to go until that light at the end of the tunnel fully illuminates our lives. And just like an infants first steps, there could still be a number of falls along the way.
A global pandemic requires a world effort to end it – none of us will be safe until everyone is safe. Access to vaccines, tests and treatments for everyone who needs them is the only way out. "This is a historic test for global cooperation," highlighted World Health Organization (WHO) director general Dr Tedros Adhanom Ghebreyesus last year. In a newspaper article he authored back in Sep-2020, he said: "Let us make no mistake: our fight against coronavirus is far from over."
Fast forward six months and little has changed, even if the skies are perhaps lightening as the heavy dark clouds of Covid disperse. Encouragingly, we are seeing the United Kingdom, one of the fore-runners of vaccination deployment, slowly following a roadmap out of lockdown. The arrival of a reciprocal quarantine travel bubble between Australia and New Zealand from the middle of Apr-2021 also marks positive progress.
Australia's border has been opened to travellers from New Zealand for around six months, but this new arrangement from 19-Apr-2021 marks an important step forward in the global Covid response and highlights confidence in the ability to safely open up the doors to international travel on a greater scale.
But the "none of us will be safe until everyone is safe" phrase is one that will continue to be a hurdle in the recovery. As vaccination data shows, some locations have already likely secured herd immunity, for example Gibraltar, a British Overseas Territory and headland, on Spain's south coast, where more than four in five of the population are now fully vaccinated.
In Israel more than half are reported to be fully vaccinated, in the Seychelles the figure is over a third, while more than a fifth of residents of Cayman Islands, Bermuda, Monaco, United Arab Emirates and Chile have had their full vaccine course. The US, Bahrain and the Isle of Man are also closing in on that threshold, according to latest data.
But, there are still many countries where the vaccination of locals has still not commenced, while many others, including some which house some of the world's largest populations, are struggling to secure enough doses.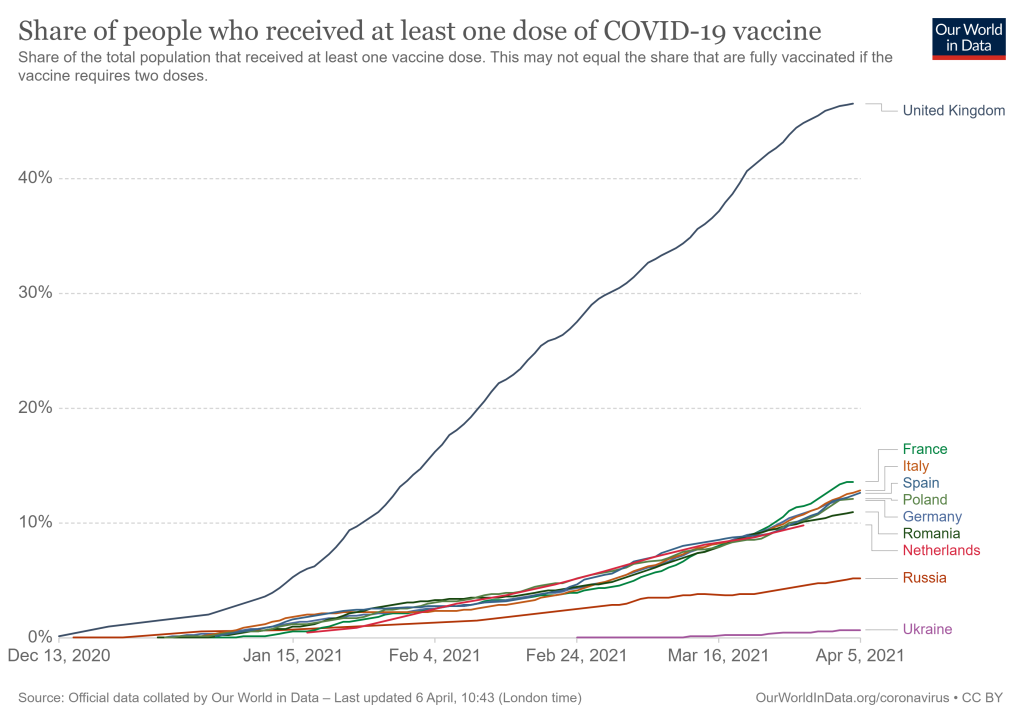 In Europe it is a real patchwork. In the United Kingdom more than 40% of the population has now received at least one vaccine dose, but in France, Germany, Italy and Spain it is below 20%. There have even been concerns over a vaccine war between the UK and European Union, but country leaders have sensibly back from the brink of a potential trade war over vaccine distribution.
Against this backdrop, the hope of summer getaways is encouraging travel sentiment in most Europeans with a majority (56%) saying they will go on holiday by the end of Aug-2021, either domestically or to another European country. By comparison, just over a quarter (27%) of respondents to the Wave 6 'Monitoring Sentiment for Domestic and Intra-European Travel' research from the European Travel Commission (ETC) are still unwilling to travel within the next six months.
This monthly report covering ten high-volume European source markets – Germany, United Kingdom, France, Netherlands, Italy, Belgium, Switzerland, Spain, Poland and Austria – provides up-to-date insights on the impact of COVID-19 on Europeans' travel plans and preferences regarding types of destinations and experiences, holiday periods and anxieties related to travel in the coming months. This research is based upon findings from a Feb-2021 survey.
It illustrates that despite a sluggish start to the vaccine rollout across Europe, travellers' confidence continues to take an upturn, raising hopes for a faster recovery. The survey shows that 48% of respondents share a sense of optimism about trip planning, driven by the development and approval of COVID-19 vaccines. Only one in five (21%) are not optimistic about planning a trip, regardless of vaccinations.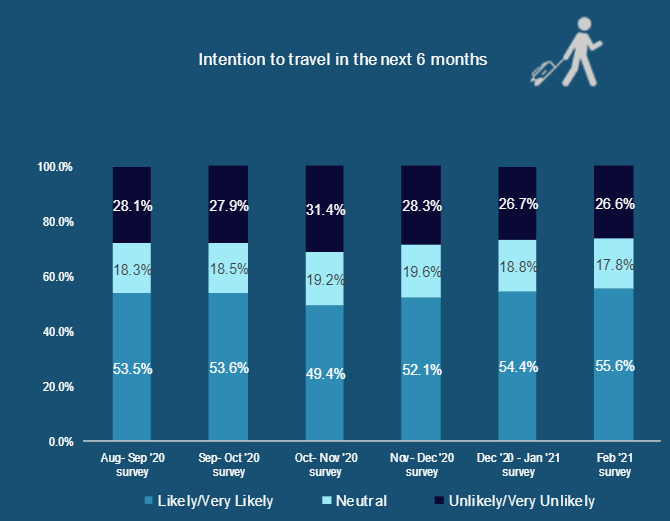 Among European early-bird travellers that plan to travel in the next six months, 9 out of 10 already have specific timings for their vacations, eyeing mostly Jul-2021 and Aug-2021 (46%). Another 29% state that they intend to take their next trip even sooner, in May-2021 or Jun-2021. Of them, 49% are willing to travel to another European country, while 36% will opt for staycations within their homeland.
As Europeans are starting to consider a summer getaway, the spotlight falls on whether upcoming holidays can be enjoyed to the fullest. While quarantine measures are still the leading concern for 16% of early-bird travellers, the limited scope for holiday activities at the destination due to COVID-19 restrictions is becoming a significant pain point (11%).
In addition, there is now a heightened sense of caution about visiting bars and restaurants - one in ten (13%) of respondents said they feel that these places pose a degree of risk to their health. Meanwhile, air travel still tops the virus risk list, with approaching one in five (17%) of Europeans still identifying flying as potentially dangerous.
Although summer holidays are on the wish list for the majority of surveyed Europeans, just like vaccine doses, countries vary in their degree of enthusiasm. Those in Poland (79%) and Italy (64%) champion the trend to plan a getaway before the end of Aug-2021, followed by residents of Austria (57%), Germany and the Netherlands (both 56%), according to the research. Among theses nations, Italians lean towards domestic trips (53%), while more than two in five respondents from the other origin markets have a clear preference for travel abroad.