Flights may have been expensive but airlines treated their passengers with respect. If something went wrong, staff went out of their way to fix it and get you on your way. There was a romance about travelling and while high the price of the ticket included checked luggage, a proper meal and free drinks. Even a short flight included a treat – my favourite was British Midland's short haul flights in the afternoon as they always served a cream tea – scone, whipped cream, jam and a cuppa. That was travel.
The past 20 years has seen travel become mundane, mainstream and full of stress. Security issues brought in by 9/11 certainly didn't help but the advent of the internet and the birth of low cost carriers has meant that travel has grown fast and furious and is now truly global. Cheap and cheerful are words to describe much of today's travelling experience, although maybe less of the cheerful.
Now that Covid-19 has stopped everyone in their tracks, this is a great moment to take stock of where we are and reinvent the travel experience. As our friend Victor A Forcenteain has outlined, there are many annoyances in today's travel experience but also some opportunities.
READ: When air travel returns there are some aspects we hope won't come back with it – the view of a disgruntled corporate traveller
READ: Lounging around in airports mean that the once private, tranquil space for corporate travellers has generally become a thing of the past – more gripes from our disgruntled corporate traveller
Even before Covid-19 there was a distinct trend towards putting the customer more in charge of their travel experience. More digital and mobile apps to put the traveller in charge every step of the way and allow them to chose their experience. Booking, check-in, seat choice, transfers all handled via a mobile app on the go. Interconnectivity left a lot to be desired but the digital age has certainly been putting the journey firmly into the hands of the traveller.
There was also an increasing emphasis on the environment, with travel companies vying to be the most environmental in their field. Aircraft manufacturers are now creating aircraft that burn less fuel and even no fuel at all, with biofuels surging forward to be with us in the not too distant future.
So with so much good, it would be a shame to go back to the pre-Covid-19 ways that travel had become of being treated like cattle.
As a recent Tripadvisor report highlighted there is much pent-up desire out there to book our next trip. But for a year or more there will be less of us as many are cautious about the health safety aspects of travelling so we will need a lot of coaxing to get us back on the road.
https://corporatetravelcommunity.com/you-cant-keep-a-good-traveller-down-consumer-searches-are-on-the-increase-with-short-trips-and-smaller-groups-likely-to-dominate-in-early-stages/
In a recent McKinsey & Company survey of people across the globe who have travelled in the past two months, during the Covid-19 crisis, the one constant complaint was the additional stress being caused by the variety of safety measures being rolled out.
With so many different processes there is a huge amount of anxiety and confusion about what actually works to keep them safe and what is being promoted but will be impossible to deliver consistently and at scale. If one airport claims to have the best hygiene safety system then that causes us to question all the others. Until there is a consistent approach to biosecurity then the travel experience will be nothing but stressful.
When asked about taking a flight, the survey revealed that exposure to other travellers and boarding a plane were two areas of acute anxiety. When it comes to staying in a hotel, just being in a room was seen as the main area of anxiety.
CHART - When it comes to flying overall exposure to travellers and boarding the flight are the main drivers of anxiety (top), while for hotels simply staying in the room drives the highest level of anxiety (bottom)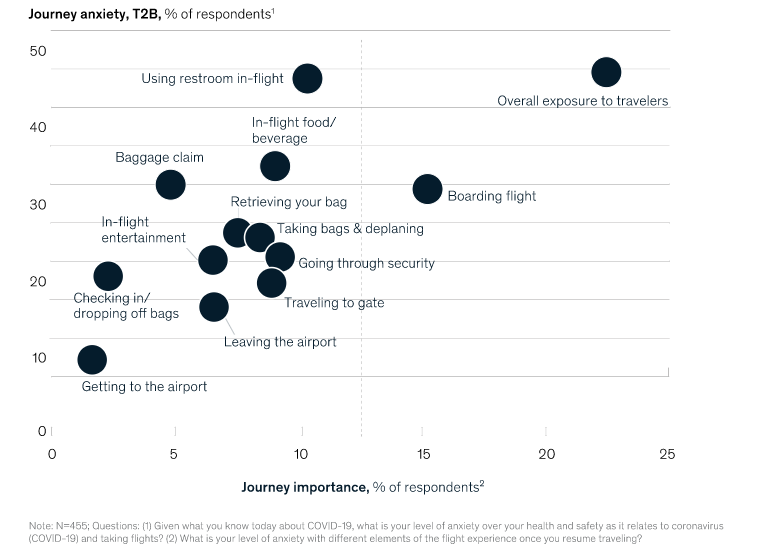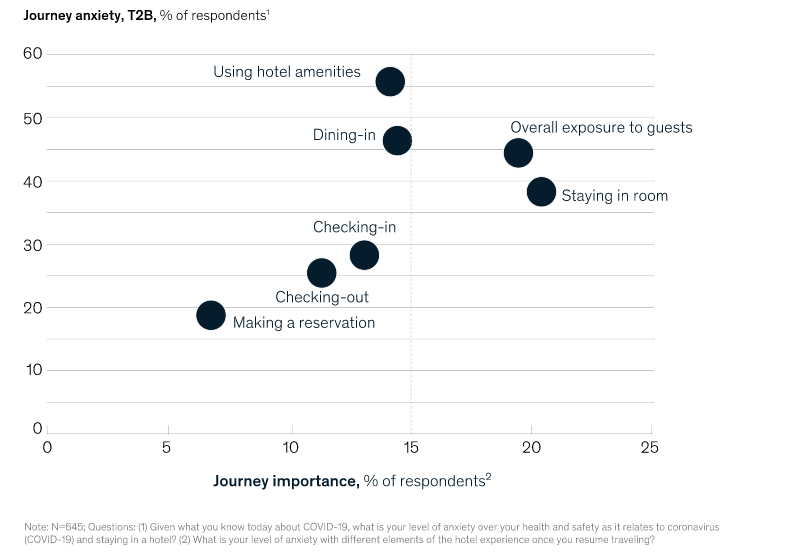 Source: McKinsey & Company
Brand may mean less in this new world than the ability to cancel or change plans quickly and easily. All companies should now be making it easy to amend bookings with simple digital tools.
A personalised experience is something all of us require, even more as we emerge from Covid-19. For instance boutique hotels were already becoming popular because they offered personality and individuality, so now there is an opportunity for all hotels to bring about that personal connection. We are all getting a little jaded by the mass emails from operators telling us about the numerous practices they have put in place.
What we need is some personalised attention to detail to coax us back out there. What we need is companies that understand our anxieties and make our journeys as smooth as they can with attention to detail and a smiling face – even if that face is covered with a mask.