Right now government restrictions dominate the decision-making, but once they are reduced as global vaccine programmes intensify those choices will return to individuals and companies alike. What 911 did for international security, COVID-19 will replicate for health and hygiene.
When we have considered traveller health previously, it has been dominated by destination hygiene with the quality of drinking water the main parameter. Similarly, we have been ready to take Malaria tablets or get a yellow fever shot if our travel took us into areas where we were in danger of infection. But quite often basic sanitary conditions and medical care were often overlooked.
It is common sense to adopt good levels of hygiene as normal but now, with COVID-19 a unwelcome reminder, we now have this centre of the thought process. Travellers do attach importance to the hygiene of accommodation, environment, as well as the hygiene in restaurants, indicate expert studies, but these have often been secondary factors below price, convenience, loyalty etc. That is now changing.
The World Travel & Tourism Council (WTTC) has recognised this with its 'Safe Travels' global safety stamp to recognise safe travels protocols. This specially designed stamp allows travellers to recognise governments and companies around the world which have adopted health and hygiene global standardised protocols. Eligible companies such as hotels, restaurants, airlines, cruise lines, tour operators, attractions, short term rentals, car rentals, outdoor shopping, transportation and airports, are able to use the stamp once the health and hygiene protocols, outlined by WTTC, have been implemented.
As travel and tourism moves towards recovery, traveller confidence in the sector and its different industries will be an essential ingredient in restoring belief that travel is once again safe. It is imperative that whilst the sector may create the impression of normalcy, it has the necessary measures in place to mitigate a resurgence of the virus.
"In effect, the sector will need to further ingrain high health & hygiene standards in its DNA to create a safety culture as it has done with security," says WTTC in its recently published 'From Protocols to a Safety Culture' whitepaper, produced in partnership with the Institution of Occupational Safety and Health.
The Organisation for Economic Co-operation and Development (OECD), the intergovernmental economic establishment, estimates international travel and tourism will fall by around -80% in 2020. No meaningful recovery in international tourism flows is foreseen until well into 2021, and is likely to take some years.
This is in line with recent projections by other organisations. Latest UN World Tourism Organization (UNWTO) estimates point to a -70% decline year-on-year in international tourist arrivals in the first eight months of the year, with the loss in export revenues from international tourism eight times that recorded in 2009 amid the global financial crisis. UNWTO now foresees a decline in international arrivals close to -70%, with recovery to pre-crisis levels not expected before 2023.
OECD sees safety and hygiene among the many potential long lasting travel and tourism policy implications. "Safety and hygiene have become key factors to select destinations and tourism activities. People are likely to prefer 'private solutions' when travelling, avoiding big gatherings, and prioritising private means of transport, which may have an adverse impact on the environment," it explains.
This raises some clear concerns when it comes to accommodation. Before the coronavirus pandemic, many of us never gave a second thought to sharing bathrooms or sleeping in beds that others had slept in – now we're all hyper-conscious about travel hygiene. This has been investigated by a UK bathrooms expert and affords some view over traveller observations to the cleanliness of destinations.
Looking at European capital city markets, Showersforyou used public Airbnb, Booking.com, and Tripadvisor reviews to calculate the average cleanliness ratings of accommodation to reveal the cleanest destinations in Europe.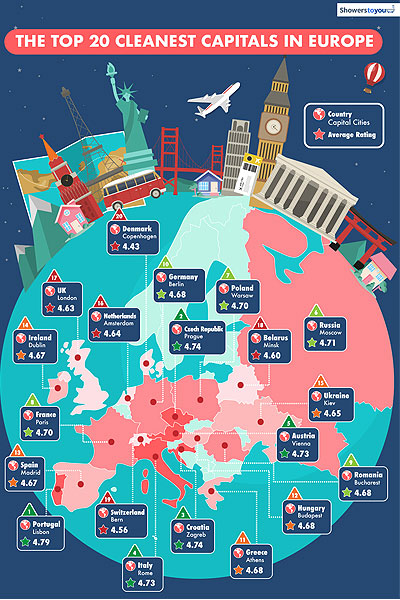 Lisbon emerged as the cleanest European capital with an average of 4.79 stars. Between the three websites analysed, Airbnbs in Lisbon had the highest ratings (4.89), with TripAdvisor following closely behind (4.87 stars). In second place was Prague, the medieval capital of the Czech Republic, which scored an average of 4.74 stars in total, with stays in Airbnbs receiving the highest cleanliness rating (4.87). With the same average overall rating Zagreb in Croatia was joint second with 4.74 stars.
There was some correlation and also variation by platform, perhaps indicating the demographic of guests using them. Zagreb came out top with 4.93 stars on Airbnb, with Moscow, Budapest, Madrid and Amsterdam joint second with an average cleanliness rating on Airbnb of 4.90 stars.
Zagreb also came in first place on Booking.com with an average of 4.67 stars, ahead of Poland's capital, Warsaw, with 4.62 stars and Lisbon with 4.61 stars. Meanwhile, TripAdvisor users rated Paris as the city to have the cleanest stays in Europe with 4.88 stars. Lisbon claims second with cleanliness ratings of 4.87 stars and London third with 4.85 stars on average.
This study may seem a little quirky, but it could actually provide a strong basis for traveller habits as health and hygiene becomes a more important factor in travel decisions.