It has provided the platform for the parts of the sovereign state to last month start to reduce restrictions on international travel and provide a much-needed boost to an economy that has been starved by these constraints. In Dubai, the travel and tourism sector accounts for more than 11% of GDP and the emirate had been expected to welcome more than 20 million visitors this year.
It is not just about those travelling in and out of Dubai, but with its national airline, Emirates Airline operating a business model also reliant on travellers connecting through the metropolis, the shutdown of global travel and a continued diluted corporate travel market means it has been hit particularly hard.
The need to return to return to some form of normality has been crucial, but after a four months shutdown it is easy to undo the hard work with rash actions. Dubai perfectly highlights the importance of balancing the risk from a virus that has caused the biggest public health crisis of modern times and its own economic stability.
It is a challenging time to be attracting travellers anywhere in the world with air travel still subdued by a continued fear over the virus, but it also comes as temperatures across the Gulf reach their summer peak. Emirates Airline is gradually expanding its services, now extended to 68 destinations in Aug-2020, and around 50% of its pre-Covid-19 network.
There are strict rules though. All passengers travelling from any destination to Dubai with effect from 01-Aug-2020 must now have a negative Covid-19 test certificate. This includes those passengers that are connecting in Dubai. Tests must be taken no more than 96 hours before travel, excluding passengers under the age of 12 or with disabilities. Passengers may still be required to take another Covid-19 PCR test upon arrival into Dubai, and must remain in a hotel or place of residence until they receive the test results.
It has emerged this week that there is even a secondary layer of protection at Dubai International and Dubai World Central airports with Dubai Airports and Dubai Health Authority (DHA) deploying teams of dogs and trainers to screen potential coronavirus infected passengers using scent samples collected through an armpit swab. Here's a local video highlighting it in action.
The rules in Dubai are a little different than just down the road in the emirate of Abu Dhabi, but where similar strong measures are also being adopted. At Abu Dhabi International Airport new technology is being trialled which allows self-service devices at airports to be used to help identify travellers with medical conditions, potentially including the early stages of Covid-19. The technology can monitor the temperature, heart rate and respiratory rate of any person using an airport touchpoint such as a check-in or information kiosk, a bag drop facility, a security point or immigration gate.
https://corporatetravelcommunity.com/airport-check-in-or-medical-room-the-changing-face-of-international-air-travel/
Also in Abu Dhabi, national carrier Etihad Airways has modified its popular amenity kit for its premium passengers to support its health and hygiene programme, Etihad Wellness. Airlines have been searching for years to make the complementary kit, generally a package of personal care items for long-haul flights, more sustainable. Plastics are now disregarded, while many of the items that are simply discarded have been turned into collector's items by more innovative airlines. The bags themselves have also been adapted and designed for reusability.
Now, with many passengers still fearful of returning to the air and needing as much encouragement of health and hygiene protocols to feel comfortable travelling, the carrier has launched innovative new protective wear for its first and business class guests – a snood style facemask for use throughout their journey and beyond.
The soft reusable snood has been treated with MicrobeBARRIER fabric treatment, a broad spectrum antimicrobial treatment, laboratory tested and proven to reduce the presence of germs in fabrics, says Etihad, and with this long-lasting protective layer, the snoods are washable and reusable, making them environmentally friendly.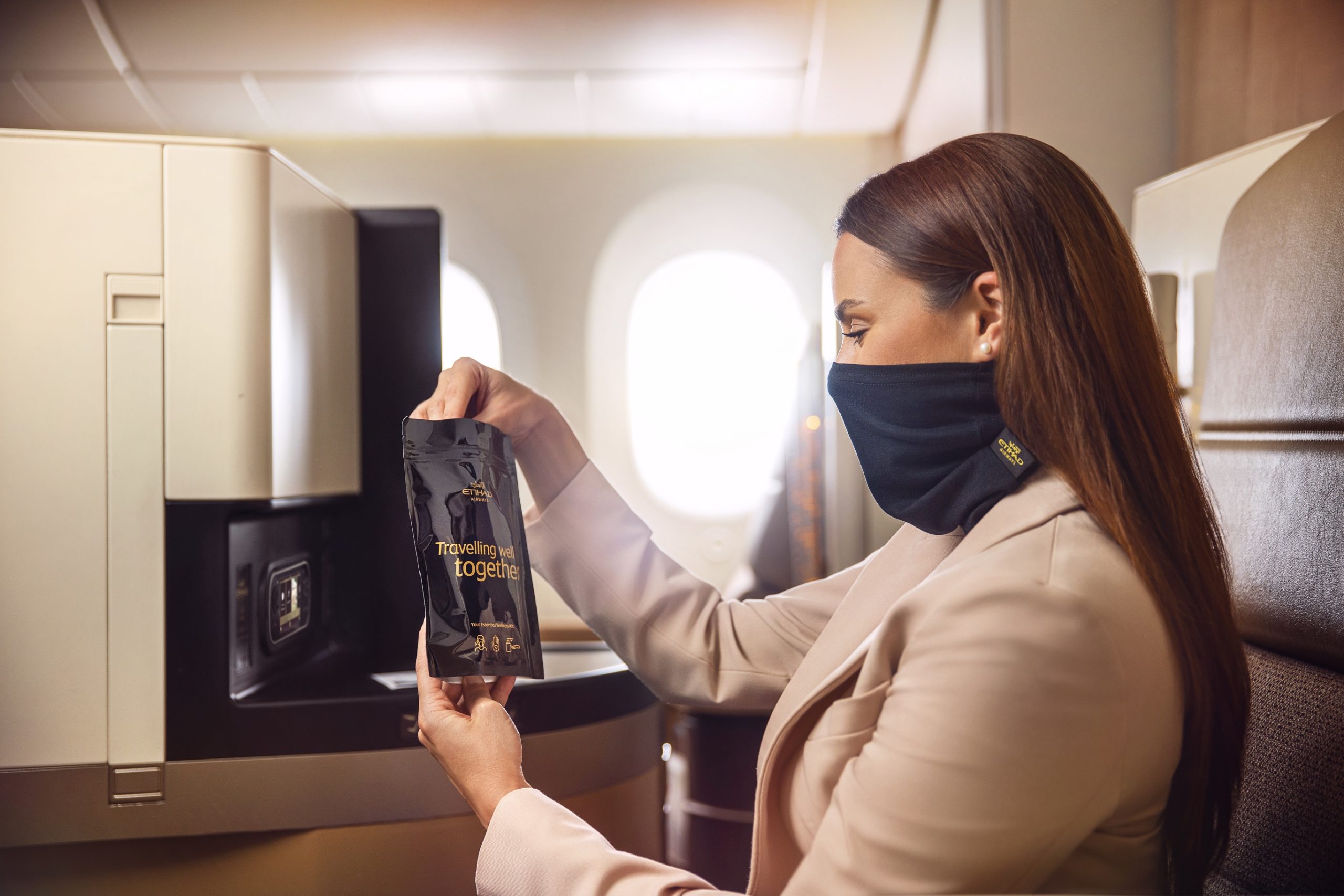 Etihad introduces MicrobeBARRIER face protection
Made out of lightweight, breathable and stretchy jersey fabric, the snood is comfortable and ideal for travel because it can be easily slipped on and off as needed. Travellers are able to wear the snood around their neck like a scarf and when in close proximity to others, pull it up over their mouth and nose to protect themselves and those around them.
The UAE had taken strong action to reduce the spread of Covid-19 through its emirates and is adopting measures to reduce the risk of further infections while working to rebuild an economy that relies on foreign arrivals for employment and to support its travel and tourism industry.
Paul Griffiths, CEO of Dubai Airports described the UAE as taking "decisive action" when it took the bold decision to close Dubai International Airport to all except cargo flights in Mar-2020, a move that cut of a vital economic stream for the sovereign state and literally grounded one of the world's largest airlines – Emirates Airline. "The impact was very, very quick and very, very clinical," he added.
Speaking during one of CAPA – Centre for Aviation's popular Masterclass series he highlighted that the recovery journey is one filled with hurdles. As a hub airport Dubai International's recovery is not just about what is happening in the UAE, nor just the Middle East, but the world and right now there is a balancing act between safeguarding people's health and the economy.
https://corporatetravelcommunity.com/the-lasting-impacts-of-the-covid-19-pandemic-will-reshape-the-air-transport-industry-dramatically-and-has-left-governments-in-a-completely-powerless-position-to-mak/
This is a complex situation and Mr Griffiths said "there are three forces all working in opposition to each other" – medical progression and the continued spread of Covid-19; economic imperative (a factor that he believes will only get worse) and social impact. "As we go on these things will increase in amplitude and increase in the difficulty of finding a way through them," he said, and Governments in most countries are "in a completely powerless position to really make the best decision out of a set of conflicting analyses".
It is clear that the UAE is taking a sensible approach to its recovery, taking innovative action and embracing technological advancements to help mitigate against the risks of opening up its borders. This has helped stimulate its non-oil private sector to grow for only the second month this year in July.
"The rate of growth remained marginal and represented only a mild recovery from the downturn experienced by UAE businesses," according to the seasonally adjusted IHS Markit UAE Purchasing Managers' Index (PMI), which covers manufacturing and services, but the rise from 50.4 in June to 50.8 is a move in the right direction.