The study 'Strategic Spending: A New T&E Approach for Finance" surveyed 616 executives across Europe who manage travel and expense budgets on whether their current processes for managing travel and expenses (T&E) are fit for purpose. With business travel expenditure expected to reach USD1.7 trillion by 2022, it says T&E's are a "strategic imperative – especially for Finance teams" and companies need to be paying close attention.
The report makes the standout discovery: "leading organisations are now on a journey away from tolerating disparate, manual, spreadsheet-limited systems towards demanding ONE integrated solution that optimises both travel planning and cost tracking processes."
CHART: The survey findings show 85% of respondents believe that travel and expense spend could be better optimised, with over two thirds feeling that it can be done to a certain or large extent (68%)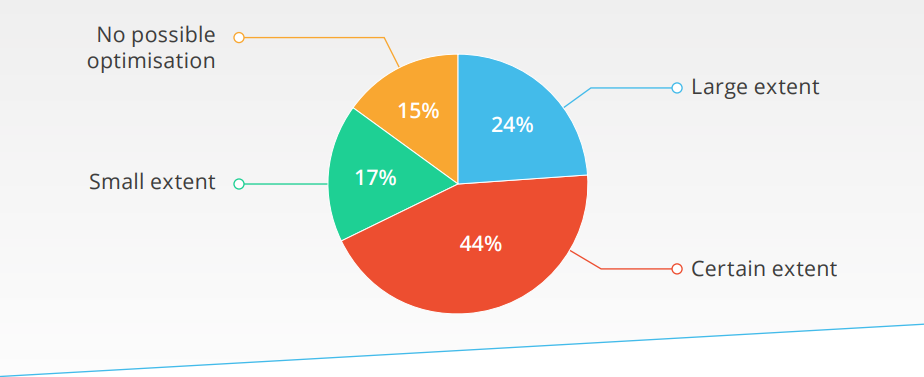 Source: Strategic Spending: A New T&E Approach for Finance
It highlights that finance teams are looking to improve processes whilst protecting their data through digital tools which enable automated compliance with tax and financial regulation. More than eight in ten (82%) respondents say that by implementing automated T&E reporting processes, they have been able to comply with local and international requirements (duty to protect, data protection, and local tax rules).
Although 60% of companies are confident in the security of employee data in their T&E tools, the remaining 40% of companies are not confident in data security with their T&E solutions, and could be a major concern for reporting standards and maintaining GDPR compliance.
Cost control is highlighted as a major issue, with almost half (48%) of respondents admitting that they control less than half of their T&E budget adequately. The responsibility falls mainly with finance teams, who control 65% of the T&E budgets among the companies interviewed, followed by purchasing and procurement managers (19%) and travel managers (10%). Nearly 40% say that travel is a major enabler for growth, adding to the strategic nature of controlling a cost that is commonly viewed as the second largest in a company's operational spend.
When asked what the top priority was, controlling expenses ranks top for finance departments, closely followed by fraud prevention, reconciliation and reimbursements, reducing costs, and finally traveller satisfaction. And improving the business travel expense process can improve control in other areas.
As expenses cover more than traditional business travel, the study found businesses need to account for a variety of other expense categories. While 44% of employees travel and are likely to submit expenses, 26% of employees do not travel, but will do the same. With a total of 70% of employees submitting expenses, KDS acknowledges that automated processes for managing them will impact beyond the travel function.
The adoption of integrated platforms for managing both travel and expense has increased from 42% to 70% in the past five years, according to the study. In addition, over half (57%) of all companies cited that a fully integrated T&E platform would help them plan and budget more effectively. The study revealed an integrated platform would offer increased visibility on expenses, compliance with tax and financial regulations and reduced processing costs, with large companies more likely to adopt this business model over SMEs.