---
Summary:
France's VINCI Airports will acquire freehold, concessions and management contracts at airports in the Airports Worldwide (OMERS) portfolio;
These acquisitions take VINCI's airport interests to 45;
The objective is a stronger presence in the "rich" North American market but many of these airports are fairly small and insignificant;
VINCI is a rampant investor and just about any potential asset seems to be considered fair game for purchase.
---
Airports Worldwide, previously ADC & HAS, the at-length operating arm of Houston Airport, was partly acquired by the Ontario Municipal Employees Retirement System (OMERS) in 2009 through its arm OMERS Strategic Investments and expanded its operations to include airports in the UK such as Belfast International where it had a 100% stake, and Stockholm Skavsta, the main low-cost airport serving the area to the south of Stockholm, where it held a 90.1% stake, the remainder staying with the local Nyköping municipality.
Outside of Europe, Airports Worldwide mainly had concession and management contracts at airports in the US and the Caribbean. The concessions comprised Orlando Sanford International Airport (100% stake, under a concession contract with a residual term of 21 years), San Jose Juan Santamaria International Airport (48.75% stake, under concession contracts with residual terms of eight and 13 years) and Liberia Daniel Oduber Quirós International Airport (45% stake, under concession contracts with residual terms of eight and 13 years).
Four full management contracts are held at Hollywood Burbank; Ontario International; Macon Downtown and Middle Georgia Regional airports, while three partial management contracts are in place at Atlantic City International, Raleigh-Durham International and Atlanta Hartsfield-Jackson International airports (in the latter case the international terminal).
Setting the management contracts aside, the freehold acquisitions and concessions are being reported as being a "strategic leap across the Atlantic into the rich skies above the United States". The "rich skies" part may be correct but all of these airports are relatively small. Only Belfast International handles more than five million annual passengers, but importantly all have seen strong passenger growth in the past year.
MAP - The VINCI worldwide airport network now stretches to 45 airports handling over 182 million passengers per annum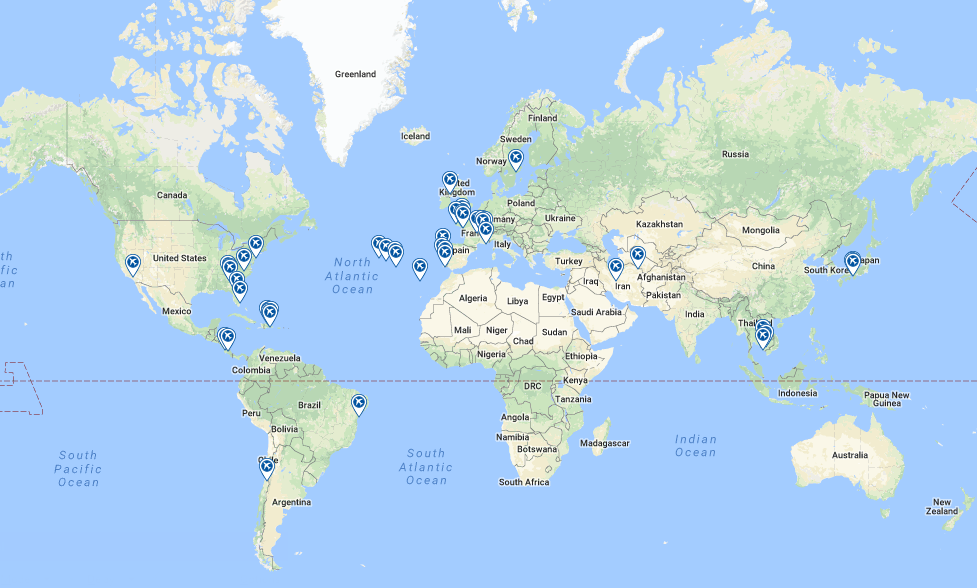 Source: CAPA - Centre for Aviation
While VINCI has several management contracts at secondary and tertiary level airports in its home country of France, its modus operandi since the acquisition of ANA Airports of Portugal in 2013 has been to go after larger primary airports, or groups of airports. Included in its portfolio now, under a variety of (usually) solo or consortium concession arrangements are (with full-year 2017 passenger traffic figures unless stated): Lisbon Humberto Delgado (22.5 million/2016); Osaka Kansai (27.9 million); Osaka Itami (15.6 million); Lyon St Exupéry (10.2 million), Salvador Luis E Magalhaes in Brazil (7.7 million) and Santiago International Airport, Chile (21.4 million).
Other smaller ones include Osaka Kobe and Belgrade's Nikola Tesla airports, also the Aeropuertos Dominicanos Siglo XXI (AERODOM), which was acquired from Advent, and includes a concession to operate six airports in the Dominican Republic until Mar-2030. These together handled 4.5 million passengers in 2016.
But, even more impressive is the list of airports that VINCI either is "linked with" (i.e. investigating), now, or has been linked with in the recent past. They include:
The seven Hokkaido island airports and Fukuoka Airport in Japan;
Batam Hang Nadim Airport in Indonesia;
Kingston Norman Manley International Airport, Jamaica;
Mashhad Airport and Isfahan Airport in Iran;
Ahmedabad Airport and Jaipur Sanganeer Airport (India);
Asuncion Silvio Pettirossi Airport, Paraguay;
Five regional airports in The Philippines;
Kasteli/New Heraklion Airport, Crete
SE Lithuanian Airports;
The Almaty aviation hub in Kazakhstan;
Goa Mopa Airport;
Slovenia's Ljubljana Joze Pucnik Airport;
Greek regional airports
VINCI has also made it clear that "if there is an opportunity" to acquire a greater stake in Groupe ADP, which operates the Paris airports, the company "will try to play a role". VINCI already has an 8% stake in Groupe ADP. "We are interested in airports", the CEO recently said. He's not kidding!
VINCI probably now has the widest range of airports in its portfolio of any major operator, from large and fast-growing ones like Lisbon, Santiago and Osaka Kansai, to management-contracted ones off the beaten track in France, even the likes of Beja in eastern Portugal.
The company is rampantly acquisitive these last five years and looks like staying that way. It hasn't always been. In previous decades, when it only had a handful of French airport contracts and interests in Cambodia it all but walked away from the sector, but with general construction activities in France in limbo it instead is seeking more profitable concession activities in airports and its other mainstay, motorways and toll roads.
As for OMERS, it is not yet clear why it has chosen this moment to exit the airport sector through this disposal of an airport investment arm. Pension funds are attracted to the longevity of airport investments and the portfolio was so diverse that it must have been very difficult to identify any common negative trends appropriate to all or even a majority of them.