It is also a basic, but key part of any standard business strategy, as keeping a customer loyal can reap significant long-term benefits. While, it is easier to convert a loyal customer to spend, programmes are not just about encouraging us to spend more, but to ensure any spend is focused in programme.
On Point Loyalty, a global consulting and investment firm focused exclusively on the airline loyalty space, has released its 2020 report on the top 100 most valuable airline loyalty programmes, and it is the established programmes of the US majors that continue to dominate.
From their humble beginnings as tactical marketing programmes, airline loyalty programmes have evolved into the "powerhouses of the global airline industry," explains the report.
"Offering a unique combination of profit, control and scalability, the programs in some cases account for the lion's share of the airline's profits. But despite their potentially large financial footprint, the loyalty programs continue to operate at the periphery of the industry," it says.
Airline loyalty programmes have evolved into the financial powerhouses of the global airline industry for their scale, control and profitability. However, many today now question just how important loyalty remains in changing market conditions.
On Point Loyalty's latest update of the report gives a unique view on the value generated by these somewhat opaque marketing businesses which are important ancillary revenue contributors for airlines. Its research examines public information on over 170 airlines around the world to determine an estimated value for each airline's loyalty programme. Over 50 variables relating to the airline, loyalty programme, credit card industry and local market dynamics were incorporated into its own proprietary valuation algorithms.
Notably, it illustrates that more than three quarters of the analysed programmes (77 out of 100) have increased in value, with one fifth (20 out of 100) declining in valuation in comparison with the last edition in 2007. This is explained by the general growth of the airline industry.
All of the top ten loyalty programmes, which as the chart below illustrates is headed by US airlines, increased in value between 2017 and 2020, with the US majors of American Airlines, Delta Air Lines and United Airlines seeing AAdvantage, SkyMiles and MileagePlus programmes all valued at more than USD20,000 million.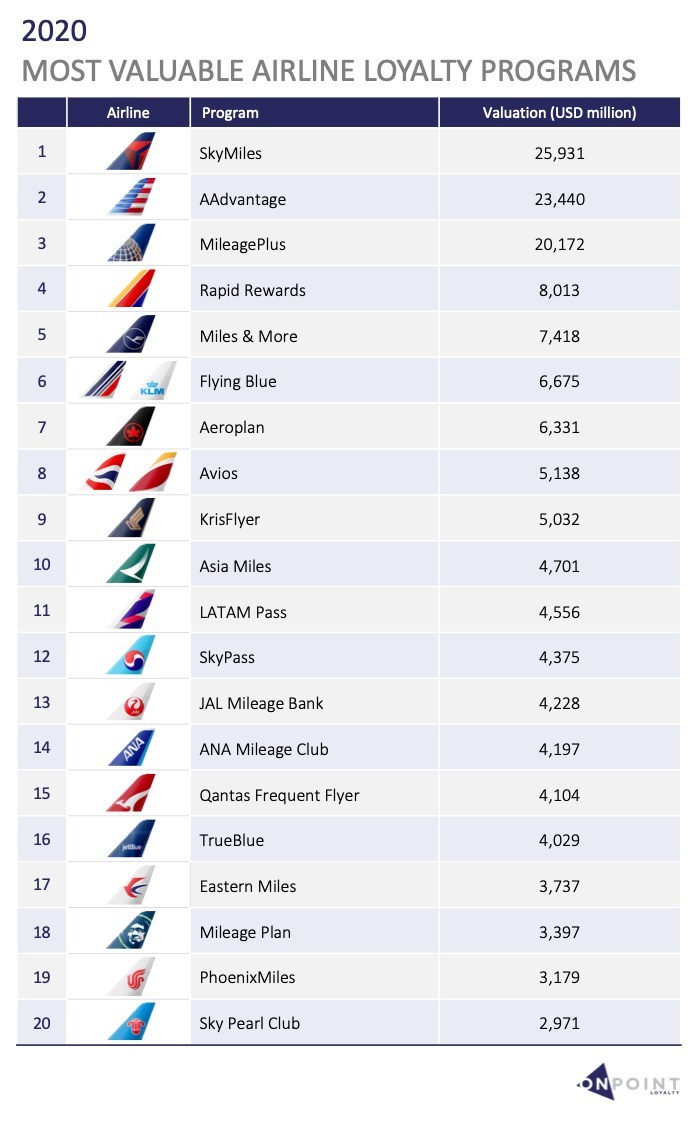 The report highlights that first and foremost, airline loyalty programmes are formidable marketing tools. "Well-executed programs drive customer engagement, and act as a springboard for the ongoing transformation and digitalisation of the business. The rich dataset offers an unparalleled foundation to build lasting customer relationships," it explains.
The programmes can be "scalable, asset-light and data-driven businesses," it says, placing them well to support an airline. Those same characteristics also make them into potentially valuable assets and "unlocking their true potential will be in any airline's best interest," it explains.
In conclusion, the report says: "We believe that the programs represent tremendous (potential) value across many different dimensions, including the financial angle. Airline boards and stakeholders should be mindful of the value of the upside of programmes. Equally, they should become more conversant with the underlying value levers and the interdependency (and therefore potential tensions) between the loyalty programme and airline in order to preserve and enhance that value".