The publication outlines that despite vaccine hurdles in recent months, the inoculation programmes are "vital in enabling the restart of travel" and offers an optimistic viewpoint backed-up by the expected significant amount of pent-up demand which has accumulated following months of travel restrictions – ETC's own data shows that 56% of Europeans are willing to travel by the end of Aug-2021.
The opening of international travel routes is hugely anticipated, but as the UK highlighted just last week, the fine balance between allowing people to travel and maintaining control over potential COVID-19 spread means the list of destinations open to citizens without strict quarantine requirements may remain limited.
In the UK's case popular summer destinations such as France, Spain and Turkey remain on the restricted list. Travel into Portugal, Iceland, Gibraltar and Israel is permitted, as is Singapore, Australia and New Zealand, but the latter two still restrict arrivals from the UK and mean quarantines will still be required for eastbound travellers. It is still a complex situation that will mean many will be put off making plans.
A resurgence of COVID-19 cases, coupled with prohibitive quarantine and testing requirements dampened traveller sentiment in 2020 and into 2021, with available data indicating an -85% plunge in international tourist arrivals to Europe in Jan-2021, reports ETC in its quarterly report. While vaccination programmes provide a boost, "the outlook remains mixed," it acknowledges, with latest forecasts estimating that international arrivals to Europe will remain -46% below 2019 levels in 2021, with a full recovery not expected until 2024.
The EU's Digital Green Certificate, planned to be introduced before summer, will support the reopening of European travel and tourism in 2021 to a degree. Envisaged as a tool to facilitate free and safe movements of citizens in the EU and further afield, it is planned to facilitate the exchange of data to prove that a person: has been vaccinated against COVID-19, holds a negative test or has recovered from COVID-19.
"Following a gloomy 12 months, we finally have reasons to be more optimistic about summer 2021," says ETC's executive director, Eduardo Santander. "What's needed now to revive consumer confidence is clarity of communications regarding the applicable travel rules and the speedy rollout of EU Certificate."
The first quarter of the calendar year is always a challenging period and this year has been tougher than ever. European destinations continued to see major declines in tourist arrivals during the three months, with around half plummeting over -90% based on latest available data, highlights ETC in the quarterly report.
Its data shows the largest falls were registered in Austria (-99%), where strict entry rules were in place, and Iceland (-97%), where fully vaccinated visitors are now exempt from testing and quarantine obligations on arrival. A number of Central/Eastern European destinations together with Cyprus, Slovenia and Finland, were amongst the hardest hit, all posting decreases of more than -93%. Monaco (-41%) was the only destination that did not exceed a -50% decline.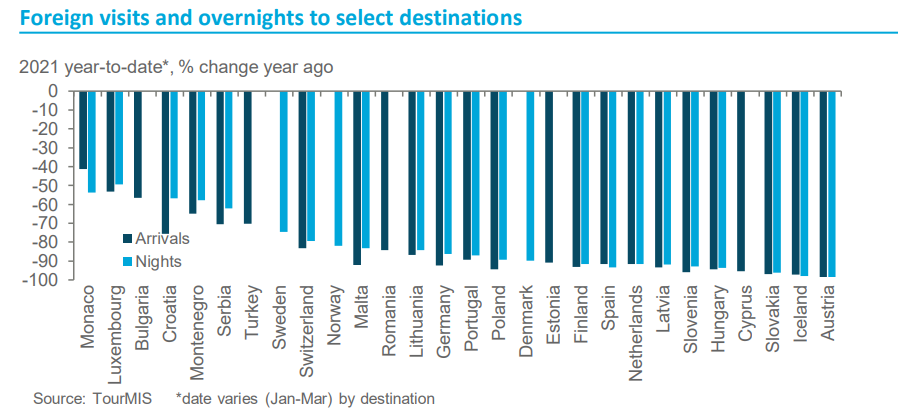 The last twelve months have been particularly bleak for the aviation industry with European air traffic data for Mar-2021 showing a -68.9% drop when compared to pre-pandemic levels in Mar-2019. However, when compared to a -70.9% decline in Feb-2021, this suggests that hope is on the horizon. As for the hospitality industry, occupancy rates in European hotels remain consistently lower than in other major global regions. The prohibitive travel restrictions across the region have meant its recovery has so far lagged that of other key markets including the US and China.
Prospects, however, are "brightening for the travel industry" though highlights ETC in the report, especially with the possibility of revival of the large UK and US outbound markets given the faster rate of inoculations against COVID-19 in these countries.
As international restrictions remain ETC acknowledges an obvious transference to domestic travel. "Given the general population is as keen as ever to enjoy some much-needed rest and recovery, pent-up travel demand supported by enforced savings will likely mean that many will turn to their domestic travel offering," it says in the report.
We already saw some signs of this substitution in the vastly altered summer 2020 travel market: as a share of total travel within European destinations, domestic travel jumped from 55% in 2019 to 69% in 2020, highlights ETC.
While ETC predicts that all sub-regions can expect to see some uplift in domestic tourism this year as well, it is clear that this would be insufficient to offset any corresponding declines in inbound travel. In case of continuous lockdowns and severe restrictions, the impact "would be most stark" in Southern and Mediterranean Europe, it says, since these destinations tend to be more reliant on international travellers. Montenegro, Malta, Cyprus, Croatia and Greece are observed as facing the largest threat.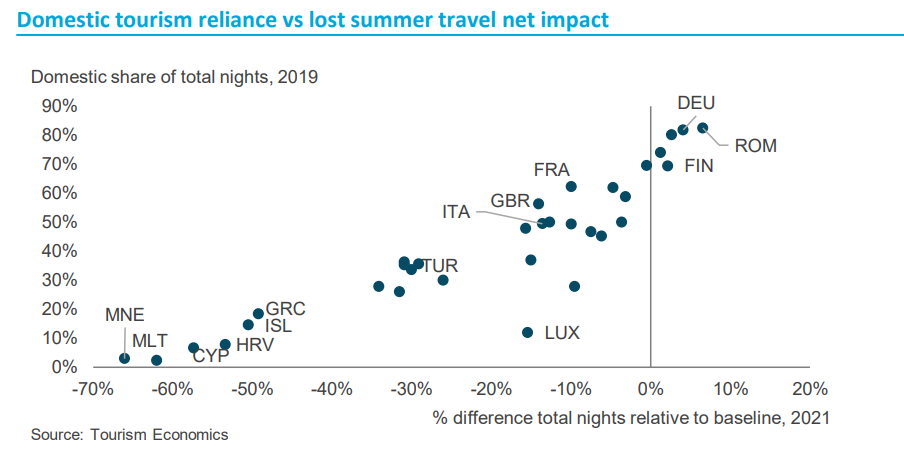 As the chart based on Tourism Economics data shows, destinations falling in the lower-left have the least scope to offset inbound declines with domestic travel. The lack of opportunity is due to their relatively smaller domestic travel market and reliance on inbound travel. As such, in these destinations the impact of more severe travel restrictions over the summer would result in the largest decrease of total nights relative to the baseline.
In comparison, it shows Central and Eastern European destinations "can better mobilise domestic demand when foreign travel is taken off the table," explains ETC in the report. However, it identifies only a handful of European destinations with the largest domestic markets (such as Romania, Germany, Poland, Finland and Sweden) could feasibly see domestic demand fully offset declines in inbound travel.