In the most recent updates of its 'Insights on Travel Impact' series, which is based on over 350 million traveller profiles and billions of travel intent signals, Sojern describes travel intent and demand as "recovering" in some European markets. Nowhere is this more apparent than in Greece, but Portugal and Spain are also seeing significant shifts.
All three countries have seen a relaxation of mobility restrictions of late and in the past couple of weeks have moved to cut some border restrictions. On 20-May-2020, Kyriakos Mitsotakis, Greece's Prime Minister confirmed the country would open its doors to foreign tourists from 1-Jul-2020. Days later, Portugal's Foreign Minister Augusto Santos Silva announced that its border would reopen on 15-Jun-2020, followed immediately by Pedro Sánchez, Spain's Prime Minister, who outlined the country would reopen for foreign tourism from Jul-2020.
Greece has been acknowledged as a country that has controlled their Covid-19 outbreak well, and as such is among the first markets in Europe open to travellers – though accessibility remains limited to 29 countries that have appeared to also control their outbreak. This has translated into a impressive bounce-back with flight searches to Greece only around 14% down from 2019 levels based on weekly data collected by Sojern on 08-Jun-2020.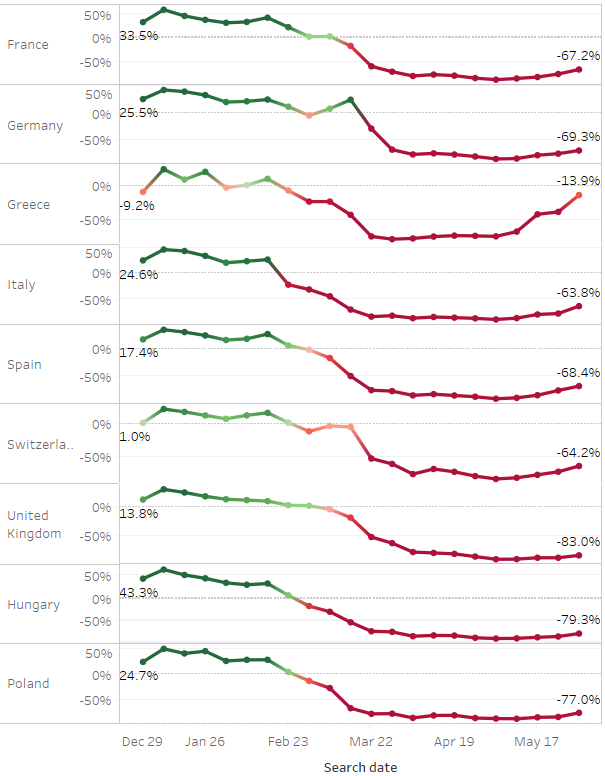 Other European markets are also seeing flight searches improve, but at slower rates. At the lowest point, in April and May, flight searches were about 90% down year-on-year, according to Sojern's findings, but it is now seeing flight searches down around 60-70% on last year. The one exception to this is the United Kingdom, which from 08-Jun-2020 established a 14-day quarantine on most arriving passengers and means travel intent to the UK remains down 83% from 2019 levels.
Like Greece, Portugal managed its incidence of Covid-19 well and never actually went into a full lockdown. But some sites were closed as part of their efforts to manage the spread of the virus and are now being reopened, including just recently its beaches, popular with locals and Europeans alike.
This, in addition to proactive campaigns to welcome local and regional travel, has led to an increase in travel intent, acknowledges Sojern. While this is still more than a third down (-37%) down year-on-year, it says, flight searches are up "significantly" when compared to March and April.
When it comes to bookings, things are taking a similar positive turn, but at a lower rate. "This is likely because people are still trying to determine where they can travel and when. However, it is clear that we are seeing definite sparks of improvement in many European markets," says Sojern in its analysis.
In Portugal, there are increasing bookings for this summer (Jul-2020 and Aug-2020), and then an acceleration of year-on-year bookings towards the end of year, where bookings are up over 250% on Apr-2020. The insight says this demand is coming from the Portuguese people, but also Germany and the UK (the latter hoping to take advantage of a proposed 'air bridge' between Portugal and the UK that is under discussion.
The booking situation is echoed in data from travel analytics company ForwardKeys, which has revealed that the series of announcements by governments of the southern European countries that they are eager to welcome tourists for the summer season, has triggered an almost immediate jump in international flight bookings for Jul-2020 and Aug-2020 and alongside Greece and Portugal, Spain is also in demand.
After the aviation and travel markets have been "in a state of suspended animation with almost nobody booking anything" Olivier Ponti, VP insights at the Valencia-based company, says things have changed very quickly over the past couple of weeks with markets reacting "immediately" to the positive messages.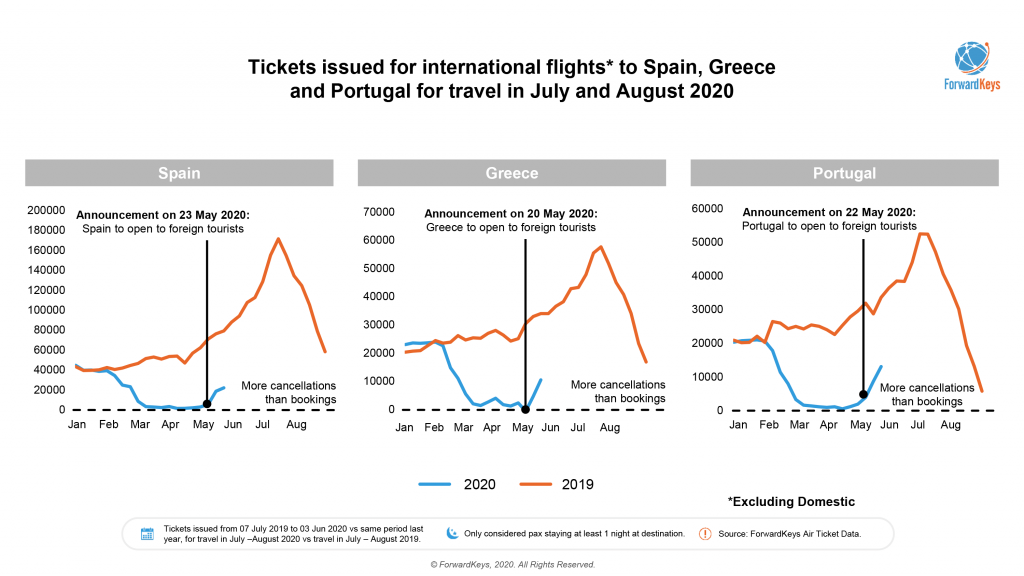 ForwardKeys research shows that from 20-May-2020 through to 03-Jun-2020, the number of international flight tickets issued for Greece, increased from effectively zero to 35% of what they were during the same period in 2019. Similarly, in the 12 days from 22-May-2020 to 03-June-2020, the number of international flight tickets issued for Portugal, increased from effectively zero to 35% of what they were during the same period in 2019 and in the 11 days from 23-May-2020 to 03-Jun, the uplift in Spain reached 30%.
A closer analysis by type of traveller reveals that there has been a very similar pattern of recovery in all destinations. Leisure travellers account for the bulk of new tickets; but recovery has been stronger amongst expats and people visiting friends and relatives. Remarkably, in that niche, air tickets to Greece, Portugal, and Spain, reached 89%, 87% and 54% of 2019 levels respectively.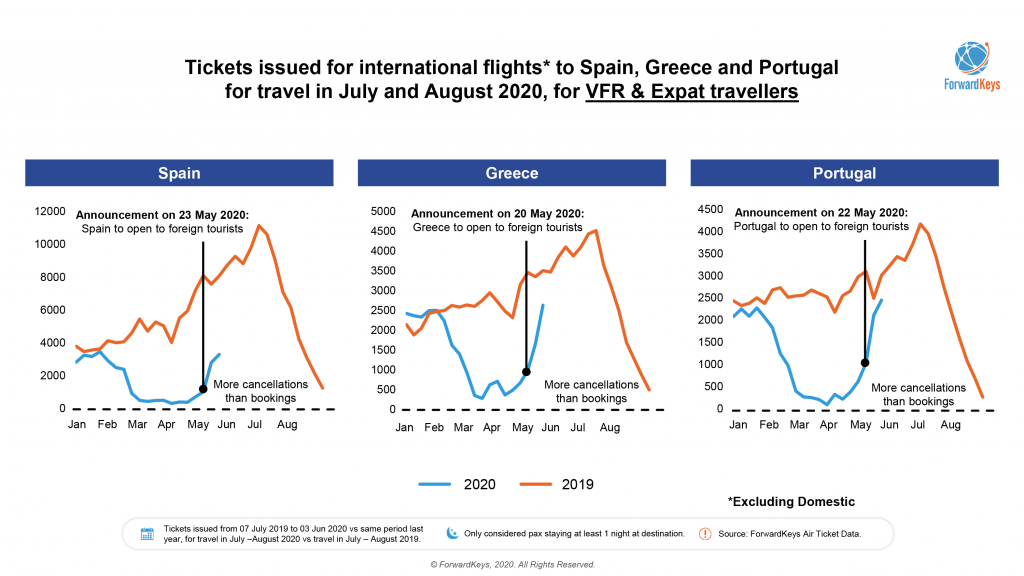 "When governments tell people they are again allowed to travel, bookings immediately start to come back," says Mr Ponti. However, given that there should be strong pent up demand for holidays in southern Europe, the relatively low booking levels, compared to 2019 (bookings for Greece, Portugal and Spain are respectively 49.8%, 52% and 53.5% behind where they were at the beginning of Jun-2019) still suggests that despite the uptick many people remain reluctant to fly.