No longer a case of science fiction, it is now a reality and International Civil Aviation Organization (ICAO) secretary general Dr Fang Liu has noted that unmanned aerial systems (UAS) and urban air mobility UAM are key near term priorities in terms of integrating these new aircraft and operations into traditional airspace.
The European Union Aviation Safety Agency (EASA) has recently published the results of the first study conducted in the European Union (EU) on UAM, which shows that the majority of those questioned broadly welcome the prospect of services such as air taxis, air ambulances and drone deliveries, but have concerns about potential issues such as safety, security, noise and the impact on wildlife.
The publication, 'Study on the societal acceptance of Urban Air Mobility in Europe', is based on targeted research, a literature review, market analysis, surveys of 4,000 citizens in six European urban areas (Barcelona, Budapest, Hamburg, Milan, Öresund (Danish-Swedish cross-border area) and Paris) and interviews. It found that more than four in five (83%) had a positive initial attitude towards UAM, with more than two in three (71%) ready to try out UAM services.
Highlighted below is some of the further insights from the report based on a literature review of the subject. This found use cases most frequently mentioned in publications are air taxis, drone delivery and rescue drones, the main challenges raised are infrastructure and safety, while noise and safety were listed as the major societal acceptance barriers.
It also illustrates that entry into service (EIS) timelines differ significantly between piloted and autonomous vehicles, with most certification or EIS for piloted operations being planned for around 2025. Unmanned or autonomous operations are expected to start entering the market not before 2030, according to statements made by the OEMs in the reviewed literature.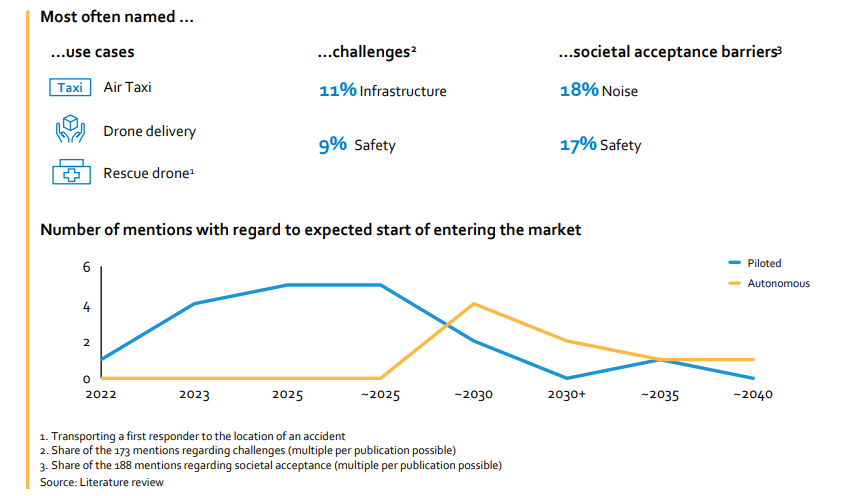 Meanwhile, further research shows the huge optimism within the eVTOL segment. A survey from Horizon Aircraft, which is developing the Cavorite X, found that more than half (56%) eVTOL professionals reveals believe the first commercial urban air mobility passenger routes will be operational by 2025. A further 15% think this will happen between 2026 and 2029 with just one in four (25%) thinking it will not happen until after 2030.
The advanced air mobility market is being largely being driven by startups new to aviation that are challenging the "business as usual" approach to air travel. Honeywell Aerospace is one of the first, and biggest, of the established system suppliers to fully embrace this new industry, seeing it as a catalyst to bring an entirely new generation of avionics, in terms of capability and cost, to the wider aviation market that it already services.
Speaking at the May-2021 edition of CAPA Live, Honeywell Urban Air Mobility and Unmanned Aerial Systems business unit VP and general manager Stéphane Fymat noted that developments in the UAM and advanced air mobility (AAM) are applicable in other aviation market segments. "Every single one of these particular technology areas that we are creating have natural applicability to many of the other segments of the aviation market place," he explained, highlighting the specific examples of radar, vehicle management systems and user interfaces.
Honeywell sees a huge opportunity in the UAM/AAM sector. Mr Fymat said the company "very quickly saw the opportunity, became believers, and decided we really want to make an impact here". Honeywell "looked at this opportunity, at this market space, at what people were trying to accomplish and we really believe it" and "really believe that there is a huge opportunity here".
He said Honeywell has an opportunity to "make an impact, really more than just say as a traditional aerospace supplier or tier-one supplier", which might work by responding to a customer's set requirements. Honeywell wants to "go further than that and to help drive and create this reality," according to Mr Fymat by working collaboratively with companies across the UAM/AAM sector. However, he highlighted there requires" harmonised regulations and certifications" across all the major parts of the world if the vision is to become a reality.
You can view the full CAPA Live discussion between Stéphane Fymat and Aviation Week Network's Graham Warwick here: