Now, Thomas Cook Airlines has developed a new concept which it appears to be marketing to its core leisure audience, but which would certainly appeal to corporate travellers, especially those in small and medium-sized enterprises (SMEs) where travel budgets may be tighter. The Sleeper Seat, now available for booking on selected long-haul routes from 13-May-2019, allows passengers to pre-book a block of three centre seats, which can be transformed into a lie-flat bed, from GBP200 each-way.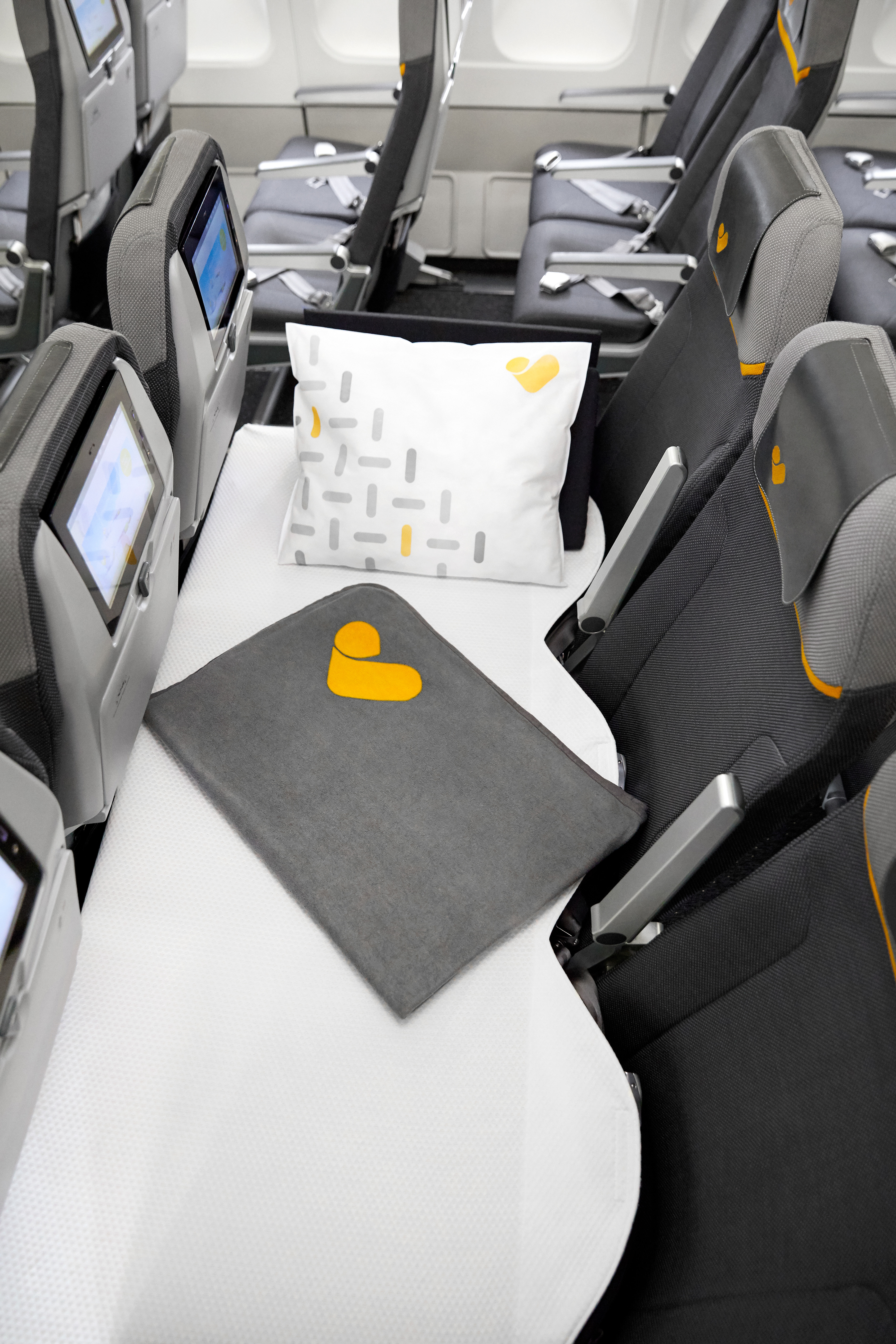 The UK carrier is no longer just about flying loved-up couples, families and friends away for sunshine holiday breaks. Part of the multinational Thomas Cook Group, it is one of Europe's leading leisure airlines, operating from the source markets Germany, UK and the Nordic countries, operating a combined fleet of over 100 aircraft and carrying over 19 million customers per year to 120 destinations.
But it has increasingly expanded its offering in the seat-only market and with a premium offer on many of its aircraft, it has increasingly grabbed the attention of travellers flying for business. This is particularly true in the long-haul market where it now competes directly with scheduled carriers out of London and over the past couple of years it has helped introduce new non-stop connectivity across the Atlantic from Manchester.

The Group now has 15 A330s (12 A330-200s and three A330-300s) widebodies and its UK-based operation is currently responsible for ten of these aircraft, and many are configured in a two-class with a premium cabin. According to the CAPA – Centre for Aviation Fleet Database, some are configured in a two-class 322-seat arrangement with 49 premium economy and 273 economy seats, while others have an all-economy 321-seat arrangement.
The premium economy offer provides additional space for passengers and is configured in a 2-3-2 arrangement versus the standard 2-4-2 of its economy offering. The new Sleeper Seat option will be located in the centre of the 2-3-2 configuration that is used on the last rows of the economy section as the aircraft's fuselage tapers. It will therefore be limited to just four 'seats' per flight and will reduce overall capacity by up to eight seats.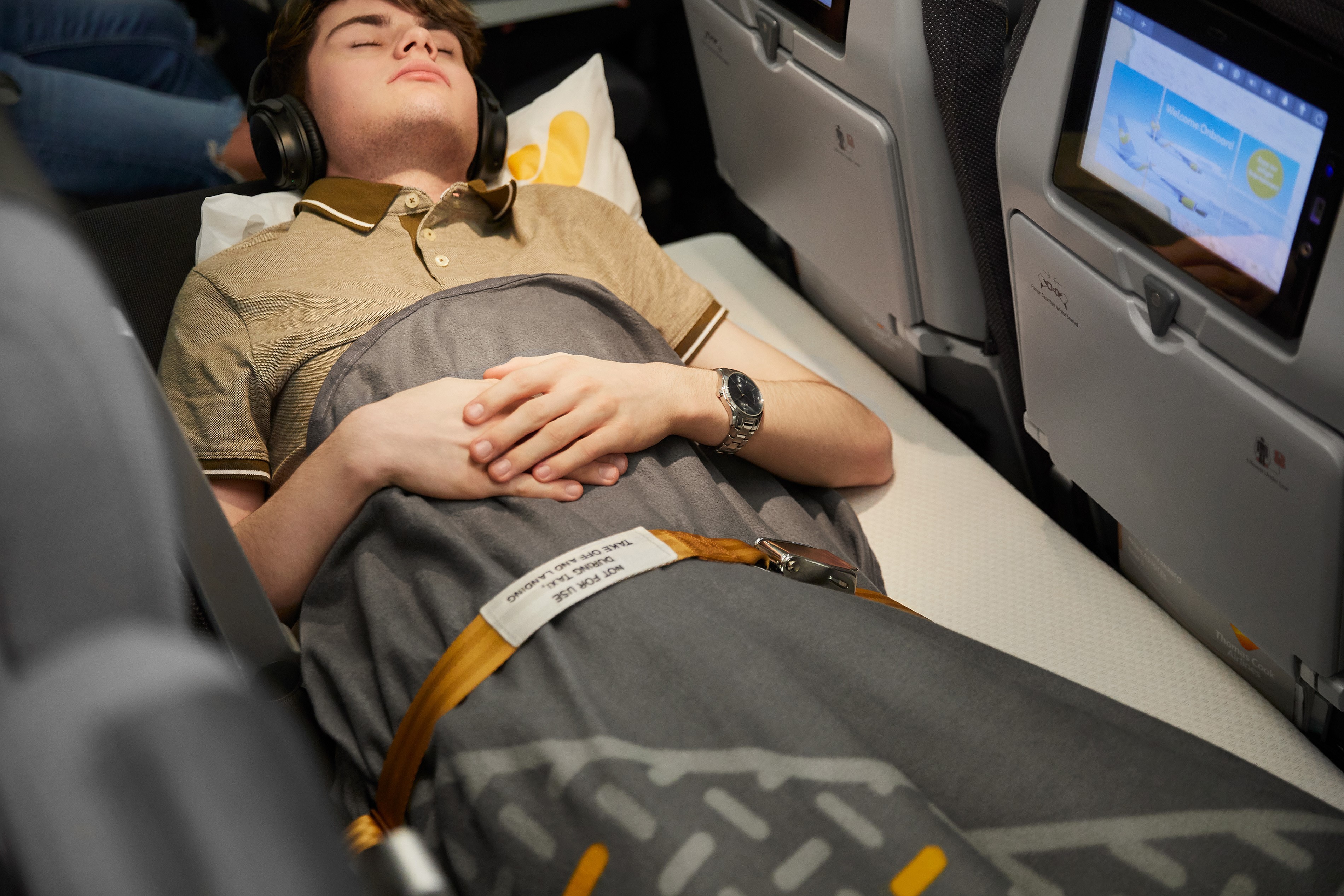 While passengers will be seated for take-off, landing and for any meal service, a mattress will be placed over the seats with a fitted sheet, head rest, pillow, blanket and amenity kit during the cruise, allowing the use to sleep, read, watch a film, listen to a podcast or simply sit back, rest and stretch out. There's an added flexibility too with Thomas Cook allowing passengers to share the use of the Sleeper Seat with any travel companions.
The Sleeper Seats will be available on routes to New York, San Francisco, Orlando and Cancun and will offer passengers 148.4cm by 67cm of space. This is less than a small single bed and while the airline does not have any booking restrictions beyond Sleep Seat passengers being over 12 years of age, it does recommend only booking Sleeper Seat if you are 5 feet 11 inches or under in height.
The new concept certainly provides guaranteed additional comfort than being seated in a full row of passengers and many will see the GBP200 charge per flight a price they are willing to pay for the comfort. After all, while passengers that wait until check-in can select a seat free of charge, Thomas Cook Airlines already charges from GBP10 for standard centre seats from GBP25 for side cabin seats to GBP65 for 'XL' extra leg-room seats per flight for a pre-selected seat.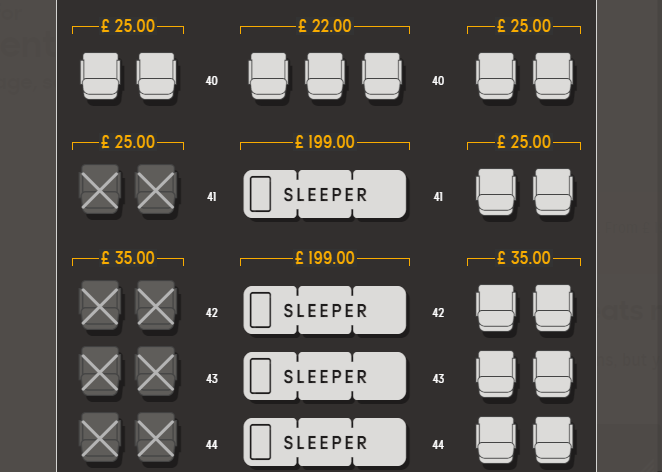 A mock one-way booking by The Blue Swan Daily on Thomas Cook Airlines' Manchester – New York route in Jun-2019 showed economy light hand baggage only tickets from GBP259.99, a standard economy class ticket from GBP289.99 and premium class tickets from GBP439.99, making the Sleeper Seats charge a hefty premium and priced higher than the carrier's premium economy offering.
But, flying is all about choice and Thomas Cook Airlines believes that while some passengers will pay more for the premium cabin and the wider seat, enhanced service and additional baggage allowance it provides, others will prefer to skip these frills in favour of the Sleeper Seat comfort and bedding down for the duration of the flight.