In fact, as The Blue Swan Daily analysis of OAG data for the remainder of the year highlights airlines filed schedules puts year-on-year weekly capacity down to just single-digit levels in Aug-2020 and to less than -1% as we reach the end of the northern hemisphere summer schedule in Oct-2020.
We then see the reduction in capacity return to double-digits from late Oct-2020 as we enter the northern hemisphere winter and where proposed flight schedules for many airlines had not been filed ahead of the Covid-19 outbreak. As we highlighted earlier this week in our regular 'Coronavirus Statistics Snapshot' series, that advanced schedules are not a reliable indicator of future plans and are in reality a work of fiction.
CHART – If the filed flight schedules of the world's airlines are to be believed air capacity would return to close to 2019 levels in just a matter of months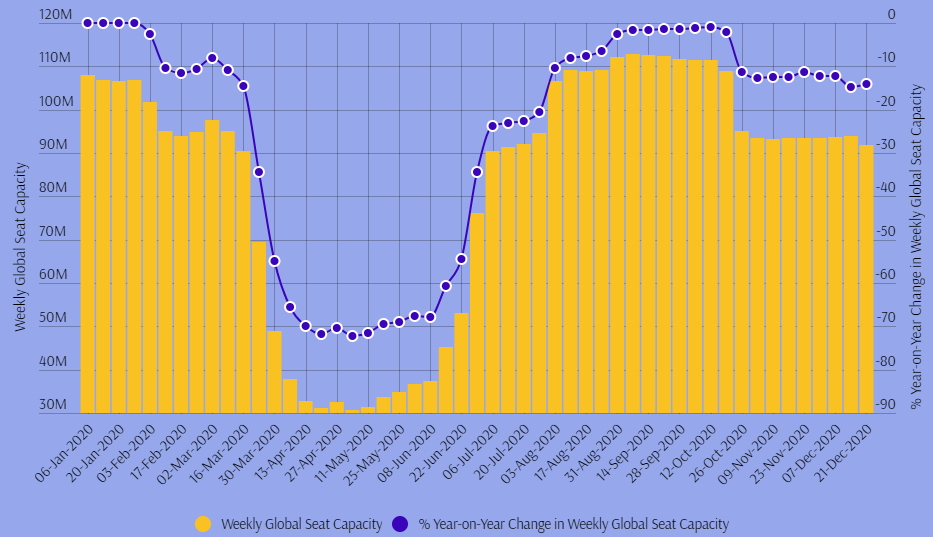 Source: The Blue Swan Daily and OAG (data: w/c 08-Jun-2020)
This lack of clarity has given birth to the new Airline Capacity Models developed by independent aviation market intelligence specialist CAPA – Centre for Aviation, supported by the global travel data provider OAG. The a series of interactive data models is designed to build and interpret projections of airline capacity in key markets, providing a more effective tool to project future capacity changes from country to country markets and even down as far as individual routes.
The CAPA Airline Capacity Models provide a breakdown of each nation's domestic and international outlook for seat capacity – as well as each city and route pair – based on the actual 2019 performance, but also incorporating government statements, airline network announcements and capacity projections.
This makes it a powerful tool for airports, destinations, industry suppliers and the entire corporate travel ecosystem, providing a robust and granular guide for future air capacity projection that decisions and strategies can be built upon. The ability to incorporate personal observations and insights or to consider a faster or slower recovery in specific regional or national markets adds to its authority.
"The impact of Covid-19 has damaged the efficacy of traditional methods of understanding the future size and scale of our industry. Frustrated by the lack of a model that takes into account border closures and other key assumptions around the pace of recovery of domestic and international passenger markets, we set out to build our own model with the support of OAG," explains Derek Sadubin, managing director of CAPA – Centre for Aviation.
The model is fed with actual baseline capacity data, drawn from OAG schedules and aircraft configuration data from CAPA's extensive fleet database. Further unique assessments from CAPA's team of experts are also included based on real time reports from its daily news system, airline route plans and pricing, market conditions (such as the public's willingness and propensity to fly and the introduction of standard criteria on sanitary conditions onboard aircraft and at airports), as well as 'right-sizing' of aircraft to match anticipated future demand.
The CAPA Airline Capacity Model utilises a phased air capacity resumption scenario moving up from zero operations of grounded airlines; via skeletal networks (5% of operations) for emergency travel and repatriation to acutely restricted operations (25%) with the return of mission-critical business travel and acute VFR.
The next step is to basic commercial operations (50%) with a build up of business travel, motivated VFR/student travel and highly motivated leisure travel; then constrained operations (75%) with expanded business and VFR/student travel and motivated leisure travel; before hitting standard operations (100%) and the return of regular travel.
Airline Capacity Models are already available for Australia, New Zealand and China, and models for the UK, France, Germany, the USA, India, Japan, South Korea and other countries are on their way. The Australia model was showcased in a recent CAPA report and projects a phased recovery in domestic air capacity in Australia through the remainder of 2020.
The latest update of the Australia highlights how fluid the recovery process will be and how individual legislative rules at national and regional levels will influence its timescale.
CHART – The CAPA Airline Capacity Models offer projections for domestic and international air capacity
Source: CAPA Airline Capacity Models
The model sees CAPA now project that the country's domestic capacity will reach 55% of 2019 levels by the Oct-2020 school holidays and could almost hit the 74% by mid-Dec-2020 – a more positive outlook than projected just a month earlier as the country makes further progress in its emergence into the post Covid-19 environment.
The CAPA Airline Capacity Models provide a much better insight into how future air markets will look in terms of capacity than what the false image that airlines are currently offering through their advanced schedule filings. You can find out more about the product by contacting [email protected].