Taiwan's only LCC began serving the Philippines on 1-Dec-2019 when it launched four weekly flights to Cebu. Kalibo was launched on 2-Apr-2019 with three weekly flights and Puerto Princesa on 7-Jul-2019 with three weekly flights. The Cebu route was already increased to five weekly flights at the beginning of Apr-2019, while Kalibo was increased in Aug-2019 to up to five weekly flights, resulting in up to 13 weekly flights to the Philippines (depending on the week).
Cebu is the second largest city in the Philippines and the gateway to a region known for its tourism. Tigerair Taiwan initially looked at serving the capital Manila but slot restrictions prompted it to consider Cebu and secondary destinations. Manila is the only destination in the Philippines served by Tigerair Taiwan's full-service parent, China Airlines.
Kalibo is the gateway to Boracay island and Puerto Princesa is the gateway to Palawan. Boracay has traditionally been one of the most popular holiday destinations in the Philippines and is receiving renewed interest following an environmental clean-up effort, which resulted in the island being closed for six months last year.
Palawan is known for its pristine beaches but has never attracted significant international attention due to lack of accessibility. Puerto Princesa is the only international airport in Palawan but currently has only two scheduled international services – Taipei and Seoul (operated by Eastar Jet) – despite the opening of a new international terminal in 2017.
SEE RELATED REPORT: Palawan tourism to surge as new airports are opened. Will you visit?
Tigerair Taiwan commercial director Bernard Hsu told CAPA TV on the sidelines of the CAPA North Asia LCCs Summit in Cebu in late Jun-2019 the airline has been "quite surprised by Palawan" as it has so far performed better than Cebu or Kalibo. He added the initial load factor on the Taipei-Puerto Princesa route has been around 80%.
Palawan, Cebu and Kalibo are all predominately inbound markets. Around half of Tigerair Taiwan's sales on Philippines routes are online (catering mainly to independent travellers) and around half are to agents (catering mainly to group travellers).
Taiwan is the sixth largest source market for the Philippines tourism industry. Taiwanese visitor numbers to the Philippines have more doubled over the last five years – from 143,000 in 2014 to a projected 320,000 in 2019.
CHART – Taiwanese visitor numbers to the Philippines increased by 32% in 1H2019 to 160,000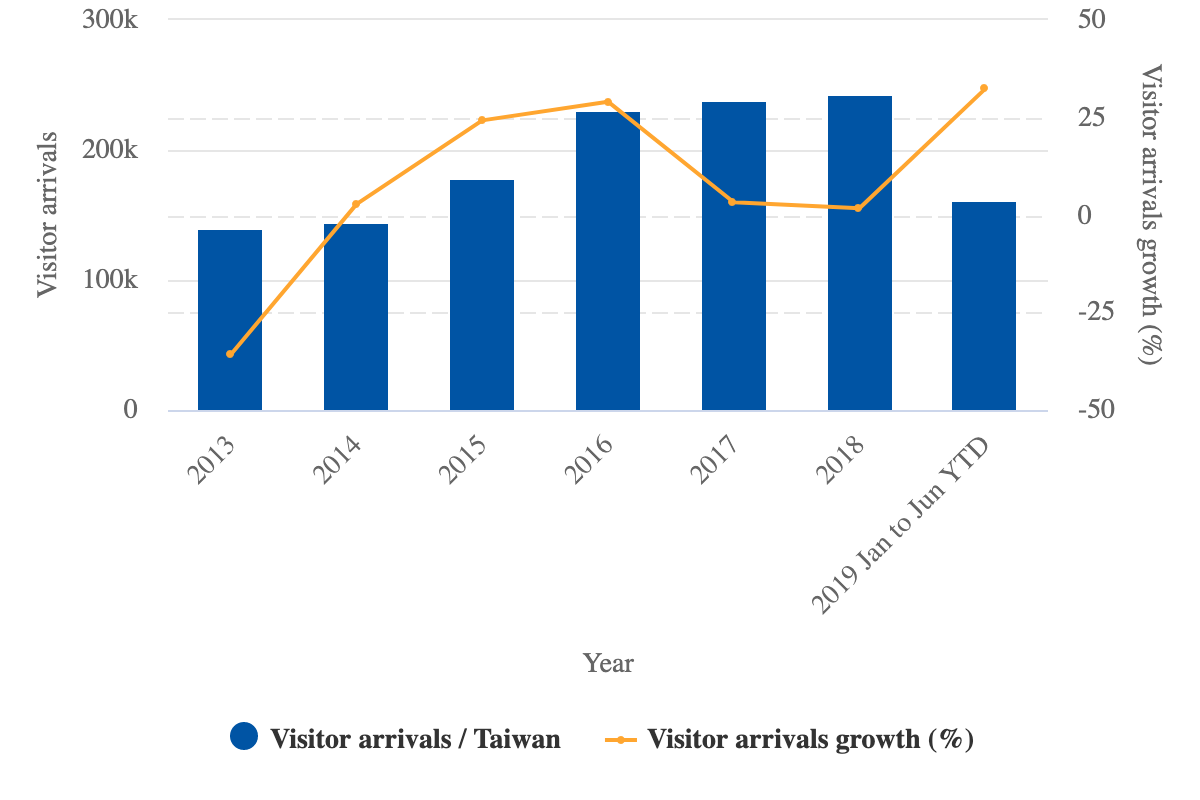 Source: CAPA – Centre for Aviation & Philippines Department of Tourism
Philippine tourism authorities have played an instrumental role in attracting Tigerair Taiwan. Mr Hsu said Tigerair Taiwan is now talking to tourism authorities about opening new destinations in the Philippines including Bohol/Panglao and Davao.
A new airport opened up in Panglao a popular resort island destination, in late 2018. No foreign airline has yet to launch services to the new airport but new international routes including Taipei are likely after upgrades are completed later this year.
SEE RELATED REPORT: Philippines opens new airport on Panglao island, boosting tourism for Bohol province
The expansion in the Philippines is the first initiative as part of a wider plan by Tigerair Taiwan to balance its network by focusing more on Southeast Asia. Prior to the launch of Cebu, Bangkok was its only destination in Southeast Asia. North Asia currently accounts for about 90% of its current seat capacity.
In addition to more new destinations in the Philippines, Tigerair Taiwan is looking at more destinations in Thailand (particularly Chiang Mai and Phuket) and launching services to Vietnam (most likely Da Nang). While a couple of new destinations in Southeast Asia are likely over the next year a bigger push is likely in 2021 and beyond, when Tigerair Taiwan plans to resume fleet expansion with 15 A320neos.
LEARN MORE… In this exclusive interview with CAPA TV filmed at the CAPA North Asia LCCs Summit in late Jun-2019, Tigerair Taiwan commercial director Bernard Hsu discusses the airline's plans for an initial public offering, fleet expansion, new destinations and new partnerships