Australia has been interested in extending the air services agreement with Hong Kong for several years. The current agreement limits each side to 70 weekly passenger flights to the four main Australia gateways of Brisbane, Melbourne, Perth and Sydney. As is the case with most of Australia's air services agreements, there are no limits on cargo flights or passenger flights to any secondary Australia destination.
Cathay Pacific holds all the traffic rights available to Hong Kong based carriers. It operates the full entitlement of 70 weekly flights to the four main gateways during certain periods and a slightly reduced scheduled for off peak weeks. Cathay's current schedule includes 24 frequencies to Sydney, 20 to Melbourne, 10 to Brisbane and nine to Perth (based on OAG schedules for the week commencing 15-May-2017). Three of the Brisbane frequencies operate via Cairns while all the other flights operate nonstop.
Cathay Pacific also operates five weekly flights to Adelaide but these are not counted against the bilateral cap. The Cairns flights are counted against the cap although Cairns is not one of the main gateways because the Cairns flights are tagged with Brisbane.
Hong Kong continues to block attempts by Australia to negotiate a new air services agreement, which would be a benefit to the Australian economy, consumers and tourism.
Australian carriers currently have 35 unused weekly flights to Hong Kong, according to Australia's Department of Infrastructure and Regional Development. Qantas is the only Australian carrier currently serving Hong Kong. Qantas has 28 weekly flights year-round, including 14 from Melbourne and 14 from Sydney, with additional frequencies during peak periods. Virgin Australia is planning to launch five weekly flights from Melbourne to Hong Kong on 5-Jul-2017 as part of a new partnership with its new shareholder, the HNA Group.
Even with the new Virgin Australia flights, Australian carriers will have ample available traffic rights to Hong Kong. However, Australia has been seeking an expanded air services agreement in order to accommodate more flights from Hong Kong based carriers – which would be beneficial to the overall market and consumers.
Hong Kong Airlines has been keen for several years to launch flights to Melbourne and Sydney. Hong Kong Airlines is part the HNA Group and will therefore benefit from Virgin Australia's launch of services to Hong Kong. However, it remains interested in operating to Australia's main gateways, particularly given its initial success in the Cairns and Gold Coast markets.
Hong Kong Airlines launched services in early 2016 to Cairns and Gold Coast, both of which enjoy open skies status. Hong Kong Airlines has since expanded in Queensland, upgrading the Hong Kong-Gold Coast-Cairns-Hong Kong route to year-round and adding frequencies. It currently serves the triangular route with three weekly frequencies, increasing to five weekly flights in Jul-2017.
The launch of services to Australia by Hong Kong Airlines and the upcoming launch of services to Hong Kong by Virgin Australia has resulted in new competition for the Australia-Hong Kong market, which previously was only served nonstop by oneworld members Cathay Pacific and Qantas. However, the market could potentially support more capacity and competition if it was liberalised.
Cathay has had among the highest load factors in the Australia international market the last two years, an indication the Australia-Hong Kong market can support more capacity. Cathay's average load factor on Australia routes was 88.4% in 2016 and 90.2% in 2015. The other top four Asian airlines in the Australian market had lower load factors in 2016 and 2015 – in some cases significantly lower. Cathay is the third largest Asian airline in the Australian market, based on current seat capacity, behind Singapore Airlines and AirAsia X.
Annual Australia load factors for select Asian airlines: 2016 and 2015
| | | |
| --- | --- | --- |
| Airline | 2015 load factor | 2016 load factor |
| Cathay Pacific | 90.2% | 88.4% |
| Singapore Airlines | 84.7% | 82.5% |
| Garuda Indonesia | 81.1% | 78.1% |
| Scoot | 77.9% | 76.7% |
| AirAsia X | 75.4% | 77.2% |
| Malaysia Airlines | 73% | 71.7% |
| Thai Airways | 71.8% | 76% |
Source: CAPA – Centre for Aviation & BITRE
Cathay Pacific carried 1.8 million passengers to and from Australia in 2016. Cathay's Australia traffic was up by less than 1% compared to 2015. Cathay was able to grow its Australia traffic in prior years, primarily by up-gauging existing flights to larger capacity aircraft.
Cathay Pacific annual passenger traffic and seat load factor on Australia routes: 2007 to 2016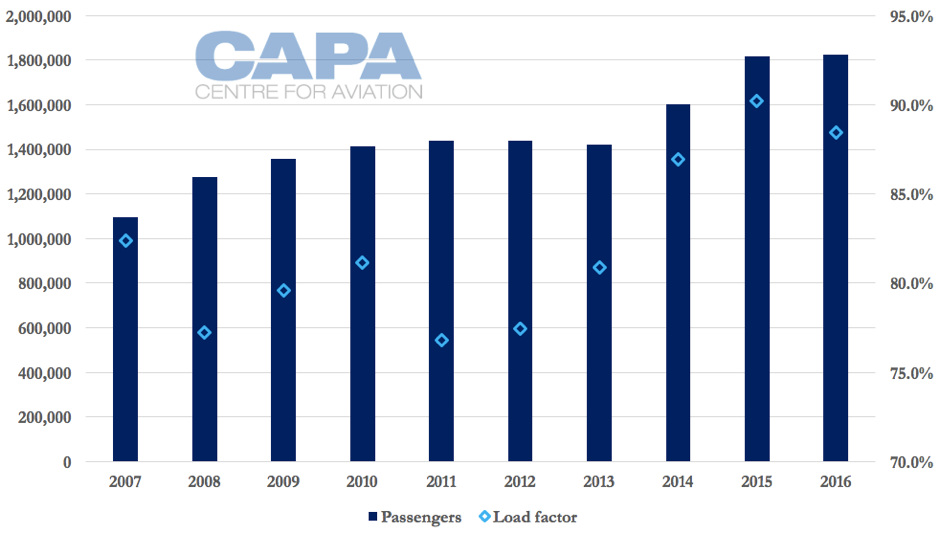 Source: CAPA – Centre for Aviation and BITRE
Cathay Pacific would likely add flights to Australia if it had more traffic rights, but obviously prefers - and benefits - from the status quo. In a presentation at the 2016 CAPA Australia Pacific Aviation Summit in Aug-2016, Department of Infrastructure and Regional Development general manager for aviation industry policy Stephen Borthwick singled out Hong Kong and Fiji at not expressing interest at expanding the air services agreement with Australia although airlines from those countries had fully utilised their entitlements. "I think it is fair to say that Fiji and Hong Kong have so far declined the opportunity for further negotiations with us," Mr Borthwick said.
It is time for Hong Kong authorities to respond to the request from their Australia counterparts. A constrained market is not beneficial for Hong Kong or Australia.
Stephen Bortwick will be again be speaking at the 2017 CAPA Australia Pacific Aviation Summit, which is being held on 1/2-Aug-2017 in Sydney.