---
Summary:
Travellers from France, Great Britain and Germany are key inbound markets for nations across the globe, but traveller booking and holiday habits differ between each nationality;
Insight from Expedia Media Solutions highlights that the travel and tourism patterns of these groups are complex and tourists from these countries have diverse reasons for travelling;
One clear similarity between the three sets of European travellers was that budget was a primary factor, especially more for the French;
OTAs are the main source to book travel, number one for travellers from each of the European nations, but especially by Germans.
---
The study, which was based on a 3,000 people survey sample (1,000 from each of the three countries) of people that had booked online travel in the past year, delivered some notable differences in travel habits between the three nations. The findings showed that travellers took on average 3.7 trips a year (1.1 on business and 2.6 for pleasure) with the British and French taking the most personal trips; the British are least mobile travellers for business, while the French the most for overall travel.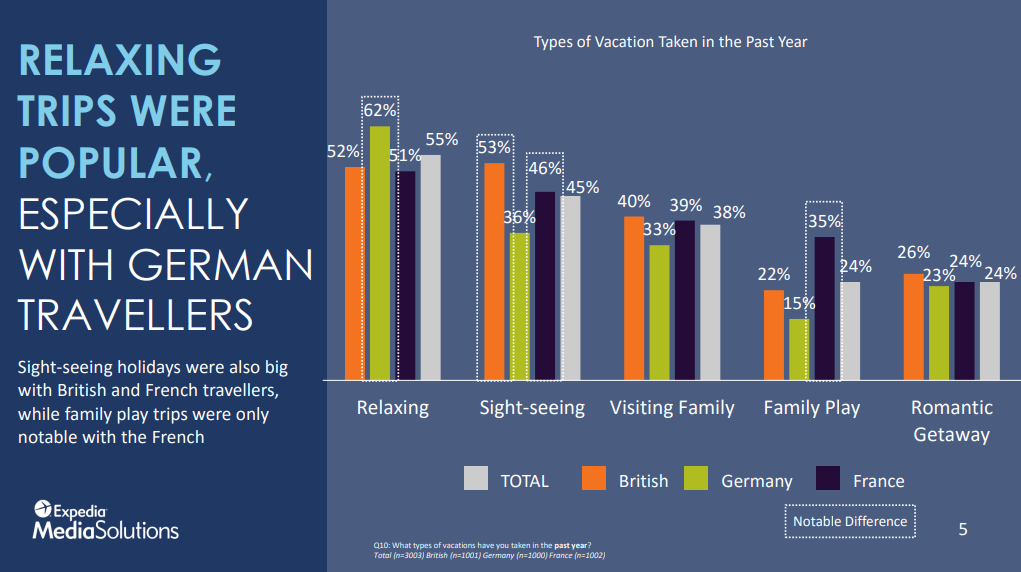 Looking deeper into the travel habits and the survey highlighted that relaxing trips were especially popular with German travellers. Sight-seeing holidays were also big with British and French travellers, while family play trips were only notable with the French. European travellers took on average more than nine for holiday. At nearly or more than 10 days in length, the last trip French and German travellers took was significantly longer than the last British holiday.
In terms of accommodation, just over six out of ten travellers from the three countries stayed in hotels. The findings highlight that French travellers are the least likely to stay in a hotel, and most likely to stay with family or in alternative accommodations while British and German travellers strongly prefer hotels. In fact only half (51%) of the French travel respondents stayed in hotel accommodation on their last trip versus two out of three Brits (67%) and Germans (66%).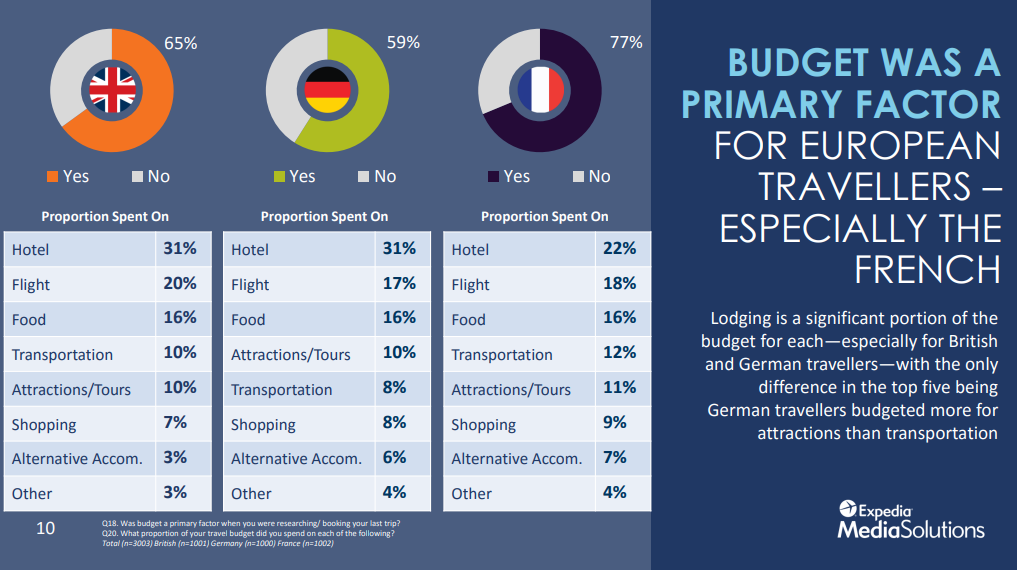 One clear similarity between the three sets of European travellers was that budget was a primary factor, especially more for the French, according to survey findings, which shows that accommodation is the most significant portion of the budget for each set of travellers —especially for British and German travellers—with the only difference in the top five being German travellers budgeted more for attractions than transportation.
Similarly, when questioned which considerations were the most important for a personal break, activities ranked the highest for all three countries. Generalisations made from the answers show British travellers tend to put more importance on price and deals and they also value cultural experiences the most; German travellers place a high importance on lifetime experiences, feeling pampered during their vacation, and having the opportunity to do outdoor activities; while French travellers place a high importance on vacations with outdoor activities.
When looking at the determining factors for choosing a destination British travellers are most likely to look for the best deals and value, German travellers are most likely to go somewhere they can be outdoors and active, while French travellers consider family entertainment in deciding on a destination more than other factors, according to the research.
When asked about the key influencers in their decision making process, the findings show British travellers are the most likely to look for deals before making a decision, but they also find reviews and informative content persuasive. Meanwhile, German travellers indicate that reviews of places and informative content can influence their decision making process followed by a slightly lower emphasis on deals. French travellers show a slight preference over German travellers for talking to people who have already visited a destination, but reviews of places are still the most persuasive.
OTAs are the main source to book travel by an average of 13% over search engines, according to the findings, number one for travellers from each of the European nations, but especially by Germans. When it comes to the manner of booking, while mobile usage is on the rise for researching, these European travellers still use their laptops/desktops extensively in the influence and research phase of the decision making process and then switching more heavily to their phones once on holiday when they perhaps no longer have access to other forms of technology.
Once on holiday the most popular pastimes are relaxation and sightseeing, but again there are differences between travellers from the three European nations. British travellers more often go on sight-seeing breaks, German travellers are more likely to seek relaxation and activities and French travellers prefer visiting family and family fun.