The forecast for the operation period that runs from late March through to the end of October will see some variation, but with medium- and long-haul flights now pretty much fully on sale for the period, it perhaps highlights how the market has changed over the past 12 months after a period of strong network growth.
CHART - The trans-Atlantic market has continued to mature during the 2010s with some new entrants being more successful than others in disrupting the status quo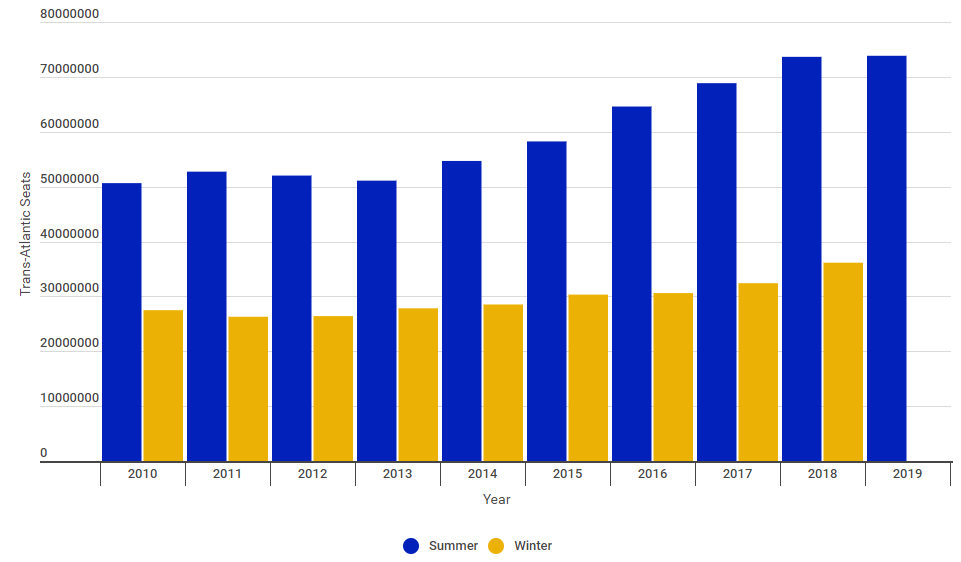 Source: The Blue Swan Daily and OAG
Since the start of the decade summer flight schedules have grown more than a third with frequencies last year up +37.3% on 2010 and capacity up +45.5%. After year-on-year declines in 2012 and 2013 the trans-Atlantic market has seen stable growth during the summer period with frequency growth of over +5% and capacity growth of between +6.5% and +7.0%. The only real anomaly was summer 2016 when frequency growth hit +9.6% and capacity rose +10.9%.
The existing published schedules show that frequencies will slip -0.7% this summer and capacity will rise by a negligible +0.3%, or just under 200,000 seats. The failure of Primera Air and WOW air and the ending of fifth freedom flights by Air India and Kuwait Airways between Europe and North America have been the main influences on the data.
CHART – The average number of seats per trans-Atlantic flight departure is continuing to increase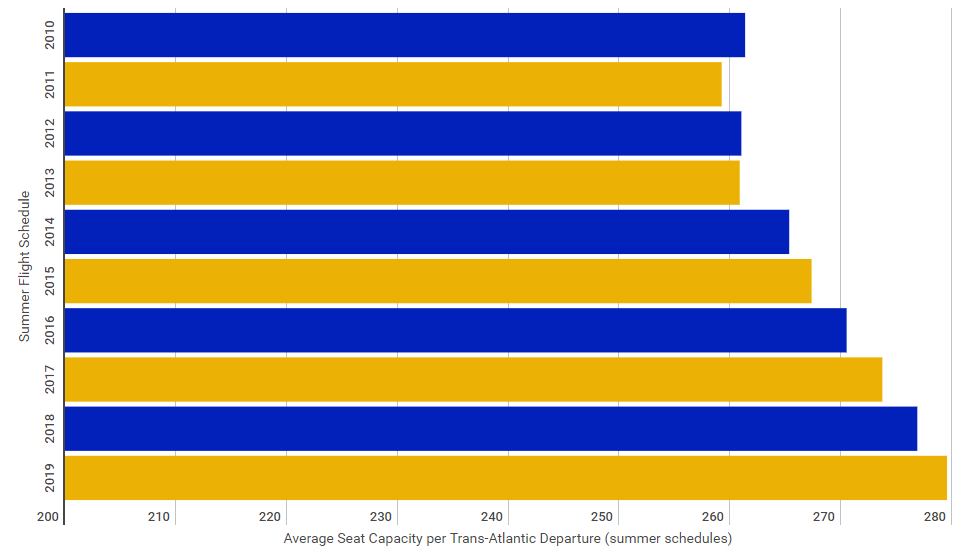 Source: The Blue Swan Daily and OAG
But the data doesn't take into account that the summer season is actually shorter in 2019 at 30 weeks, rather than 31 last year. So, while it's true that seat numbers are up by only +0.3% based on capacity, the underlying growth is actually +3.6%.
The data does also highlight continuation of the trend towards larger capacity being offered per trans-Atlantic departure, a figure that has risen from 260.8 seats in 2013 to 279.5 seats this summer. Away from the headline frequency and capacity figures and there are some clear trends.
The largest airlines in the trans-Atlantic market – the three US majors – are all showing year-on-year capacity growth. Delta Air Lines, the market leader is offering a +2.3% larger schedule, with United Airlines and American Airlines following behind in second and third, but with larger capacity growth of +3.2% and +3.4%, respectively.
Things are a little different on the other side of the Atlantic with the European flag carriers generally offering a slightly reduced capacity year-on-year. British Airways, ranked fourth, has -2.7% less trans-Atlantic capacity this summer, while Lufthansa, ranked fifth, has -0.5% seats.
It is a similar story with Virgin Atlantic Airways (-2.1%), Turkish Airlines (-3.2%), Icelandair (-1.8%), Swiss International Air Lines (-3.0%), Iberia (-2.1%) and even Aer Lingus (-0.1%) who has been growing fast in this market over recent years. The only exceptions are Air France, KLM and Alitalia with +2.0%, +1.1% and +3.9% capacity growth.
CHART - The top 25 airlines in the trans-Atlantic market show a big variance in their capacity offering between summer 2018 and current summer 2019 schedules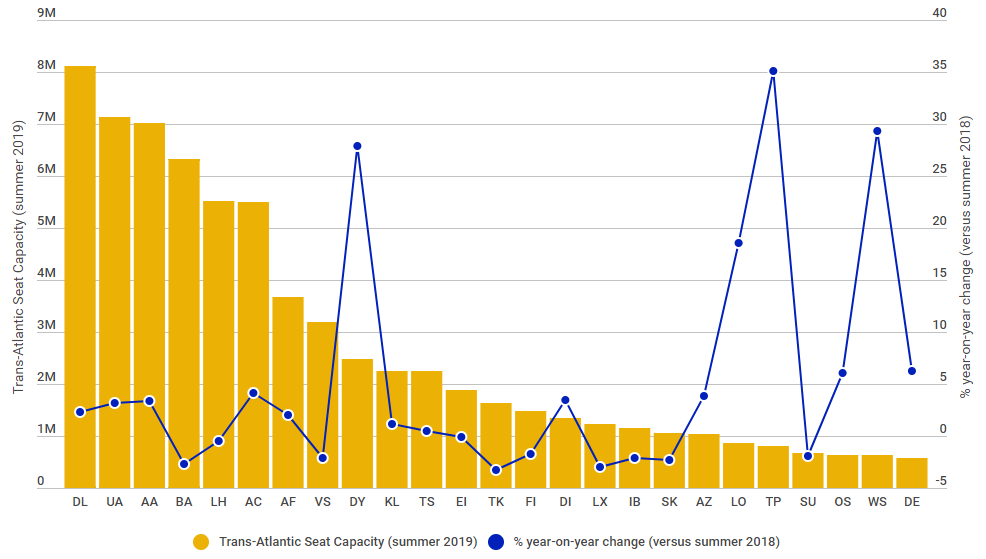 Source: The Blue Swan Daily and OAG
The stand out performer among the markets largest carriers is Norwegian with trans-Atlantic capacity up +27.9% versus summer 2018 at its main operation and +3.4% at its UK unit. Notable growth rates are being seen at Air Canada (+4.2%) and smaller operators in the market such as LOT Polish Airlines (+18.6%), TAP Air Portugal (+35.1%), WestJet (+29.3%), Eurowings (+31.4%) and Finnair (+29.1%). Air Italy, Corsair International have both more than tripled their trans-Atlantic capacity, while LEVEL (formerly OpenSkies) has more than doubled its scale.
There are also winners and losers on the airport side. New regular trans-Atlantic flights are operating from Bologna and Naples in Italy; Charleston in the US; Doncaster Sheffield in the UK; Dubrovnik in Croatia; and Hamilton in Canada. But big name airports such as Cologne/Bonn and Hamburg in Germany; London Stansted in the UK and St Louis in the US find themselves without non-stop trans-Atlantic flights this summer.