The company says seeing online retailers, such as Alibaba, continuing to disrupt the retail industry with the introduction of brick-and-mortar stores shows there's no replacement for that human touch. But, it warns that retails travel agents will have to adopt a different outlook if they want to be sustainable in this competitive environment.
"To survive and thrive, retail travel agents need to change and adapt. This is where technology will play a very important role in the future of this transformation. Technology is exponentially evolving, and we need to keep learning and updating ourselves to better serve travellers," it explains.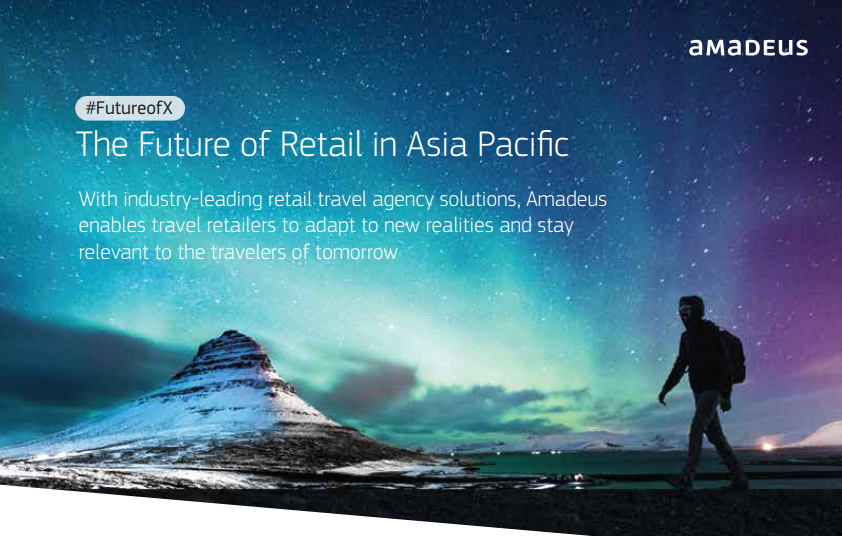 In its recently published 'The Future of Retail' report it highlights five trends that retail travel agents need to consider as part of their long-term strategy. Part of its the 'Future of X' series, it brings together views from Amadeus, Travel Expert and Triposo on what the future of retail looks like for travel.
Amadeus says that it is clear that the growing popularity of online booking sites, and the plethora of destination information available online through social media, publishers and review sites, means retail travel agencies do need to seriously consider how they can stay relevant to their clients. But with travellers increasingly looking for a personalised service that goes beyond issuing tickets and vouchers, the travel agents' human touch remains a very relevant offer.
"Shopping is no longer the same as buying; travellers want to be inspired, moved or changed in some way, regardless of whether that's online, in-store or on social media," its report explains. "Retail travel agencies of the future need to offer a new agency experience. It's not just about selling the holiday."
It is clear that to achieve this, retail travel agencies must embrace technology and the report identifies these will be arounds five trends – Personalisation, Mobile & Payments, Rich Travel Content, Voice and the Internet of Things. Here's what it says…
Personalisation – "considered a buzzword to some, we're entering a new era of travel personalisation that will benefit both the agent and consumer. Embracing customer data and predictive analytics is critical to offer personalised travel experiences."
Mobile & Payments – "the explosion of mobile services in Asia will deliver new innovations in mobile and payments, particularly in user experience and user interface. For a mobile-first generation, instant messenger-style interfaces will become a more popular way of booking travel."
Rich Travel Content – "travel content will rise with the implementation of 5G and 6G high-speed networks. Content management and integration with non-travel related content such as concerts and museum tickets, as well as value add services such as LiveChat and free Wi-Fi, will be the success factors for future travel agents."
Voice – "typing, swiping and other forms of interaction are all just intermediate steps as travellers are unable to efficiently talk to a machine. Voice recognition and assistance technology will transform how travel agents interact with travellers, such as the use of digital assistants to search flight details or book a hotel room last minute."
Internet of Things – "will help connect the customer with travel consultants at every stage of the travel process and could allow for a "universal travel pass" that can handle multiple currencies and bookings.
DOWNLOAD THE FULL REPORT: The Future of Retail