For a long period it has been hard to even conceive a time when travel restrictions of some kind will not limit our international travel freedoms, but we are moving closer to a time when some normality will be restored. Right now there are clear and obvious discrepancies between those leading the recovery with advanced vaccination programmes and those that will be continuing to live in fear of coronavirus for some time yet.
The world is not equal in international accessibility
As Henley & Partners highlights in the latest results of the Henley Passport Index – a ranking of all the world's passports according to the number of destinations their holders can access without a prior visa – the world is similarly not equal when considering international accessibility.
Even without taking evolving and temporary Covid-related restrictions into account, passport holders of Japan and Singapore can now enter 192 destinations around the world visa-free – 166 more than Afghanistan, which sits at the bottom of the index.
This deepening divide in international mobility between wealthier countries and poorer ones was brought into sharp focus late last year with the arrival of the highly infectious Omicron variant, which was met with a raft of punitive restrictions against mainly African nations that United Nations secretary general Antonio Guterres described as akin to "travel apartheid".
Overall travel freedom levels have expanded significantly, but disparity has widened
Looking back at previous edition's of the Henley Passport Index over the past decade and a half, it is clear that overall travel freedom levels have expanded significantly. Back in 2006 at its inception an individual could, on average, visit 57 countries without needing to acquire a visa in advance. Today, that number has risen to 107.
But this overall increase masks the growing disparity between countries in the north and those in the south, with nationals from countries such as Sweden and the US able to visit more than 180 destinations visa-free, while passport holders from Angola, Cameroon, and Laos are able to enter only about 50, less than the global average from back in the mid-2000s.
Covid-19 exacerbates inequality in global mobility
Behind Japan and Singapore, Germany and South Korea hold onto joint third spot on the latest ranking, with passport holders able to access 190 destinations visa-free, while Finland, Italy, Luxembourg, and Spain share fifth place, with a score of 189. The latest edition shows the US and the UK passports have regained some of their previous strength with a visa-free/visa-on-arrival score of 186.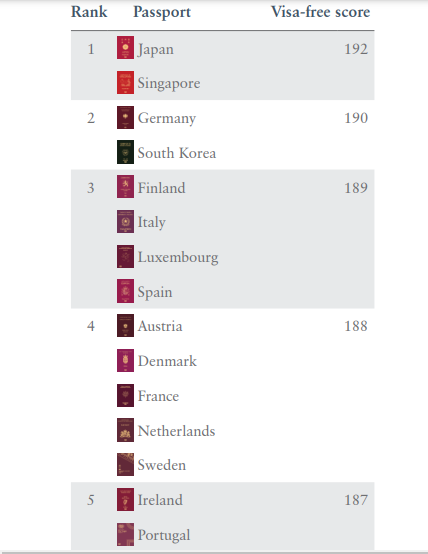 In the Henley Global Mobility Report 2022 Q1, which was released alongside the Henley Passport Index ranking, Prof Mehari Taddele Maru from the Migration Policy Centre notes the global south's willingness to respond to changing circumstances is not always shared by countries in the global north.
"Expensive requirements associated with international travel institutionalise inequality and discrimination. Covid-19 and its interplay with instability and inequality has highlighted and exacerbated the shocking disparity in international mobility between wealthy developed nations and their poorer counterparts," he says.
Global gains in travel freedom have come at the expense of poorer countries
Research commissioned by Henley & Partners into the determinants of passport power, exemplifies wealthier countries' gains in travel freedom have come at the expense of poorer countries, which have experienced mounting barriers to entry in recent years. Comparing 17 years' worth of data from the Henley Passport Index, with World Bank statistics on GDP and fragility, as well as with data collected by the Varieties of Democracy (V-Dem) project at the University of Gothenburg, a correlation is clear
The study shows that while citizens of upper middle- and high-income countries have achieved visa-free access to most nations, citizens of lower middle- and low-income countries, as well as ones with higher fragility scores, enjoy far less travel freedom because they are deemed to be high-risk when it comes to security, asylum, and overstay.
Interestingly, however, they found that while the world's democracies on average have higher visa-free scores, both democratic and authoritarian regimes have increased their visa-free scores since 2006, at somewhat similar rates.
Multiple citizenships embraced amidst geopolitical shifts
Against the troubled travel environment, experts commentating in the Henley Global Mobility Report 2022 Q1 observe that there is also cause for some optimism. As was the case in 2021, there have been relatively few high-profile visa agreements between countries over the past year, but the rankings have nevertheless seen a few notable upward shifts.
Of particular note, the United Arab Emirates (UAE continues its upward trajectory having recently reinstated in practical terms its landmark US-brokered agreement with Israel, suspended throughout most of the pandemic. Ukraine and Georgia have also made significant progress, both having moved up 25 spots in the rankings over the past 10 years, making them the highest climbers in the CIS region.