Perhaps one of the reasons is this is all very subjective and can differ significantly from one member of staff to another. So far, discussions about employee and traveller wellbeing have not been particularly data-driven, but technology platforms are seeing this as an opportunity to bring solutions to the market.
On such solution is from Airfare price assurance provider FairFly. Aviel Siman-Tov, its CEO and co-founder, says that by analysing traveller itineraries and the millions of data points it already process, it is delivering a solution HR and travel managers have been screaming out for… "true data-driven insights into the health and wellbeing of each and every one of their business travellers".
FairFly says it has already helped companies save on average USD675 per booking and just over 5% of their air spend, including a saving of USD4,139 on a single PNR, but is now extending its activities with a new wellness solution that promises to increase "retention, happiness, productivity and assuring the well-being" of travelling colleagues for travel managers and HR departments.
FairFly Wellness monitors travel quality and the impacts it has on health and well-being by department and even down to each individual traveller. It is based on algorithms already successfully used for its airfare price assurance solution, which tracks and compares prices on identical, similar, or better flights through the major GDSs.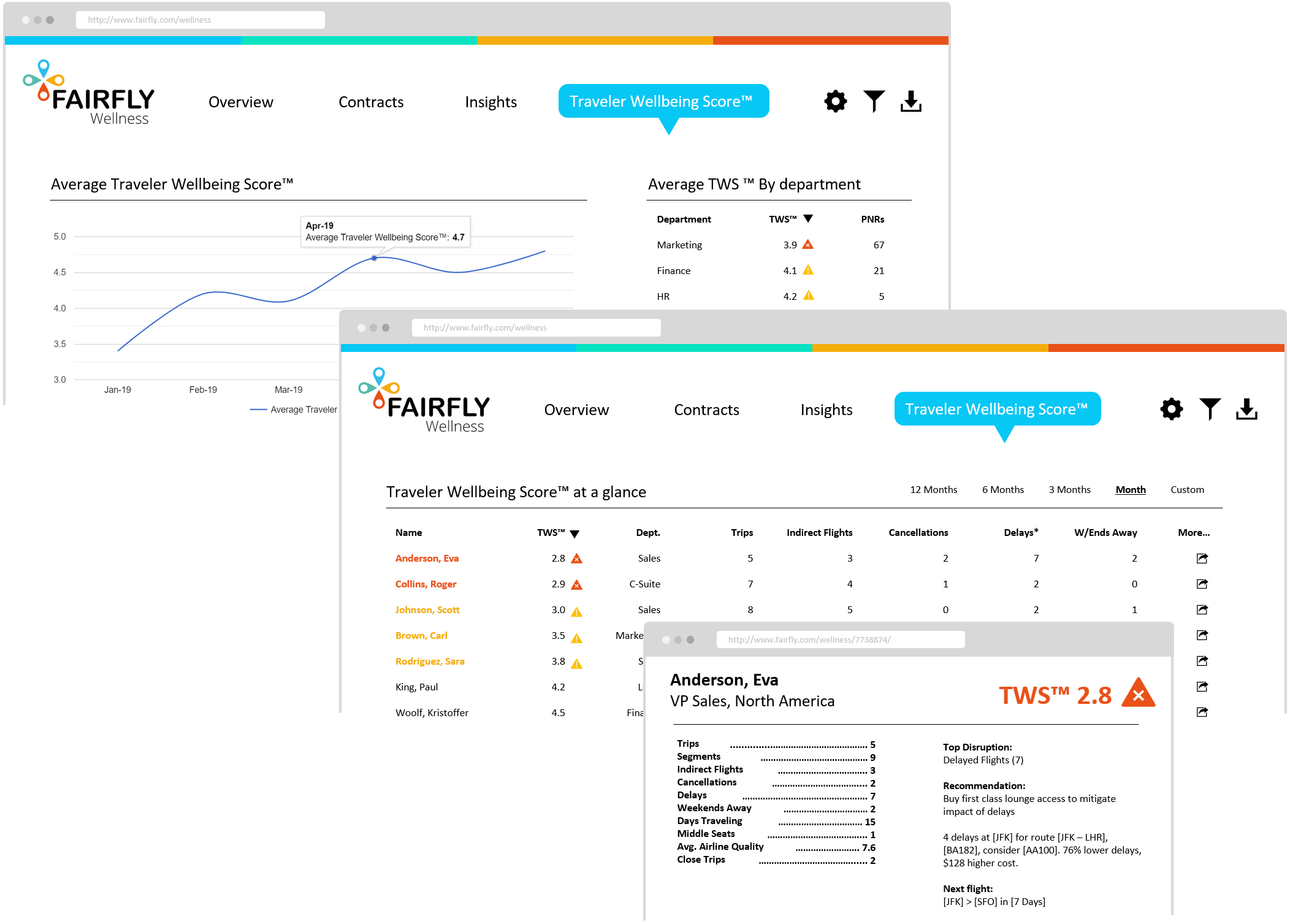 The wellness solution provides companies with insights into the negative health impacts of travel itineraries by studying a range of different factors - from travel schedule, flight times, weekends away from home, class of travel, to airline reliability and aircraft configuration – and calculates a Traveller Wellbeing Score.
This can help identify causes of attrition, impacts of fatigue on productivity and react faster to improve traveller experience across the company and by department, according to FairFly, and can provide early warnings about particular 'at risk' travellers to improve travel quality before it becomes an issue.
Elsewhere, traveller health and safety intelligence solution Sitata has confirmed the introduction of a suite of platform enhancements to increase safety, accessibility and wellbeing for business and leisure travellers, alongside a refreshed brand aesthetic.
While still catering mainly to leisure travellers, the expanded Sitata offering will better serve the corporate travel risk management sector. It describes the changes as helping to "meet unfulfilled duty of care needs for corporations of all sizes that require a hassle-free way to keep their employees safe during travels abroad". Updates include travel-specific telehealth capabilities and improvements to mobile application.
Like other such platforms, Sitata has a team of experts that monitor global developments and provide around the clock traveller alerts. These include information on disease outbreaks, protests, labour strikes, violence, extreme weather, and more.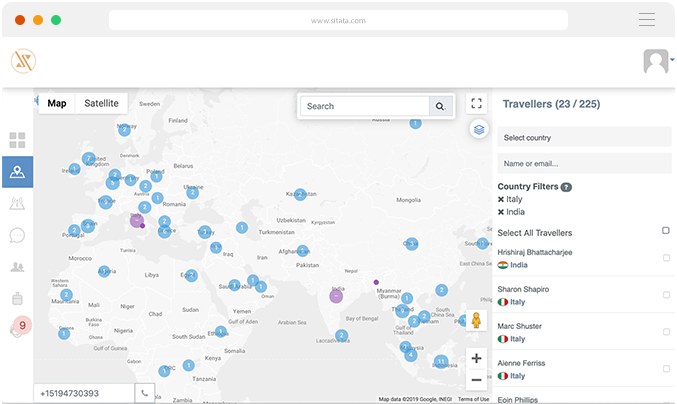 The additions include travel-specific telehealth advancements that can connect travellers to destination-specific doctors in Sitata's curated network that will provide access to video calls, advice, clinic visits and pre-trip consultations, as well as more advanced itinerary management that can track flights and monitor for delays and cancellations after an itinerary has been uploaded in the app by scanning emails.
A new integrated travel tracking dashboard called 'Radar' appeals especially to HR managers and employers and shows locations of employees and can be used as a safety and communications tool during travel disruptions.
This is based on new GPS capabilities that also allows travellers to share updates (post-landing, upon arrival at a hotel, etc.) with loved ones or an employer, but also includes a privacy mode in which the app will ignore GPS and won't track a traveller.
With the changes the platform also incorporates chat assistance to allow corporate travellers to get instant help with anything from a lost passport, legal advice or health concerns.
Global intelligence, risk management and crisis response firm WorldAware takes the communications assistance to a new level with the launch of a new mass notification service that offers fast two-way communication to any individual or group, worldwide, providing key support in the case of any crisis.
The introduction of Communicator is able to link global real-time intelligence with a recipient list creation of travellers who may be at risk based on their current location and begin incident management with two-way communications.
The system links to the Worldcue Companion platform, which can be accessed via computer, mobile phone, email, or SMS text message, and which automatically builds an on-demand list of travellers near any identified threat or incident, with location awareness achieved through the integration of assigned location, mobile location reporting, active travel itinerary and other reporting data.
Travel managers are then able to forward a prepared template from over 30 pre-prepared scenarios each of which can be modified as needed by the organisation opening a two-way communications channel with just a single-click to confirm the safety or need for assistance of impacted individuals.
These messages are sent via email, SMS, and text-to-voice or via in-app push notification on the Worldcue app. They can be automatically resent at any defined interval until a response is received.
In addition to communicating early warning or during critical events, the platform can be used for relaying emergency messages, disruptions, business continuity issues, special drills, general organisational and group announcements, polling or informational messages.