What is an air travel policy?
An air travel policy governs how employees may travel by air while on company business. They cover "highest cabin allowed," advanced purchase requirements and pre-trip approvals. It's big money. Business travel makes up a significant part of the USD1.6 trillion total worldwide travel market. However, company policies only cover about USD235 billion. Many companies don't understand how much they could save if they established air travel policies and pushed for adherence by employees who travel.
Key air travel policy findings
Egencia air travel policy customer data reveals that only 45% of corporate travellers worldwide adhere to a trip approval policy. Unsurprisingly, the vast majority of business air travellers fly economy. However, companies open up access to premium class based on the length of flight. Thirty-three per cent of international travellers can access some kind of premium travel versus 12 per cent of domestic travellers.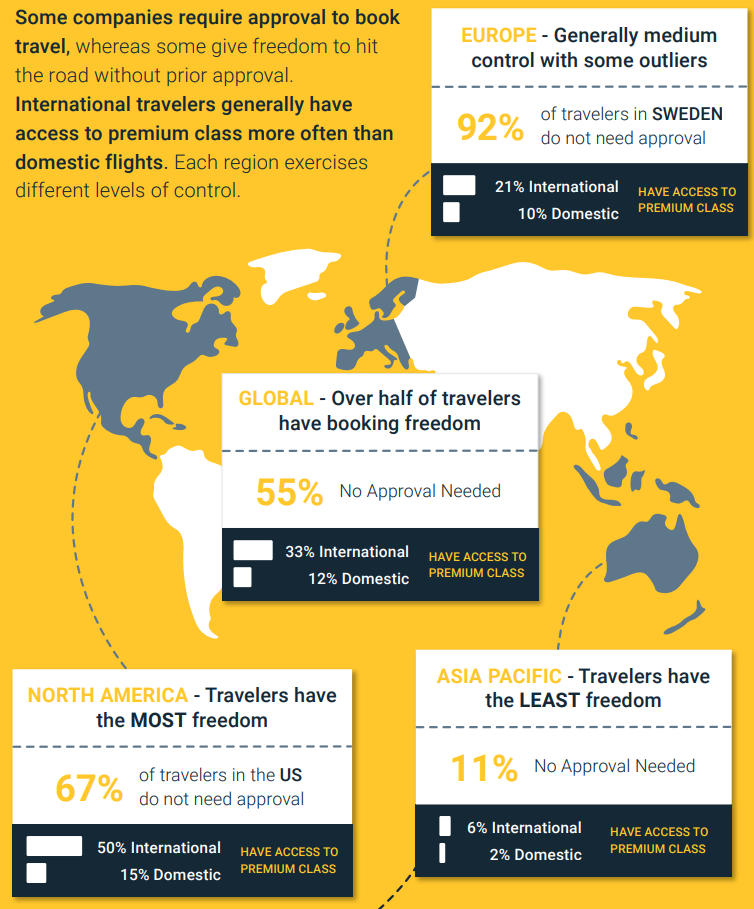 Enforcing air travel policies makes travellers save by booking travel further in advance. Companies with advanced purchase policies see half of all air travel tickets booked 14 days or more in advance of travel.
Sunday is the best day for deals on premium fares;
Monday is the preferred day to travel for both premium and economy class travellers;
For longer trips; and trips taken close to the weekend, we see an increase in "bleisure"—travelling on business but staying over for leisure over the weekend;
Egencia data shows that 68 per cent of global business travellers are taking at least one bleisure trip a year.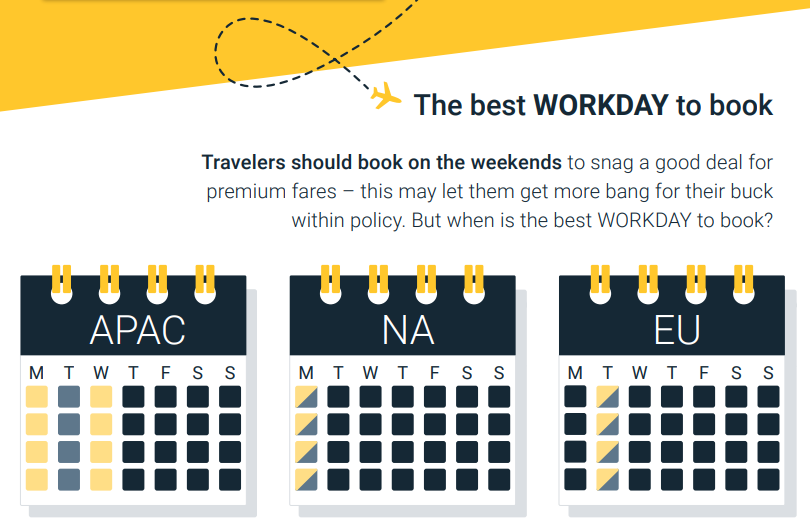 How companies of different sizes can benefit from air travel policies
Air travel policies provide a realistic instrument to save money and establish clarity and fairness in air travel booking regardless of an organisation's size. Depending on size, however, an organisation will have to find the right way to define and implement air travel policy.
A small business, for example, might analyse its air travel expenses and save money by instituting a "book on Tuesdays" air travel policy;
Medium-sized organisations could conduct a more thorough analysis of air travel data and devise air policies geared to the specific needs of the business, e.g. mandating certain air carriers for certain air travel routes;
A large enterprise, which likely has deep data analysis capabilities, can assess air travel costs and patterns in order to maximise travel savings.
Making air travel policy work
How much of your organisation's air travel is within policy? Can you figure out how you could save money through better policy definition and enforcement? Working with a travel management and services provider, you should get data and reporting on costs of travel and adherence to your air travel policies. You can learn what's working and where you can improve policies for even better financial results. Air travel policy offers demonstrable savings. It's the kind of programme you can take to senior management and score a win.