However, the 'Global traveler expectations: how to deliver on what travelers really want' study suggests that travel providers are "falling short of travellers expectations" and"failing to deliver on their top priorities". Based on a global study of 25,000 travellers covering 35 countries, the research delivers some interesting evidence of this growing gap between expectations and the real world.
The digital age has changed travel significantly. From the growing number of online booking options, via dedicated comparison platforms, to the numerous online reviews, travellers expect more, right from booking and paying to the full travel experience.
Against this changing landscape, travel providers are still fighting for powerful loyalty and forging ongoing and mutually beneficial relationships with those digesting their offer. But, as the study highlights, "in this age of consumer fickleness, that challenge is becoming ever greater – and ever higher on the agenda of providers worldwide".
Put simply: "Exceed expectations and in return travellers will show their loyalty. Fall short and travellers will be quick to seek out alternative solutions". Alarmingly, this independent study from EPS suggests the latter is more evident than the former.
CHART - What one thing do travellers wish travel providers would focus more attention on?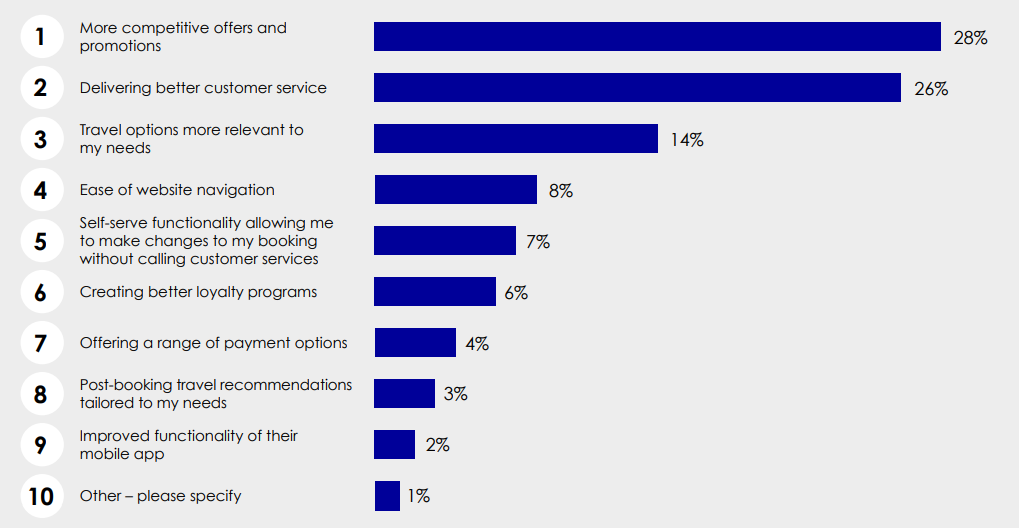 Source: Expedia Partner Solutions' Global traveler expectations: how to deliver on what travelers really want
The report cites competitive pricing (including offers and promotions); responsive, 'always on' customer service; and ease of website navigation as highly important in having a positive booking experience, but those surveyed feel that travel providers aren't meeting their needs and in some cases are even over-delivering on features such as the quantity of accommodation.
In a world overwhelmed with choice, the report highlights that choice can itself become the friction - its findings show that quantity of accommodation is at the bottom of the traveller preferences in terms of importance.
Isabelle Pinson, VP marketing for the EPS brand, says the report shows "a disconnect between what travellers most value in a travel provider and what these businesses are delivering" and highlights "it's crucial that travel providers understand the needs of their specific audience to deliver on traveller expectations".
There is not a one-size fits all solution though. While this report highlights that there are some universal expectations among global travellers that providers need to be aware of, importantly, there are also key differences in priorities, depending on which region travellers are from, how often they travel and the purpose of their trip.
CHART - How important are factors in having a positive travel booking experience and how do you rate providers on each of these criteria?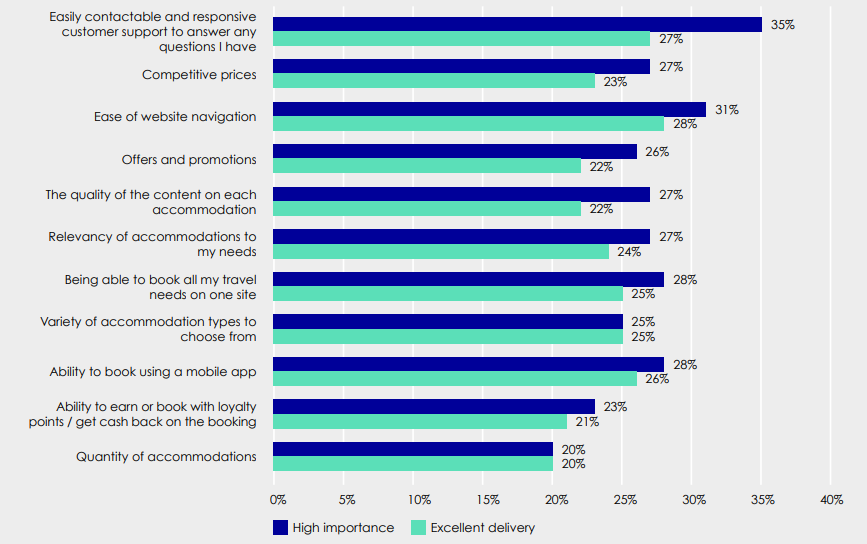 Source: Expedia Partner Solutions' Global traveler expectations: how to deliver on what travelers really want
EPS says there are five key findings from the report:
A quarter of global travellers wish providers would focus more attention on customer service
When asked for the one thing they wished travel providers would focus attention on, more than a quarter (26%) of all travellers surveyed said that customer service was the priority, second only to more competitive offers and promotions (28%).
Quality and relevancy of accommodation content is a deal breaker for frequent travellers
Of those travellers taking the most trips annually (10+) 31% gave the 'relevancy of accommodations to my needs' the highest rating of importance within the booking experience. And 34% of this subset attributed this same level of importance to the quality of content that accompanied these accommodation options too, namely, the images and description accompanying a listing.
Competitive pricing isn't top of the wish list globally
The research report noted that North American and European travellers highly value competitive pricing, with more than a quarter of Europeans (26%) and nearly a third (32%) of North Americans ranking it as the most important element of a positive booking experience. Surprisingly, not all countries put competitive pricing first for importance. For Latin America, Africa and Asia Pacific, competitive pricing is not in the top three rankings.
Ease of website navigation is important for emerging markets
Around a third (35%) of respondents in Africa gave ease of website navigation '10 out of 10' for importance in having a positive booking experience. For the Middle East, this was 30% and for APAC 27%, making it the second highest factor for these three regions. However, only 24% of respondents globally said their travel providers were doing an 'excellent' job in creating travel sites which are easy to navigate.
Business travellers are looking for flexibility at each stage of interaction
The expectations of travellers on business trips diverge markedly from those on holidays when it comes to flexibility. This includes prioritising the range of payment options available, the option to pay now, pay later and mobile payment apps more highly than those on leisure trips. These differences also extend to their expectations of the customer service experience, with business travellers placing a higher value than others on the ability to amend bookings independently.