Overall the US domestic travel economy is -48% below 2019 levels and as of week ending 01-Aug-2020 registered a USD11 billion loss compared the same week last year. Since the start of Mar-2020 and the beginning of the pandemic, US domestic travel has registered an overall loss of USD320 billion.
The month of Jul-2020 finished with a travel spend loss of USD51.2 billion which is considerably better than the previous three months when travel spend losses were USD56.1 billion in Jun-2020, USD76.9 billion in May-2020 and USD83.5 billion in Apr-2020. Travel spend losses for the year of 2020 is now estimated at over USD500 billion.
According to the latest seven day average in TSA screenings through to 04-Aug-2020, the number of air passengers has risen +4.5%. The highest screenings in a day was recorded on Sunday 2-Aug-2020 when the number reached 800,000 which is higher than the previous peak of 764,000 recorded for the 04-Jul weekend. More than 700,000 passengers were screen for five days in a row during the past week for the first time since the start of the pandemic.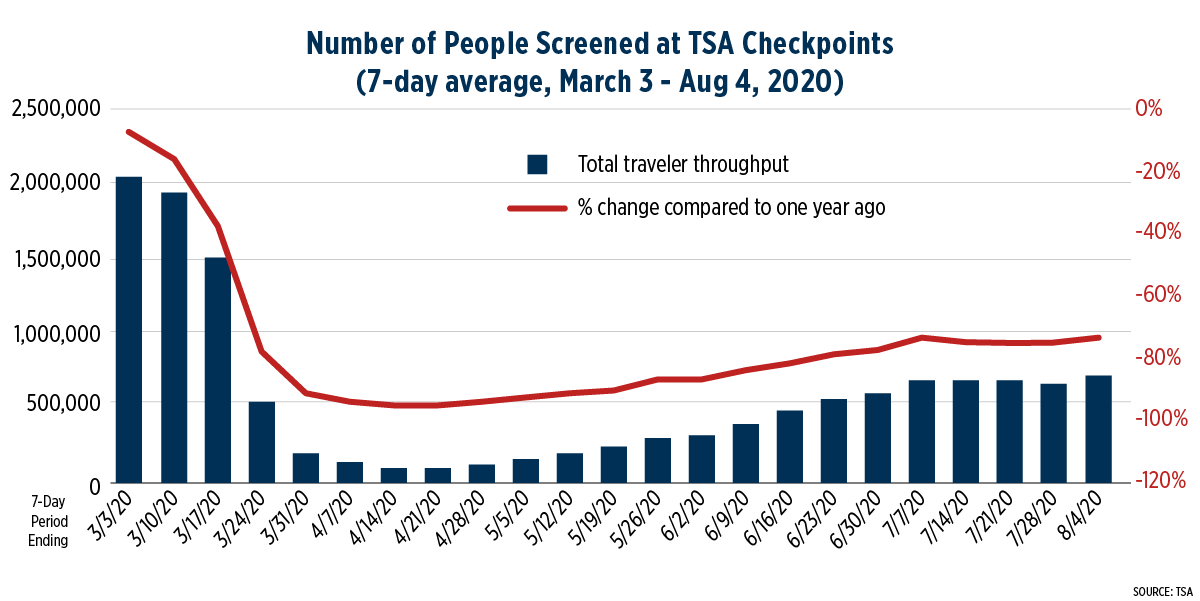 Car travel remains largely unchanged and is now roughly back to pre-pandemic levels, just -1.1% lower than levels recorded in Feb-2020. However this is still lower than would be expected for this time of year.
Washington DC and Hawaii have again recorded losses of more than -75% and there are now 11 states recording losses of over -50%. The number of states recording losses of less than -40% is now 20, up from 16 last week, with Iowa, New Hampshire, North Dakota, South Carolina and Tennessee reaching the benchmark.
States with large urban areas are still underperforming but there was relatively strong growth in the sub-region of New England with all six states ranking in the top 15 for weekly improvements.
Regionally there were no big changes to travel spend losses, with the Northeast recording a slight decrease at USD2.4 billion and USD1.7 billion for the Midwest. The South recorded a slightly better improvement at USD3.6 billion, and the West USD3.4 billion.
Over the past 22 weeks, cumulative losses have tallied USD64.2 billion for the Northeast, USD49.9 billion for the Midwest, USD108.8 billion for the South and USD97.1 billion for the West.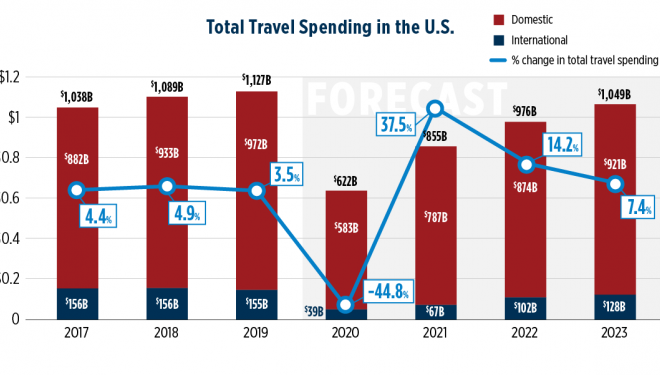 The trend in forward bookings for both air and hotel remains largely unchanged this week according to Adara's Traveler Trends Tracker. Forward bookings are down -70% from a year ago. Domestic bookings to Wyoming exhibited by far the lowest year-over-year decline at -10% although slightly worse than last week. Montana and South Dakota also both performed better than the previous week.
Domestic bookings to New York (-83%), Massachusetts (-80%) and Washington DC (-79%) saw the highest declines, similar to previous weeks.
According to Destination Analyst's weekly survey, 70% of respondents said that Covid-19 related concerns are important when selecting a future destination. Almost 75% of travellers reported that they would be less likely to travel to a US destination if they were associated with Covid-19 issues, even after the pandemic ends.
The good news, if it can be called such, is that almost half of travellers have made plans for some form of travel in 2020. Of those travellers with at least tentative plans, one third have talked to friends or relatives, 28% have booked lodging and 27% have researched things to see and do on their trip.